Race Result:
1st: Missile Mantra (Team Snowden/John Allen) - $3.80F
2nd: Tricky Gal (Matthew Smith/Jye McNeil) - $5.50
3rd: My Pendant (Maher & Eustace/M Zahra) - $5
Winning Time: 1:30.02 Last 600m: N/A
Margins: Short ½ Head x 2¼L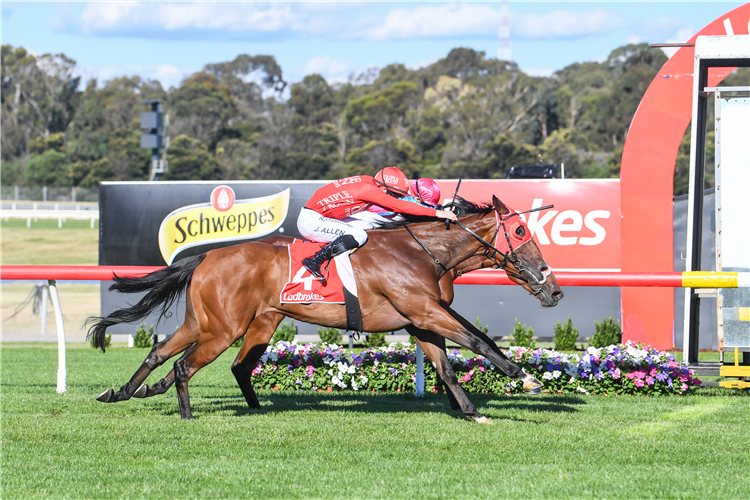 Missile Mantra launches down the outside to take the win from Tricky Gal who was game in defeat.@SnowdenRacing1 @TripleCrownSynd pic.twitter.com/VUSCrh60Um

— Racing.com (@Racing) November 14, 2020
Winning Trainer: Peter & Paul Snowden (Peter speaking)
"Watching it I was really confident. She was travelling really well down the hill. Through the dip I just thought it was a matter of timing it right and he did perfectly. I thought the margin was going to be better than it was but, look, I'll take it. Half a head is as good as ten lengths. It's still a win and I'm really glad for all her owners.
"Three or four times we've been beaten by the same amount and one of them was in a Group 1 so she deserved that and I'm really happy for everyone. It's gut wrenching to get beaten by that much in a big race.
Triple Crown Syndications: "They've been fantastic. Every year they keep buying nice horses and they keep training on. We're so grateful to have them in our stable."
Paddock next: "She's done a great job. Normally she's about three runs in and she's starting to (have enough) but she's gone really well in the prep this time in. But she'll go to the paddock now, go out a winner and she's done a great job."
Winning Jockey: John Allen
"At the furlong pole I thought that I could go on and win easily enough but to Tricky Gal's credit it gave a good kick.
"She was a high-class three-year-old. She ran super. I was looking to get on her today in a race that was good for her to win. She wasn't stopping at the line either so I think a mile isn't an issue either. She's a good consistent filly that always does her best."

FP
Silk
Horse, Age & Sex
Sire & Dam
Jockey
Trainer
SP
WT

1st

4. MISSILE MANTRA (AUS) 4yo M


SMART MISSILE (AUS) - WECANSAY MAK (AUS)

J ALLEN
PETER & PAUL SNOWDEN
$3.75
55.0kg
Triple Crown Syndications (Mgr: C H Ward), Atomic Racing (Mgr: D M Timothy), M C Sumpter, D J Kerr, G S R Hunter, R Burgess, J G O'Hara, M T Tapungao, D S Nolan, Mrs A Burke, Miss A C Clarke, Mrs K Duck, B F Townsend, S B Fanetti, L P Malone, C R Malone, P Burke & A Cook

2nd

7. TRICKY GAL (AUS) 5yo M


MAGIC ALBERT (AUS) - VELOCITY GAL (AUS)

JYE MCNEIL
MATTHEW SMITH
$5.50
55.0kg
R A Young, R J Bateman, Mrs A M Adam & Mrs N Der Sarkissian

3rd

5. MY PENDANT (NZ) 5yo M


PINS (AUS) - MY LOCKET (AUS)

JAMIE KAH
DANNY O'BRIEN
$5.00
55.0kg
M J Chittick, Rkh Thoroughbreds (Mgr: R K Hamer), D A & Mrs D E M Monson, R N Harris, R H Hitt, S W Bruhn, A W Bruhn, M K Ashton, Dr J G Morgan, A J Doyle, Eagles Tigers And Hawks Syndicate (Mgr: W Huntly), C Harrington & B M Moloney
4th
1. FASCINO (NZ) 4yo M


CHARM SPIRIT (IRE) - LADY KIPLING (NZ)

MARK ZAHRA
CIARON MAHER & DAVID EUSTACE
$17.00
58.0kg
5th
14. ETHICAL SOLUTION (AUS) 4yo M


SHAMUS AWARD (AUS) - MISS ETHICS (SAF)

JOE BOWDITCH
LLOYD KENNEWELL
$101.00
55.0kg
6th
6. NO EFFORT (AUS) 6yo M


REWARD FOR EFFORT (AUS) - HOLD THE LION (AUS)

JASON MASKIELL
GAVIN BEDGGOOD
$81.00
55.0kg
7th
2. AKARI (AUS) 4yo M


SNITZEL (AUS) - ASTERIX (JPN)

LUKE NOLEN
BRAD WIDDUP
$11.00
56.0kg
8th
16. HASSTOBEGOOD (NZ) 4yo M


PER INCANTO (USA) - DON'T DILLY DALLY (NZ)

GLEN BOSS
GRAHAME BEGG
$17.00
55.0kg
9th
3. STROME (AUS) 6yo M


SMART MISSILE (AUS) - LATERAL (AUS)

MICHAEL POY
DAVID O'PREY
$26.00
55.0kg
10th
13. MRS BECKHAM (NZ) 4yo M


TORONADO (IRE) - POSH (NZ)

DAMIAN LANE
MATHEW ELLERTON & SIMON ZAHRA
$10.00
55.0kg
11th
10. INDIANA LILLY (AUS) 6yo M


TEOFILO (IRE) - LIVE AND LEARN (AUS)

CRAIG NEWITT
SHEA EDEN
$26.00
55.0kg
12th
15. GAME OF THORNS (AUS) 4yo M


ANIMAL KINGDOM (USA) - ONLY ROSES (AUS)

DAMIEN OLIVER
KRIS LEES
$11.00
55.0kg
13th
17. JENNI BAD CAT (NZ) 4yo M


SAVABEEL (AUS) - KANSAS (NZ)

DEAN YENDALL
DAVID BRIDEOAKE
$41.00
55.0kg