Race Result:
1st: Irish Flame (M Walker/B Scott) - $TBA
2nd: Affair To Remember (M Zahra/D O'Sullivan) - $TBA
3rd: Game Keeper (L Currie/T & C McEvoy) - $TBA
Winning Time: 2:02.79 Last 600m: N/A
Margins: ½ Head x ½ Head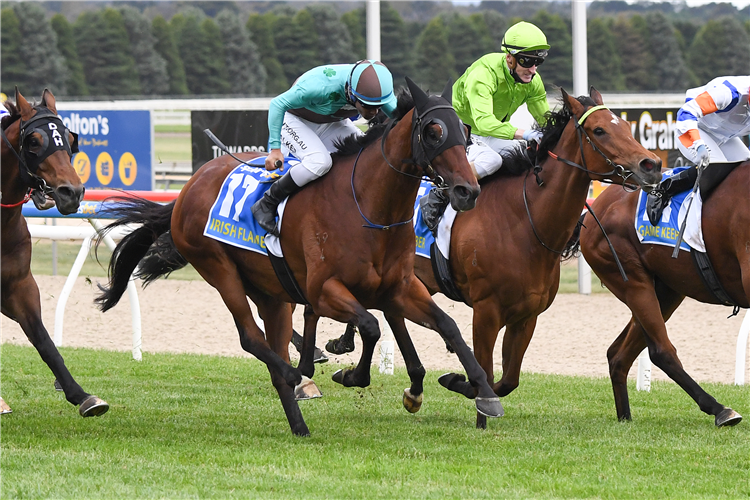 What a great finish! Irish Flame holds off all challengers to take out the $500K Listed Ballarat Cup. @sportsbetcomau @mmsnippets @BallTurfClub pic.twitter.com/aJwp7CId6j

— Racing.com (@Racing) November 21, 2020
Winning Trainer: Brett Scott
"Wide gate, he didn't get any favours in the run. It was a good solid tempo but he didn't get any favours in the run. He was three-deep without cover for pretty much the whole trip.
"He came off the bridle just before the corner and I thought we might be in a bit of trouble but he hung tough.
"John Wheeler had him in New Zealand as a yearling. He's the Zed (progeny) to win a two-year-old race in New Zealand at his second start. He was a handy horse. He was in the Derby but wasn't good enough already. Since he's been in Melbourne every race has been good. He's improved with every run and he's a good, tough stayer.
Kylie (wife) emotional: "We went the early crow at Caulfield and we got rolled on the line so we weren't sure whether we won or not. She rides all of his work and she loves him. Great result for the whole stable.
Scott's recovery from physical injury a few years ago: "I'm so appreciative of the game. That was twelve years ago - 2008. I'm going ok."
Winning Jockey: Michael Walker
"I had a wide run but Kylie and Brett Scott have done a tremendous job having that horse fit today. A couple of times I rode him, it's been taking us a while to get the hang of him.
"He got the front today and he was going to win by three (length) but he pulls up when he hits the front, but I was lucky that they got to me a long way before the post. He kicked again.
"The horse had a hard run but I wasn't worried because they only went steady so I was happy where I was. If he found the line, he had three lengths on them but he just won't run away from them. I got there too early but he fought on.
"I'd just like to thank all the owners for the opportunity and keeping me on him. I couldn't ride him the other day when I had a sore neck. To Scotty and Kylie and the whole team at Mornington, they do a tremendous job. Scotty has been a rider himself, albeit over the jumps, he's a champion rider. I've got no doubt he's going to make a champion trainer, too.
On his recent form: "I think my strike rate is one of the best around. I'm riding better than I ever have. I'm happy, I'm strong, I'm fit. My weight is good. I've given up alcohol. I don't drink anymore, I've given up for life.
"I'm sick of being injured so I'm trying to fuel my body and keep it healthy and fit the best way I can. The next step is the smoking. I'm going to a hypnotist in a couple of weeks and hopefully that stops that.
"I've got to provide for my three kids and my partner, Lauren. I'm the rock of the family. I want to make them proud."
"Brett Scott actually taught me how to ride. He was the foreman at the stable that I very first went to. The owners, all the people in Hawera, I need to thank them for the opportunity to stay on a remarkable horse."

FP
Silk
Horse, Age & Sex
Sire & Dam
Jockey
Trainer
SP
WT

1st

17. IRISH FLAME (NZ) 6yo G


ZED (NZ) - FLEUR DE L'ORIENT (NZ)

MICHAEL WALKER
BRETT SCOTT
$17.00
56.0kg
G C Kemp, Mrs M L & W G Reid & Est Late B M Kemp

2nd

10. AFFAIR TO REMEMBER (AUS) 4yo M


TORONADO (IRE) - ST TRINIANS (AUS)

MARK ZAHRA
DAN O'SULLIVAN
$4.00
56.0kg
D G Peacock, Mrs P M Loxton, V A Lianos, Ms L Yialas, R J Butler, Mrs H M Butler, M C Butler, D L Field, J M Sullivan, Dr M J Edwards, P J Francis, Mrs K A Francis, W A Spear, Mrs P M Spear, Mrs H M Pope, C A Sargent, A E Sargent, Ms J F Jones, B A Keys & Terrace No 3 Syndicate

3rd

14. GAME KEEPER (AUS) 4yo G


FASTNET ROCK (AUS) - MY TUSKER (NZ)

LUKE CURRIE
T & C MCEVOY
$21.00
56.0kg
Pipeliner Bloodstock Pty Ltd (Mgr: W G Mitchell), Kingy Midds Racing (Mgr: S J Middleton), A Brown, J R Ramsay, S M George, P & Mrs R J Donovan, J S Philps, A J Parrish, R Shelley, I F Michelmore & P Hirst
4th
2. HARLEM (GB) 8yo G


CHAMPS ELYSEES (GB) - CASUAL (GB)

CRAIG WILLIAMS
T DABERNIG & B HAYES
$17.00
61.5kg
5th
11. ODEON (NZ) 7yo G


ZACINTO (GB) - THEATRE BUFF (USA)

DANIEL MOOR
MATHEW ELLERTON & SIMON ZAHRA
$13.00
56.0kg
6th
15. DOUBLE YOU TEE (AUS) 6yo G


WRITTEN TYCOON (AUS) - KANDY KORN (AUS)

BILLY EGAN
PATRICK PAYNE
$13.00
56.0kg
7th
7. PACODALI (IRE) 7yo G


PACO BOY (IRE) - DONT DILI DALI (GB)

DEAN YENDALL
MADDIE RAYMOND
$10.00
59.0kg
8th
4. JUNIPAL (AUS) 5yo G


RESET (AUS) - PALATINE HILL (AUS)

KERRIN MCEVOY
CIARON MAHER & DAVID EUSTACE
$5.50
60.0kg
9th
9. PLEIN CIEL (GER) 7yo G


MAMOOL (IRE) - PICOBELLA (GER)

JAMIE MOTT
DANNY O'BRIEN
$17.00
56.5kg
10th
1. SO SI BON (AUS) 7yo G


SO YOU THINK (NZ) - BLACK MINX (NZ)

DAMIAN LANE
T DABERNIG & B HAYES
$21.00
62.0kg
11th
6. KIWIA (AUS) 7yo G


RESET (AUS) - SINGLE VIEW (AUS)

J ALLEN
ARCHIE ALEXANDER
$31.00
59.5kg
12th
5. AL GALAYEL (IRE) 6yo G


ZOFFANY (IRE) - GLYMPSE (IRE)

BEN MELHAM
CIARON MAHER & DAVID EUSTACE
$15.00
59.5kg
13th
3. KINGS WILL DREAM (IRE) 6yo G


CASAMENTO (IRE) - ROAD HARBOUR (USA)

MICHAEL RODD
CHRIS WALLER
$15.00
61.5kg
14th
13. FURRION (GB) 5yo G


CAMELOT (GB) - ACQUAINTED (GB)

LUKE NOLEN
T DABERNIG & B HAYES
$81.00
56.0kg
15th
8. INVERLOCH (IRE) 6yo G


FASTNET ROCK (AUS) - IDEAL (GB)

DANIEL STACKHOUSE
TRENT BUSUTTIN & NATALIE YOUNG
$41.00
57.5kg
16th
12. OUR BIG MIKE (NZ) 8yo G


DON EDUARDO (NZ) - LANDVETTER (NZ)

JORDAN CHILDS
BRETT SCOTT
$101.00
56.0kg