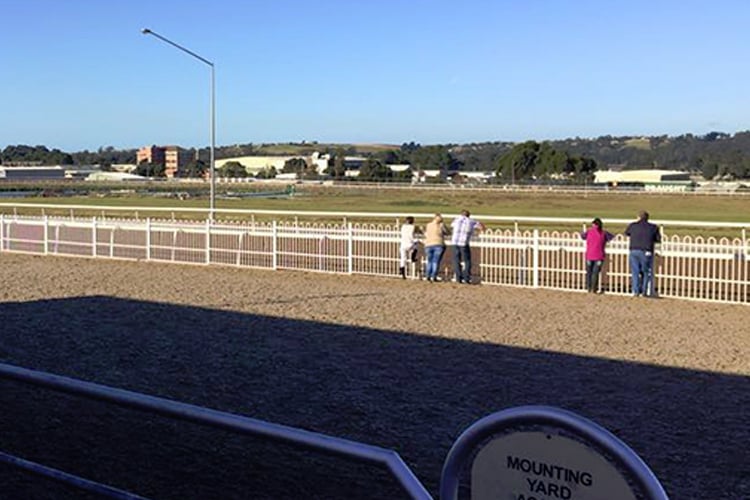 R1 Ladbrokes Maiden, 1150m
Cameron Thompson has a strong hand in this race with SWEETSOP (6) and VAN D'ORO (6). Sweetsop is the exposed Tasmanian commodity, generally settling back and finishing off which is what she did first-up. She'll appreciate the rise to 1150m. Van D'oro is an ex-Freedman horse that settled close to the speed in both runs prior to the stable change. This is a race lacking a lot of obvious pace. GEE GEE CAN WIN (2) ran in some strong maidens last campaign. Interesting his trial was six weeks ago now, so I'll be keeping an eye on what the market does late. SIROCCO SHAMAL (5) is a 6YO only having her third career start. She's done enough in two trials to put her in the mix. TOUGH COOKIE (7) can hold a position from the draw and gate 1 may help her given she tends to lay in.
Staking Strategy: The scratching of Van D'oro takes a bit from the race and leaves three obvious chances but there isn't much fat in the prices. I thought Gee Gee Can Win has the superior form from last campaign, if he brings that he'll go very close. 1 unit to win on Gee Gee Can Win (2)
R2 Goodstone Group Maiden, 1350m
THE BEEKEEPER (4) was first home of a few runners that come via the maiden won by Needarein. He's holding form well and should lead here. The saddle shifted on GEE GEE CLOUDY BAY (7) last time so the effort to run third was perhaps better than it originally looked. She nosed out SOULITA (9) for the minor money in that race with JACKJACK (2) also running on well. KARNAK KID (3) appears to be looking for this distance after settling a mile back at his last two starts. Winkers go on and he's drawn well. BROADWAY BABE (6) trialled well earlier in the week against horses that would be very short in this field. Erica Byrne Burke has a wide draw to overcome but she's been somewhat of a money rider for Scott Brunton. Her 14 starts for the stable have returned 5 winners and 7 placings. FRENCH KISS (10) finished off well last time and UBRIACO (5) may be worth another chance if forgiving last start and going off his debut performance.
Staking Strategy: Not surprised to see an early move for Broadway Babe who closed well last time we saw her and had a look at the synthetic earlier in the week. She's into about the right price now and I can have something on Karnak Kid who I think is looking for this trip. 2 units to win on Broadway Babe (6) and 1 unit to win on Karnak Kid (3)
R3 Kevin Sharkie Mdn/cl1, 1880m
TURK DELIGHT (5) had good support late last time stepping up in distance, but a late dive missed by a nose. He rises in trip but gets his regular rider back on and will be hard to beat again. RYLSTONE (4) should've won last start in Hobart, after missing the start hopelessly he worked through the field to be beaten under a length. He had every possible chance at his one previous Devonport run when he was heavily backed. FULL KNOTS AHEAD (7) was perhaps a touch plain last time but should strip fitter for having that 1880m run behind her. CAPTAIN MORGAN (1) broke the duck in this grade at start 27, beating home DEER POACHER (6) who covered a stack of ground in the run. I query whether that's the right formline given that pair have one win from 41 starts between them. RED ROGER (3) jumps from 1350m to 1880m and while I suspect he is looking for the extra distance, connections may have preferred a mile race before he got to this trip.
Staking Strategy: I have Turk Delight as fav but don't see a lot of value in the price after he trimmed up yesterday. Full Knots Ahead should find this easier than last time and I think (hope) the each-way price will hold up. 2 units each-way on Full Knots Ahead (7)
R4 Jockey Celebration Day Handicap 0-60, 1350m
NEEDAREIN (4) was a good winner at this T&D last time with the strength of that victory tested in the second race of the day. WARDELL (2) caught the eye running home strongly first-up. He rises 2.5kg but a repeat performance will go close if he isn't already looking for further. GEE GEES TEARDROP (1) deserves another win, racing well in better grade than this. He'll need some luck from an awkward draw. GEE GEE BAY WATCH (3) may enjoy the run of the race from a perfect draw. He has placed at all seven starts this campaign without a win. ISKRA (8) brings decent form across from Victoria for a race like this. Based on her previous pattern, Ismail Toker may try and lead despite the wide draw. Expect GEE GEE FLASH TOO (6) to improve up in distance. RECOMPENSA (9) wasn't miles away at her only Tassie start and HAS THE LOOK (7) bombed the start badly last time, so the effort is better than it reads on paper.
Staking Strategy: Happy to play Wardell here who went into the Black Book first-up, though I do have a suspicion he may already be looking for further. This is a class drop for Gee Gees Teardrop who has been racing without a lot of luck. 1 unit to win on both Gee Gees Teardrop (1) and Wardell (2)
R5 Tasmanian Horse Transport Benchmark 66 Hcp, 1350m
Six of the 10 runners come through the race won by CHEEKY ONE (5) including the first four from that race. I thought the ride of Byrne Burke was the difference there in a tight finish. ENDURED (7) and Sh'BOURNE REBEL (2) have a 1.5kg swing in their favour for being beaten under a length and all three have strong chances again. LESNAR (1) is a tough old campaigner but may have a bit of pressure in front again here which has been the case at this last two starts. ROUGH ROAD (4) is the weight horse from the main lead-up race, but he needs to find a bit off that performance. WEEKEND WHISKY (6) ended a long winning drought when he won last start at the T&D. This is harder but he gets weight relief. LADY JOKER (8) isn't proven at the distance but appears ready for it with the way she finished off last time at 1150m.
Staking Strategy: She's a query at the distance but Lady Joker is racing in great form and appeals each-way here at double figures. 2 units each-way on Lady Joker (8)
R6 Carlton And United Breweries Class 1 Hcp, 1150m
CLIFTON DANSEUR (4) and GEE GEE PLANE (2) won maidens on the same day here three weeks ago. Clifton Danseur was the quicker of the two and sat three-wide in doing so. The widest draw will make things tough for Gee Gee Plane. APOLLO ROCKET (7) couldn't have been more impressive winning his maiden but that was over 12 months ago now and hasn't raced since October. He promises a lot, but the market will be important to monitor given the big gap between runs. GEE GEE REAL DEAL (12) maps for a good run and wasn't far away last start. From that same race GEE GEE RHYTHM (8), CRACKERJACK LADY (14) and SO I'M DREAMING (15) closed hard, all at big prices. The penny seems to have dropped for MASTER TRUFFLES (3) who was good again last time but I'm not sure the drop in distance is ideal. GEE GEES JENNIA (13) has a horror draw for her return but her only race here was a victory over a field that included Clifton Danseur. KAY OH ELL (10) is another rising 3YO who resumes and showed some ability through her 3YO campaign.
Staking Strategy: Intrigued here to see the return of Apollo Rocket who smashed a field that included War Correspondent at his only start here. It's a positive to see an early move for him and there will be added confidence if that's the case late as well. 2 units to win on Apollo Rocket (7)
R7 Levendi Standing At Broadmarsh Stud 2021 Benchmark 60 Hcp, 1150m
REWARD ACHIEVER (7) had good support first-up before a forgive run and then boxed on well last time after racing wide. She'll appreciate a lower draw here. MYSTICAL BEAUTY (4) trialled well at the end of last month and has finished in the money at both runs here including a win. She may want further but the same could've been said for recent stablemates Need A Gin and Clifton Danseur that won first-up. TROJAN STORM (5) is ready to win but that's been the case for a while now. GEE GEE ROYBOY (12) had the run of the race to win last time but will need a great ride from the gate for a repeat effort. BORDER PROTECTION (2) was a tough victor last time but interestingly EBB jumps off to ride the stablemate. GEE GEE TOP TIP (11) and ARAGON STAR (1) have strong finishes but will need luck from back in the field. GEE GEE GOLDENLASS (6) returned well enough in Hobart and now has her first look at the synthetic. There was a small market push for DESTINY FORCE (12) at her first Tassie run and TYCOON'S DAUGHTER (10) may improve with the blinkers back on.
Staking Strategy: I think this is a good race for Reward Achiever who hasn't had much go right in two runs back from a spell. Also keeping Mystical Beauty on-side off an impressive trial for the in-form Adam Trinder stable. 3 units to win on Reward Achiever and 2 units to win on Mystical Beauty (4)
R8 Ulverstone Waterfront Inn Open Hcp, 1150m
ETHICAL DILEMMA (2) was a winner at the T&D last time and even though that was only a four-horse field this doesn't appear a lot harder. ARTUSO (3) is a track specialist, all six of his wins have come here including four over the 1150m. He plummets in the weights and will take holding out. RUETTIGER (1) is thrown in at the weights as an 88 rater. He was good last Sunday running on from the rear but that was over 1400m. GREGORIAN CHANT (4) resumes with only a moderate first-up record and no trial. Look for any market lead. HANNAH'S SONG (5) has been scratched since her first-up run where she wasn't beaten far. The scratching of Fitzwilliam makes her the logical leader of the race.
Staking Strategy: Interesting little race to finish the day. Leaning to Ethical Dilemma who can make it two wins in a row with a repeat of last start. 2 units to win on Ethical Dilemma (2)