Race Result:
1st: Social Element (T Ryan/G Waterhouse & A Bott) - $
2nd: Ablaze (S Pateman/C Maher & D Eustace) - $
3rd: Flying Agent (L Horner/A McDonald) - $
Winning Time: 5:19.34 Last 600m: n/a
Margins: 8L x 3/4L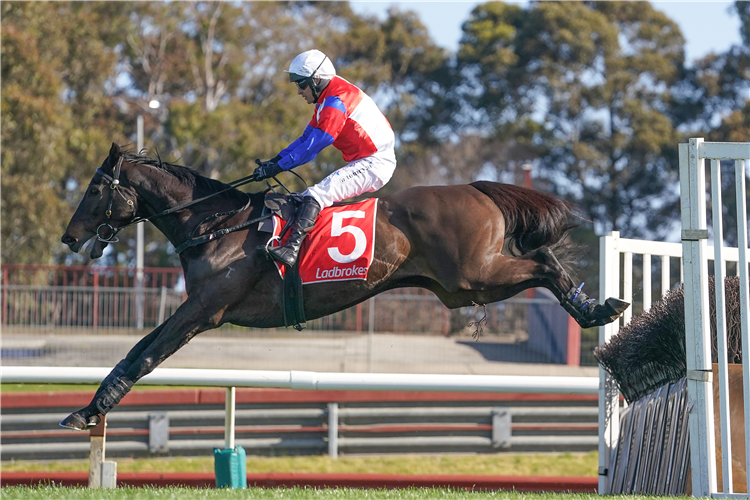 Social Element is a star

What's next for the Crisp Steeplechase winner? pic.twitter.com/GhfjW5Zjra

— Racing.com (@Racing) August 1, 2021
Winning Trainer: Gai Waterhouse & Adrian Bott (Alva Predergast speaking)
Thoughts on Social Element: "I'm normally quite nervous when we go to the jumps but this horse is something else. Everyone has said he's been a good horse but today he had to show everybody that he was and to do it so convincingly, we're very lucky to have him.
Thoughts pre-race: "We were questioning the distance but from his previous runs, it looked like the further he was going, the stronger he was getting and he proved that today. Hopefully onwards and upwards to the next test in the National and hopefully he can do the same."
On how he has taken to the jumps so seamlessly: "He was quite a class horse on the flat too so I think that helps him a lot. He is just such a laid back, easy going customer, he reserves all of his energy for when he needs it and he is able to dash away from them. He is just special."
Winning Jockey: Tom Ryan
Fun to ride: "He's improved so much with every run. Alva Prendergast and Beau Dunn have done a tremendous job with him at Flemington along with Gai and Adrian. Every run he has improved."
Jumped beautifully: "I was worried when we jumped out of the gates because it is so much heavier up the back and I know he's handled the heavy at Warrnambool. He was labouring early and I thought I might be in trouble, but we came onto the course proper the first time and he just came alive. He passed Ablaze because of the better ground and when in front I just left him there. He's winging his fences up the back and he kept himself in it by winging fences. He was so good up the back and at the top of the hill I just let him roll from there on."
World is his oyster over the jumps: "Definitely. I know he's won on the heavy but I think he's better on better ground. I know that probably won't happen at Ballarat in a few weeks time, but I think better ground is better for him."

FP
Silk
Horse, Age & Sex
Sire & Dam
Jockey
Trainer
SP
WT

1st

5. SOCIAL ELEMENT (NZ) 8yo G


SAVABEEL (AUS) - PARE (NZ)

TOM RYAN
G WATERHOUSE & A BOTT
$2.00
69.0kg
Just A Pack Of Darts Club (Mgr: D Needs), Paradigm Racing (Mgr: D Croker), D P Maher, G G B Macdonald, J D Deague, R H Kirby, G Singh, G N Scott, C M Brown, P R Smeaton, Ms S A Hunneybell, D Draper, P J Maher, Ms B M Torossi & D G Garnier

2nd

1. ABLAZE (NZ) 10yo G


RAISE THE FLAG (GB) - ALIGHT (NZ)

STEVEN PATEMAN
CIARON MAHER & DAVID EUSTACE
$5.00
71.0kg
R A E Lyons, T R Harrison, P N Kean, P D Harrison, W Norman, E J Hornbrook, J C Cutler, P A Wilson, J Stonelake & D Harrison

3rd

3. FLYING AGENT (NZ) 9yo G


RAISE THE FLAG (GB) - NANCY WAKE (NZ)

LEE HORNER
AMY MCDONALD
$8.50
69.0kg
A McDonald, D R Lawrence, Ms D Duff-Staniland & P M Duffus
4th
6. RIDING HIGH (NZ) 8yo G


RAISE THE FLAG (GB) - ENZED (NZ)

D HORNER JNR
HENRY DWYER
$17.00
69.0kg
5th
4. BIG BLUE (GB) 9yo G


GALILEO (IRE) - BOARD MEETING (IRE)

WILLIAM MC CARTHY
CIARON MAHER & DAVID EUSTACE
$4.75
69.0kg
FF
2. BIT OF A LAD (AUS) 8yo G


LADONI (GB) - REGAL HEIGHTS (NZ)

CHRIS MC CARTHY
CIARON MAHER & DAVID EUSTACE
$13.00
70.0kg