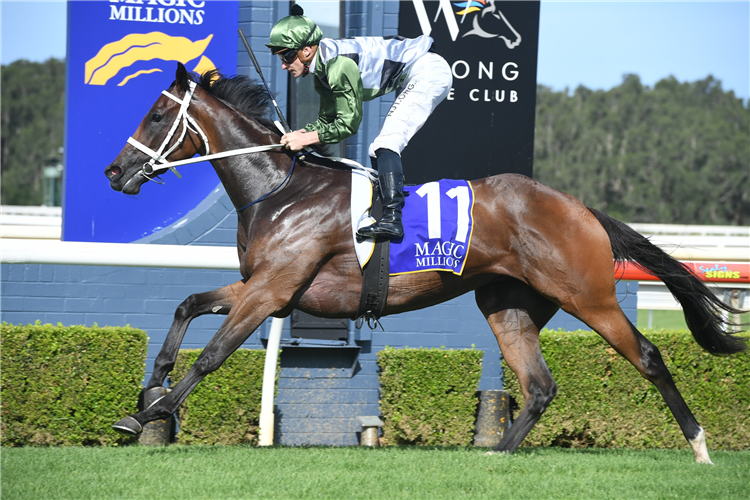 She's All Class eased from $4 to $4.20 after coming up with gate 18 at this morning's barrier draw.
Swift Witness firmed from $4.60 to joint favourite at $4.20 after drawing barrier 11.
Finance Tycoon has drifted after drawing the outside stall in 21 while Shaquero was a firmer after drawing on the fence.
Runner Barrier
| | |
| --- | --- |
| 1. Alpine Edge | 9 |
| 2. Finance Tycoon | 21 |
| 3. Readily Availabull | 7 |
| 4. Shaquero | 1 |
| 5. Ghostwriter | 12 |
| 6. Baby Wong | 6 |
| 7. Mishani Scandal | 16 |
| 8. Rambeau | 10 |
| 9. Fake Love | 20 |
| 10. Mura Mura | 8 |
| 11. She's All Class | 18 |
| 12. Swift Witness | 11 |
| 13. You'll Be Mist | 14 |
| 14. Miss Hipstar | 19 |
| 15. Queen Of Wizardry | 15 |
| 16. Princess Bojack | 5 |
| 17. Ranch Hand (1em) | 3 |
| 18. Ruby Kisses (2em) | 4 |
| 19. Mishani Enchanted (3em) | 16 |
| 20. Win Burn (4em) | 13 |
| 21. Glorious Ruby (5em) | 2 |

$2m Mm 2yo Classic
Age: 2yo Type: OPEN Fastest Time: 1:08.56 She's Choosie 20 Jul 2019 CL5 SOT:G