Race Result:
1st: King Magnus (Lachie King/Robbie Griffiths & Mathew de Kock) - $4.80F
2nd: Translator (Michael Dee/Nigel Blackiston) - $8.50
3rd: Jesta Dreama (Jordan Childs/Wendy Kelly) - $26
Winning Time: 1:30.34 Last 600m: N/A
Margins: ½L x ½ Head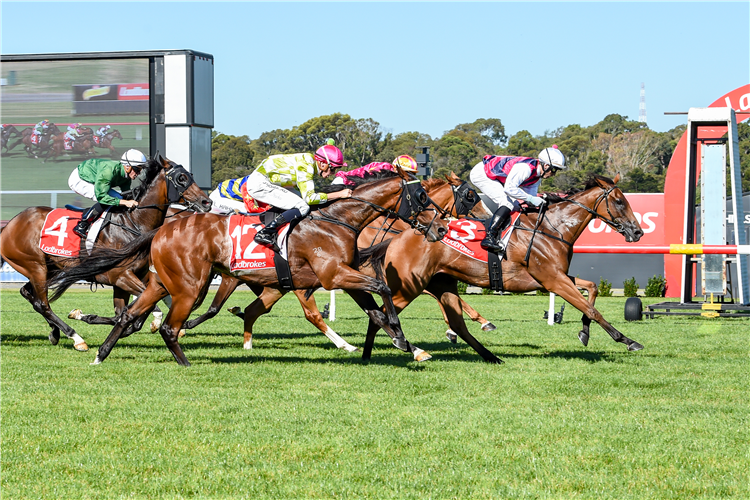 King Magnus takes out the penultimate event at Sandown.
I'd be keeping an eye on Translator going forward. @MelbRacingClub @GriffithsdeKock

— Racing.com (@Racing) January 23, 2021
Winning Trainer: Robbie Griffiths & Mathew de Kock
"Lachie rode a fantastic race. A big well done to the whole team, our physios, our chiropractors, everyone that keeps this horse ticking over, and the great facilities at Cranbourne. He just keeps spinning out money."
The team: "It's so important. You can see how consistent he is. People like Deane Lester with Robbie and myself placing him great. It's just a big team effort getting him here.
Deane's work: "It gives you a strategy and gives you something to work on. Today Lachie rode the horse perfectly and it came together."
Future: "As long as he keeps spinning out that cash, as we say, we'll just keep going through the grades."
Winning Jockey: Lachie King
"He's just a horse that just travels so much. Robbie spoke to me this morning and said that you won't find many horses that respond so quick under pressure. You've really got to time your run, he's a bit quirky. You've really got to time your run.
"I've probably taken a couple of rides to get to know what he's like and I knew he'd be there at the 100 metre mark, whether or not he was on his dying legs or not, but he was very honest today and genuine.
"He's just been running into two or three better (recently). Unfortunately he's just been getting his heartbroken by a couple of them on the line. He's just a horse that you really have to 'count to five' on and Robbie made that the gist of his instructions today. We're back to Hillside, he's going to be there at the hundred (metre mark) so hold onto him for as long as you can, he said.
"When he was travelling down the dip I was rapt with the way he was going and when I gave him a couple of hits he really exploded."

FP
Silk
Horse, Age & Sex
Sire & Dam
Jockey
Trainer
SP
WT

1st

3. KING MAGNUS (AUS) 5yo G


MAGNUS (AUS) - INFLUENTIAL MISS (AUS)

LACHLAN KING
R GRIFFITHS & M DE KOCK
$4.75
58.5kg
P F Joyce, Mrs L M Joyce, D A Kellas, J Thomas, Mrs J A Thomas, W Pearce, D E Kalviskis, V Kulibaba, Mrs S Kulibaba, B Cesar, R B Trayhurn, A J Wallace & M K Hocking

2nd

12. TRANSLATOR (AUS) 4yo G


HELMET (AUS) - BABEL (AUS)

MICHAEL DEE
NIGEL BLACKISTON
$8.50
57.5kg
P L Campbell, P G Campbell, J P Maltese, S Maltese, S J Nixon, Ms E J Robinson, W Choi, M Anastasiou, C Ferguson, Ms M Hilton, Ms K F Kane, S C M Greene, A M M C Racing, N A Blackiston Thoroughbred Racing Pty Ltd, Mad Roosters & J S K Racing

3rd

9. JESTA DREAMA (AUS) 7yo G


BON HOFFA (AUS) - JEST DREAMIN' (AUS)

JORDAN CHILDS
WENDY KELLY
$26.00
58.0kg
K Kelly, J Tocchet, P K Saker, Mrs D L Saker, M J Paterson, C Bartlett, Mrs K M Hayward, S W Hayward, W Burrows, R S & Mrs M Fairlie & R W Fairlie
4th
10. WAR CRITIC (NZ) 4yo G


DECLARATION OF WAR (USA) - THEATRE BUFF (USA)

JAMIE KAH
MATHEW ELLERTON & SIMON ZAHRA
$5.00
58.0kg
5th
4. SUNDAY PRAY (AUS) 7yo G


MANHATTAN RAIN (AUS) - SUNDAY LADY (NZ)

WILL PRICE
JOHN MOLONEY
$26.00
58.5kg
6th
11. WHITTINGTON STONE (AUS) 4yo G


WHITTINGTON (AUS) - SHEZA SHAMARDAL (AUS)

J NOONAN
MICHAEL MORONEY
$7.00
58.0kg
7th
8. SPUD (IRE) 6yo G


FAST COMPANY (IRE) - NIGHTSWIMMER (IRE)

CLAYTON DOUGLAS
J WARREN & D KRONGOLD
$6.50
59.0kg
8th
7. SIR EDWIN LANDSEER (IRE) 7yo G


GALILEO (IRE) - BARAKA (IRE)

HARRY GRACE
TONY ROSOLINI
$101.00
56.0kg
9th
5. SEAFIELD ROAD (AUS) 4yo G


ONEMORENOMORE (AUS) - FAULT ZONE (AUS)

MATTHEW CARTWRIGHT
N J HARNETT
$17.00
57.0kg
10th
6. ARCTIC SHOCK (NZ) 5yo M


SHOCKING (AUS) - ART BEAT (NZ)

LEWIS GERMAN
CHRIS MEAGHER
$7.50
57.5kg
11th
1. BELL'S INNOCENT (AUS) 5yo G


BEL ESPRIT (AUS) - SHE'S INNOCENT (AUS)

LIAM RIORDAN
FRANCIS FINNEGAN
$12.00
59.5kg