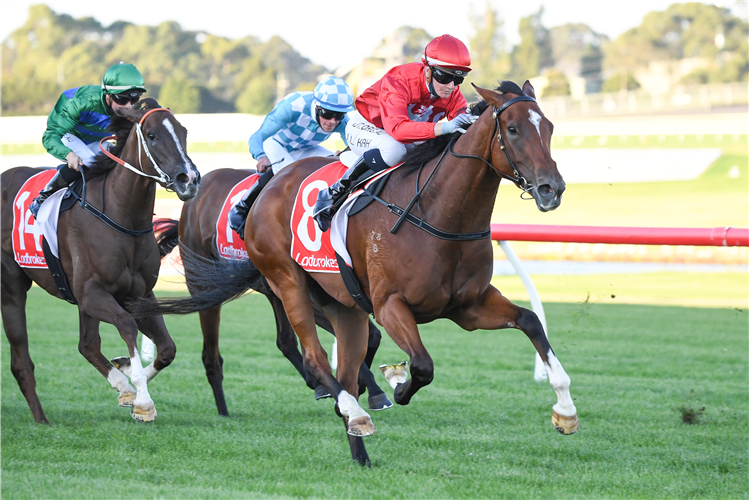 Expect White Hawk and Queen La Diva to race forward. From a wide draw I wouldn't be surprised to see Runaway ridden more aggressively than recent starts, he led to win the Geelong Cup back in 2018.
1. Double You Tee (10) – Assessed price $5
The money suggested that he was going to run a big race in the Hobart Cup, and it was spot on. The 6YO gelding was given an outstanding ride by Jye McNeil for what was a pretty soft victory on the line. The obvious obstacle now is that he will carry an additional 4.5kg in Launceston than he did in Hobart but the winner of this race last year, Home By Midnight, also carried 59kg so it isn't an impossible task. He'll be back again from the draw but he's so consistent it's hard not to see him in the finish.
2. Captain Cook (2) – Assessed price $20
The 8YO gelding was sent out a $61 chance in Hobart but was the first locally trained horse home, finishing fourth. That run had plenty of merit as he covered ground in the run from an awkward alley and now draws an inside barrier. He was brought to Tasmania with these races in mind and based on his Hobart performance he is entitled to start much shorter on Wednesday.
3. Toorak Affair (1) – Assessed price $14
Anthony Darmanin landed the mare in a great spot in Hobart but as the heat came into the race she was gradually shuffled back and finished a grinding fifth without every really threatening the placegetters. She's raced very dour at her past two starts, perhaps having to lug big weights has caught up with her and she'll again have 58kg on Wednesday. She may well drift out to a silly price, but she'll need to recapture her brilliant form from the start of the campaign if she's to add the Launceston Cup to last year's Hobart Cup win.
4. Runaway (11) – Assessed price $9
One of the harder horses to assess in the race, the 6YO is a former Geelong Cup and VRC St Leger winner and more recently has been tested over the jumps. He carried 62kg to win impressively as a $31 chance last start at Flemington which encouraged connections to target this race. I suspect that Sam Clipperton may roll forward which is common for Waterhouse/Bott horses and while I think he is a good each-way chance, I've rated him much higher than the current $4.80 that is being offered.
5. Barade (13) – Assessed price $4.20
He was quite firm in betting in Hobart to start $4.60 which was noteworthy given the avalanche for the eventual winner. He was the only one of the placegetters in Hobart to settle on the rail and was forced to come from well back in the field to make his way into third. The widest draw likely dictates that Brenton Avdulla will go back from the draw again, but with a huge 4kg swing in his favour from Hobart, I see that as enough to rate him as a better winning chance than the Hobart Cup winner.
6. Exoteric (5) – Assessed price $27
As he did in 2020, the 8YO gelding improved considerably in the Hobart Cup, clearly needing to get out to 2400m to show his best form. He was a popular roughie for the Launceston Cup last year but on a day where it was hard to make ground away from the inside, his run there potentially had some excuses. Bulent Muhcu takes the ride on Wednesday with a perfect draw to settle a bit closer and he's another who will start much shorter than he did in Hobart.
7. Glass Warrior (4) – Assessed price $30
The 5YO mare was the Black Book run from the Summer Cup which saw her a reasonably popular pick for the Hobart Cup but ultimately that wasn't the right formline and she was a touch plain like so many of the locals in the race this year. She showed last year by running fourth in this race that she can back-up from Hobart and she has claims for running into the money again this year, particularly with an ideal draw.
8. Classic Weiwei (9) – Assessed price $7
As the equal lowest rated horse in the Hobart Cup the 5YO gelding potentially looked outclassed but he ran a terrific race to finish second. Craig Newitt takes the ride from Daniel Stackhouse, knowing what it takes to win this race having done so two years ago on Eastender. Staying on the minimum of 54kg means he'll meet the toppy 4.5kg better and he has legitimate winning claims which I'll admit, I didn't really give him in Hobart.
9. White Hawk (8) – Assessed price $100
The slightly wider draw should help the 7YO gelding roll into a forward position which is his preferred racing style, but I like him in easier grade than this.
10. Queen La Diva (6) – Assessed price $70
Another former mainland trained horse that has made her way to the Apple Isle. She had the run of the race behind the leader in the Night Cup and while she wasn't beaten far, she certainly had her chance that night. She was jumping from 1600m to 2100m there so she'll no doubt strip fitter, but I have queries on her at the distance having never won past a mile previously.
11. Sh'Bourne Renegade (3) – Assessed price $80
The 4YO was sent out a $71 chance in the Hobart Cup and I think we can expect something similar on Wednesday. He's a progressive staying type who may need another season or two to be truly competitive in a race like the Launceston Cup.
12. Supalopo (12) – Assessed price $13
After starting his career with four straight seconds, the 4YO gelding has reeled off five consecutive wins, the latest two over the staying trip. This is quite clearly the hardest test that he has faced so far, but he's earned the opportunity and the half-length margin last start doesn't truly reflect the soft nature of that win on the line. He may not be quite up to a race like this at this stage of his career but some of his recent wins have been outstanding and if he does salute the judge first on Wednesday, it wouldn't be a big surprise.
13. Generalmaintenance (7) – Assessed price $500
The 6YO gelding wasn't beaten far in the Night Cup but this is considerably harder, and he was an $81 chance that night. As a 61 rater, his next win will come in a significantly lower grade than this.