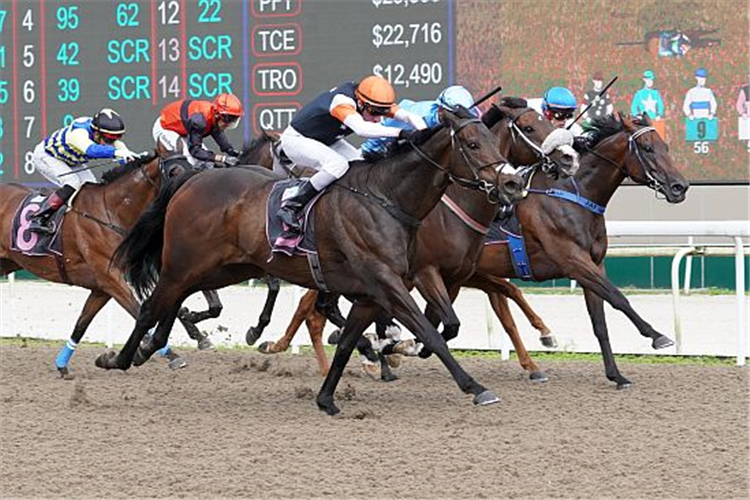 The Australian jockey certainly remembers his first association with the six-year-old on November 21. It was his first win since returning from a major health scare (thyroid cancer) that sidelined him for seven months.
While Powell urged Time Lord towards a handier spot in the Kranji Stakes C race over 2000m then, albeit three wide, the more awkward alley (eight) saw him ridden a lot more negative in the $70,000 Class 3 race over 1600m for a spot at the back of the field.
The only thing in common was the wide trip (four wide), but when Powell went to work on Time Lord at the top of the straight, he still had plenty of gas left, swooping down with the same perfect timing.
Stablemate Silent Partner looked all set to give gun apprentice jockey Hakim Kamaruddin another good day at the office (treble) when he mastered the duelling pair of Senor Don (Krisna Thangamani) and Green Star (Mohd Zaki) on the outside, but Powell was in no mood to let that happen.
Known for having a clock in his head, the experienced jockey had set Time Lord off on a searching gallop from the 600m, never leaving Silent Partner out of his sights and out of his reach.
Just when it all looked done and dusted for Hakim, along came Time Lord sling shooting past Silent Partner inside the last 100m enroute to a half-length win.
Green Star boxed on for third place another three-quarter length away while Senor Don, who eye-balled last-start winner Vittoria Perfetta (Saifudin Ismail) at the head of affairs from a long way out, stayed on for fourth place another three-quarter length away.
Returning a juicy $141 payout, Time Lord ran the Polytrack mile in 1min 38.68secs, and has now taken his stakes earnings past the $210,000 mark for New Zealand owner Matthew Goodson.
"He's a funny horse. He had a wind op, and he can be hard to work out, but today was his day," said Walker.
"Johnny seems to know this horse well, and rode him a treat. From the draw, I told him to come with one run, but it also helped that they did go along in the race.
"To give away five kilos to Silent Partner and still beat him after being caught three to four wide, it was some effort."
Powell said that compared to the 2000m trip of his previous win on Time Lord, a quieter ride at the rear made sense.
"He was coming back to the mile, and there was a lot of speed in the race," said the Australian heavyweight jockey.
"I then took him to the outside which was the best part of the track, and he was too strong."