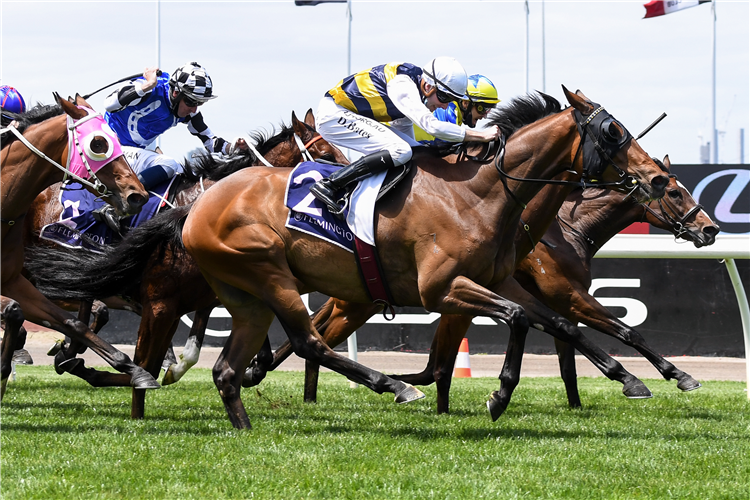 Barade for Brenton Avdulla is the go at $4.20 in the 2021 Launceston Cup (2400m) at Launceston on Wednesday.
2021 Launceston Cup: Final Field, Barriers and Market
2021 Launceston Cup: Race History
2021 Launceston Cup: Nominations
2021 LAUNCESTON CUP – RACE ANALYSIS AND TIPS
Pace to come from Queen La Diva and White Hawk. Runaway may also roll forward from a wide draw. BARADE (5) was the only one of the placegetters in Hobart to settle on the rail and was forced to come from well back in the field to make his way into third. Has a huge 4kg swing in his favour from Hobart.
DOUBLE YOU TEE (1) the money suggested that he was going to run a big race in the Hobart Cup, and it was spot on. The obvious obstacle now is that he will carry an additional 4.5kg in Launceston than he did in Hobart. CLASSIC WEIWEI (8) ran a terrific race to finish second in Hobart. Craig Newitt takes the ride from Daniel Stackhouse, knowing what it takes to win this race having done so two years ago on Eastender. Staying on the minimum of 54kg means he'll meet the toppy 4.5kg better off.
RUNAWAY (4) is one of the harder horses to assess in the race, the 6YO is a former Geelong Cup and VRC St Leger winner. Obviously warrants respect. SUPALOPO (12) is the new blood and enters the race in irresistible form but the query is whether this race is a year early.
2021 LAUNCESTON CUP – SELECTIONS
1st – 5 Barade
2nd – 1 Double You Tee
3rd – 8 Classic Weiwei
4th – 4 Runaway
WHEN IS THE 2021 LAUNCESTON CUP?
WHEN: – Race 8 @ 5:01pm AEST
WHERE: Launceston Racecourse
Racing and Sports has all the form for Launceston
* Note that betting odds may differ from time of publication

Ladbrokes Launceston Cup (G3)
WT: 54.0kg Type: OPEN
FP
Silk
Horse, Age & Sex
Sire & Dam
Jockey
Trainer
SP
WT

1st

7. GLASS WARRIOR (AUS) 5yo M


GLASS HARMONIUM (IRE) - HISSY MISS (AUS)

SIGRID M CARR
JOHN BLACKER
$17.00
54.0kg
R P Hammond, Mrs M L Gunn, Ms J L Dadson, D R Anderson, Mrs K Anderson, P C Bennett, M G Baker, R W Cooke, T J Bennett & J K Blacker

2nd

11. SH'BOURNE RENEGADE (AUS) 4yo G


WORDSMITH (AUS) - MALANDRINA (AUS)

JOE BOWDITCH
BILL RYAN
$67.00
54.0kg
Ms M M Brosnan, Mrs E A Nichols, C I Lovell, P A Lowery, Ms M J Johnson, Mrs C V Fordham, M J Fordham, Mrs K J Curtis-Flynn, J Millwood, R M B Bennett, Mrs L A Bennette, P J Davey, Mrs E Flynn, M G Baker, C F Condon, Ms K Goodwin, B J Gore, J P Gardner & B J Powe

3rd

9. WHITE HAWK (AUS) 7yo G


TOUGH SPEED (USA) - WHITE YARD (AUS)

STAN TSAIKOS
ANGELA BRAKEY
$61.00
54.0kg
Mrs A M Brakey & Mrs M L Gunn
4th
5. BARADE (FR) 6yo G


HAVANA GOLD (IRE) - STATIA (FR)

BRENTON AVDULLA
ARCHIE ALEXANDER
$3.00
54.5kg
5th
12. SUPALOPO (AUS) 4yo G


NEEDS FURTHER (AUS) - MOLOPO (AUS)

JEFF PENZA
ADAM TRINDER
$11.00
54.0kg
6th
8. CLASSIC WEIWEI (AUS) 5yo G


SHAMUS AWARD (AUS) - BENEVOLENT (NZ)

CRAIG NEWITT
T & C MCEVOY
$8.50
54.0kg
7th
10. QUEEN LA DIVA (AUS) 5yo M


SNIPPETSON (AUS) - FLYING DIVA (AUS)

BLAIKE MC DOUGALL
SCOTT BRUNTON
$26.00
54.0kg
8th
1. DOUBLE YOU TEE (AUS) 6yo G


WRITTEN TYCOON (AUS) - KANDY KORN (AUS)

JYE MC NEIL
PATRICK PAYNE
$4.75
59.0kg
9th
2. CAPTAIN COOK (GB) 8yo G


DUBAWI (IRE) - CANDA (USA)

BRENDON MCCOULL
CHARLIE GOGGIN & LUELLA MEABURN
$17.00
58.0kg
10th
4. RUNAWAY (AUS) 6yo R


MANHATTAN RAIN (AUS) - CATSHAAN (AUS)

SAM CLIPPERTON
G WATERHOUSE & A BOTT
$6.00
56.5kg
11th
13. GENERALMAINTENANCE (AUS) 6yo G


HIGH CHAPARRAL (IRE) - VERTEFEUILLE (AUS)

TROY BAKER
JOHN BLACKER
$201.00
54.0kg
12th
3. TOORAK AFFAIR (AUS) 7yo M


TOORAK TOFF (AUS) - SMOOTH RETURN (AUS)

ANTHONY DARMANIN
MICHAEL TRINDER
$11.00
58.0kg