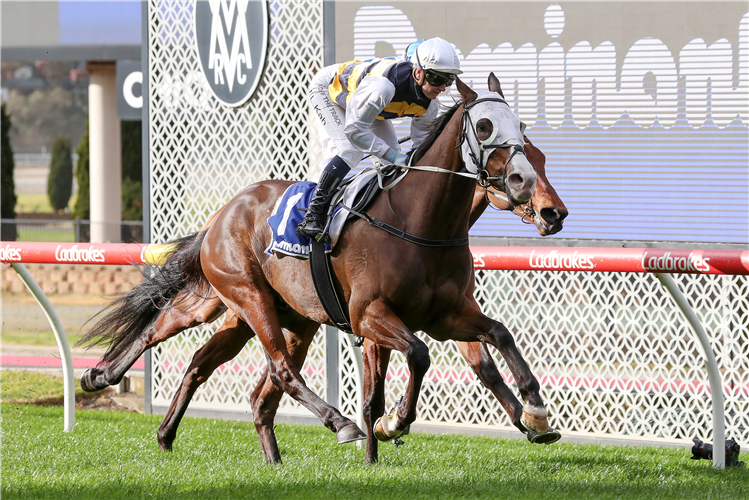 The Mick Price and Michael Kent Jnr.-trained I'm Thunderstruck did his Golden Eagle hopes no damage with a strong performance at The Valley.
I'm Thunderstruck earned the praise of Price with his win in the Dominant Cleaning Solution Handicap (1514m) on Saturday.
Settling back in the field under Jamie Kah, I'm Thunderstruck, the $2.25 favourite, loomed large on the hometurn and after a battle with Tuvalu ($3) over the final 100m, eventually ran out a half-length winner while Seiners Express ($14) was 4-¾ lengths back in third place.
"I had a lot of respect for Lindsey's horse (Tuvalu) and I did think it would be a long way in front of us in the race," Price said.
"We had 60 kilos and were going to be back, so I thought it was a good sustained effort.
"I didn't do a lot with him last Saturday morning wanting to keep enough legs in him for 1500 and when I saw the inside horse fighting back I thought, 'whoopsie', but good horses cover up your mistakes."
Price said he was yet to work out a program on how to get I'm Thunderstruck into the $7.5 million Golden Eagle (1500m) at Rosehill in late October.
He said I'm Thunderstruck had however earned himself a break.
"We'll put a circle around the Golden Eagle and work our way back, whether he has two runs in, that's something we have to work out," Price said.
Kah said she was impressed with I'm Thunderstruck who again wanted to lay-in late in the race.
"I thought today he was going to go straight," Kah said.
"He was beautiful around the turn but he still wanted to test me in the last 50 (metres).
"It can be a hard track for horses that do want to get in because it can be so tight, but I think next prep he's going to be a nice horse.
"The penny still hasn't dropped yet which is amazing because he's doing all this on raw talent."