Race Result:
1st: Imperial Lad (John MoloneyAlana Kelly) - $5 fav
2nd: Rock Tycoon (Nathan Hobson/Madison lloyd) - $31
3rd: Rock In The Park (Shea Eden/Daniel Moor) - $10
Winning Time: 1:12.60 Last 600m: 36.18
Margins: Nose x 1-1/4L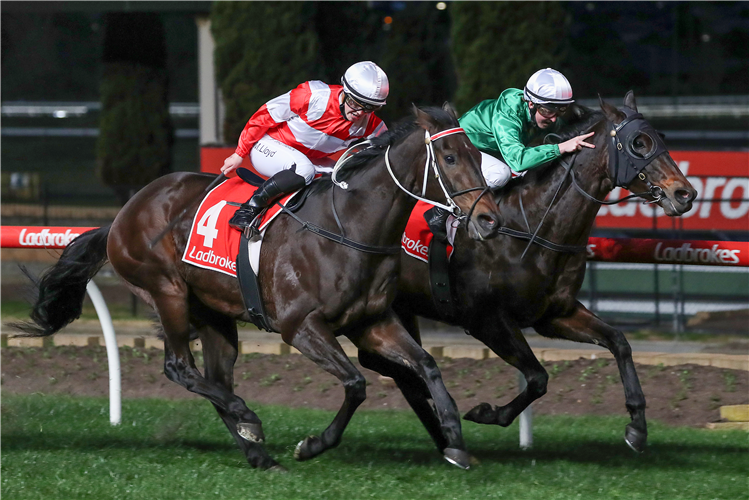 What a finish to the last race of the season

Imperial Lad has kicked back to win it over Rock Tycoon! @moloney_racing @alanajkelly_ pic.twitter.com/dPhvuJmSDK

— Racing.com (@Racing) July 31, 2021
Winning Trainer: John Moloney
Stable favourite: "Absolutely. How do you beat his form. I guess the punters found him at the finish but the tipsters early in the week couldn't see him, but there he is, doing his job again."
Careful where to plus him: "He'll have to come out of the (benchmark) 70 now. Maybe they'll give him three points, keep it low, and we'll be right. They'll give him a few points, but you can't help that."
On Alana Kelly: "We've been watching Alana for a while, even before she was riding as good as she has been of late. We've had our eyes set on her, not that I have a big stable, but it's nice to give her ride.
"We've had a bit of luck here through the season, so let's hope it continues through the next."
Winning Jockey: Alana Kelly
Winning last race of season: "I've been on a bit of a roll of late and getting on some nice horses so it's good to finish the season on a good note."
First ride on Imperial Lad: "He's a cool little dude. Just knows his job. I thought he was gone on the corner but I was really happy to see him fight back off the canvas."

FP
Silk
Horse, Age & Sex
Sire & Dam
Jockey
Trainer
SP
WT

1st

1. IMPERIAL LAD (AUS) 4yo G


ALL TOO HARD (AUS) - STAMMER (AUS)

ALANA KELLY
JOHN MOLONEY
$5.00
60.5kg
J F Moloney, B J Cannon, A W Crosby, R C Standish, Tnt Thoroughbred No 1 (Mgr: T Pilimon) & Jimmy's Corner (Mgr: R T Deagan)

2nd

4. ROCK TYCOON (AUS) 5yo G


WRITTEN TYCOON (AUS) - ROCK PRINCESS (AUS)

MADISON LLOYD
NATHAN HOBSON
$31.00
58.5kg
N J Hobson, T A F Goodwin, L J Wallis, C M Fellows, Mrs T McCraw, M Watkins, R T Hobson, Mrs R E Hobson, A P Hobson, Ms W Watkins, Mrs J L Gurnett, Mrs J Hyde, P M McDonnell, B J Harris, Ms J L Harris, B W Gurnett, S B Rayson, B Rayson & D P McDonnell

3rd

7. ROCK IN THE PARK (NZ) 4yo G


ROC DE CAMBES (NZ) - MERLE PARK (USA)

DANIEL MOOR
SHEA EDEN
$10.00
61.0kg
C R Scott, Mrs S Scott, B J Hovey, Mrs S M Hovey, J C Nagle, Mrs C P Nagle, T B Darcy, Mrs S L Darcy, Dr G M Seabrook & Dr M A Shembrey
4th
8. WILMOT PASS (AUS) 4yo G


RUBICK (AUS) - MANAPOURI (NZ)

MATTHEW CARTWRIGHT
A & S FREEDMAN
$6.00
59.0kg
5th
14. MINYINGA (AUS) 6yo M


ELZAAM (AUS) - RUE DE L'AMOUR (AUS)

CRAIG WILLIAMS
JAMIE EDWARDS
$13.00
59.5kg
6th
19. ROLLS (AUS) 4yo G


ANACHEEVA (AUS) - EXPLOBO (AUS)

J ALLEN
MADDIE RAYMOND
$7.00
59.5kg
7th
16. SMART ELISSIM (AUS) 5yo G


SMART MISSILE (AUS) - NOBODY BUT YOU (AUS)

LUKE NOLEN
BEN & JD HAYES
$13.00
60.0kg
8th
5. MELODEON (AUS) 5yo M


GLASS HARMONIUM (IRE) - SHEZA SINGLE GIRL (AUS)

CARLEEN HEFEL
CHARLOTTE LITTLEFIELD
$21.00
58.0kg
9th
12. MR CANCUN (NZ) 4yo G


ATLANTE (AUS) - GEE WHIZ (NZ)

LACHLAN NEINDORF
LINDSEY SMITH
$26.00
58.0kg
10th
3. MONTENEGRO MAN (AUS) 5yo G


ZOUSTAR (AUS) - ANY DESTINATION (AUS)

MARK ZAHRA
MARK KAVANAGH
$13.00
61.5kg
11th
13. OUT TO WIN (AUS) 3yo G


HEADWATER (AUS) - BUKHOOR (AUS)

BEN MELHAM
MATT LAURIE
$13.00
60.0kg
12th
10. FOXY LADY (AUS) 4yo M


FOXWEDGE (AUS) - TARA BEAUTY (AUS)

WILL PRICE
MATT LAURIE
$9.00
58.5kg
13th
15. DIASONIC (AUS) 4yo G


RESET (AUS) - HERIZ (AUS)

THOMAS STOCKDALE
RICHARD LAMING
$26.00
58.0kg