Race Result:
1st: Zapateo (James Cummings/Damien Oliver) - $10
2nd: Her Empire (Levi Kavanagh/Craig Newitt) - $41
3rd: Sweet Mary (Lindsay Smith/Brett Prebble) - $3.10 fav
Winning Time: 59.71 Last 600m: 35.42
Margins: Long Neck x 3/4L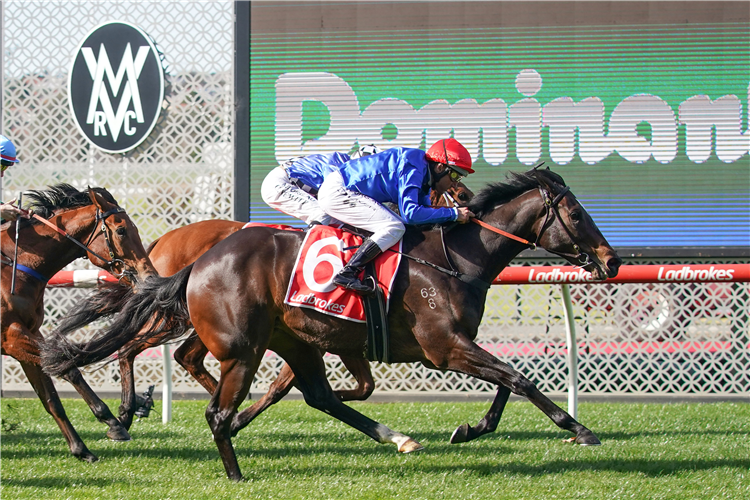 That Ollie roar...

Zapateo has now had three starts for two wins. @godolphin pic.twitter.com/kTyIxgiiCc

— Racing.com (@Racing) July 31, 2021
Winning Trainer: James Cummings (Sean Keogh speaking)
Great way to cap the season with a progressive filly: "Real credit to guys on the farm. We started out the season in good form with the Darley stallions that are based here in Victoria with Frosted kicking off early and then we see the two-year-olds at the back end of the year by Brazen Beau doing well."
The progression: "Coming into today that you would imagine that you would see these fillies in the next month or so now, but that will be up to James and the team to decide. After her first two starts she had the experience and the conditioning to put herself in a winning position today and Damien Oliver gave her a fabulous ride."
Winning Jockey: Damien Oliver
What is it about Godolphin that continue to produce 2YO's week in, week out: "I suppose they have a strong resource there and that seems to be there main goal, their two and three-year-olds and they've got good benchmarks. It's nice to measure them up against one another at different stages and get a bit of a feel as to where they fit into the system. It's great to team up with them. They've got a lot of nice horses there and she's one of them."
Can she go on to early 3YO fillies races: "Possibly. I did think she would just win last start and she didn't really have an excuse there, and today, if I did learn anything it was to be a little more patient on her and she won well. It was her third run today and there might be one more left in her. I would suggest either nurse her through to one more or a little breather now and come back later in the spring. I'll see what James thinks."

FP
Silk
Horse, Age & Sex
Sire & Dam
Jockey
Trainer
SP
WT

1st

6. ZAPATEO (AUS) 2yo F


BRAZEN BEAU (AUS) - JEREZANA (AUS)

DAMIEN OLIVER
JAMES CUMMINGS
$10.00
56.0kg
Godolphin

2nd

13. HER EMPIRE (AUS) 2yo F


DEEP FIELD (AUS) - SHE'S NOT (AUS)

CRAIG NEWITT
LEVI KAVANAGH
$41.00
54.5kg
Mrs C L Kavanagh, W R McKibben, J Fawcett, D Rothstadt, Ms A Zabolotneva, G A Jackson, F De Cesare, Ms M Thompson, R Smith, M J Hiatt, H C Bertram, Miss L Malyi, Horse At The Front (Mgr: Mrs K Macallister), J L Purdey, Oligeorge (Mgr: Mrs C L Kavanagh) & Femme Forte Syndicate (Mgr: Ms D S Gedey)

3rd

10. SWEET MARY (AUS) 2yo F


HINCHINBROOK (AUS) - SILVER MAGIC SHIPS (AUS)

BRETT PREBBLE
LINDSEY SMITH
$3.00
55.0kg
C Wells
4th
14. DUCHY OF SAVOY (AUS) 2yo F


SNITZEL (AUS) - SAAVOYA (NZ)

CRAIG WILLIAMS
MICHAEL & WAYNE & JOHN HAWKES
$6.00
54.5kg
5th
1. LA ROCQUE (AUS) 2yo F


KUROSHIO (AUS) - BIANSLICK (AUS)

DANIEL MOOR
JOHN MCARDLE
$13.00
59.0kg
6th
8. CHIMES (AUS) 2yo F


SNITZEL (AUS) - TIME CHECK (USA)

TEODORE NUGENT
G WATERHOUSE & A BOTT
$7.00
53.5kg
7th
2. FROST FLOWERS (AUS) 2yo F


FROSTED (USA) - ITAMERI (AUS)

MATTHEW CARTWRIGHT
A & S FREEDMAN
$7.00
56.0kg
8th
3. TYCOON HUMMA (AUS) 2yo F


CAPITALIST (AUS) - HUMMA MUMMA (AUS)

JAMIE MOTT
JOHN MCARDLE
$13.00
58.0kg
9th
18. CATALINA BLUE (AUS) 2yo F


AIR FORCE BLUE (USA) - RIVER LANTERN (AUS)

CARLEEN HEFEL
R GRIFFITHS & M DE KOCK
$41.00
51.0kg
10th
17. SHOCKING HABIT (NZ) 2yo F


SHOCKING (AUS) - SNOW LINE (NZ)

DEAN HOLLAND
PAUL PREUSKER
$31.00
54.0kg
11th
7. MURA MURA (AUS) 2yo F


NOT A SINGLE DOUBT (AUS) - MOUNT ZERO (AUS)

DAMIEN THORNTON
PETER & PAUL SNOWDEN
$26.00
55.5kg
12th
9. SEYDOUX (AUS) 2yo F


XTRAVAGANT (NZ) - KURYLENKO (AUS)

WILL PRICE
J T CONLAN
$31.00
53.5kg
13th
12. BIRD OF DUBAI (AUS) 2yo F


PRIDE OF DUBAI (AUS) - BIRD OF FIRE (NZ)

ALANA KELLY
PHILLIP STOKES
$41.00
51.5kg