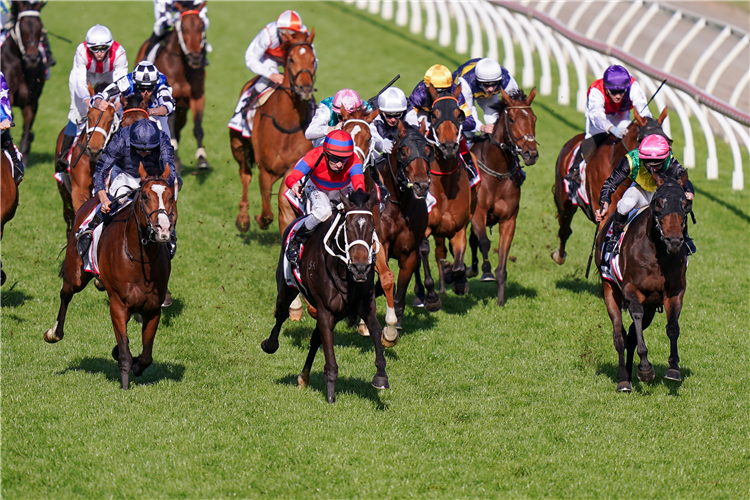 While Incentivise had further cemented firm favouritism for the 2021 Caulfield Cup after winning the Turnbull Stakes at Flemington earlier this month, the 'joker in the pack' has arisen out of the barrier draw which will see the five-year-old gelding jump from the widest draw, barrier 20 (before scratchings).
Easing from $1.90 with TAB pre-draw to $2.40, Incentivise is still likely to be the shortest priced Caulfield Cup favourite since 1975.
Incentivise's jockey – Brett Prebble – was circumspect in his immediate reaction and the says that the options from the 2400 metre start are open.
"20 is 20 but let's have a look and see how much real speed is in the race," he said.
"Whether he takes it up or sits second, third or fourth. He doesn't have to lead. He's led because of slowly run weight-for-age races. It's always an interest race and nothing looks any different at the moment."
Noting that he preferred not to draw the inside gate, Prebble saw advantages to starting from out wider and has no concerns about the possibility of a wet track.
"He's a big boy with a long stride and he's got a bit of room out there with nothing outside of him so if he doesn't jump as fast as the others then he can build and work up into a position that is more favourable to him.
"I rode him on a Heavy 8 track at Cranbourne at the trials. Admittedly it was only over 1200 metres, but he never missed a footing in it and he handled it very well. It was a no-pressure trial at all in any case but you get a fair guide on the after a trial.
"He's won four from four on wet ground – admittedly not in a Caulfield Cup over 2400 metres and in a Group 1 race, but he seems a horse that is quite adaptable and goes on any ground."
Delphi, winner of last Saturday's Herbert Power Stakes (2400m) drew barrier 19 and eased slightly from $6.50 to $7 post-draw. Jockey Damien Oliver said:
"I think he's a forward runner regardless. You always like to draw a bit better, of course, but with the favourite outside with us there we'll be able to come over together and keep an eye on each other.
"I've seen that he has won on a wet track but I haven't ridden him on it, of course. That is always a positive and I think it was a wet track in Ireland, too. You'd assume that would be pretty wet."
Nonconformist drew barrier 16 and since drifted from $11 to $12. Craig Williams takes the ride.
"it is what it is," was Williams' first reaction.
"I'm looking forward to riding him in the Caulfield Cup. He's won three races at Caulfield, drops in weight from a great performance at weight-for-age last Saturday. It's just a barrier.
Fresh from winning the Group 3 Coongy Cup (2000m) at Caulfield on Wednesday, Michael Dee was one jockey pleased with their draw:
"Pretty stoked with the barrier draw", he said.
"That means we can jump out and position up but still at the same time keep her happy and in her rhythm.
"If we were drawn wide we don't have to go right back so hopefully she jumps well and would still like a bit of room but being the Caulfield Cup and heading out of the straight, we'll have to play it by ear.
On the win in the Coongy, Dee said that it didn't come as a surprise to him.
"I galloped her on Saturday morning and she gave me a great feel. I thought today that Floating Artist was the one to beat and I thought that at her best she could produce her best and she did that.
"When I trotted her back after the race she seemed like she could go around again. I'm pretty confident"
Of the other jockeys to comment:
DANIEL MOOR – Young Werther (Barrier 8)
"Quite pleased. It's obviously not too wide, and not too low. It seems to be a bit of a Goldilocks draw just there – just right," Moor said.
"It is more where the other horses are drawn and I was more than happy to draw that middle of the row there. It gives us a few options and a cheap enough run.
"It (wet ground) is a little bit of an unknown. He has worked on soft ground before and has a light frame and a neat action so that should bode well."
JORDAN CHILDS – Homesman (Barrier 13)
"That's a little bit wider than what I would have liked, but with having spoken to Lloyd (Williams) he's a pretty versatile horse. He can put himself anywhere and I see that Incentivise has drawn out in 20 and he is probably a go forward horse, too.
"He usually doesn't put himself too far away so – without talking to the team - I think that is where we will be.
"He'll be a fit horse, he likes the 2400 metres and not being beaten here a couple of years ago, he shouldn't be far away.
JYE McNEIL – Montefilia (Barrier 12)
"She's a really great ride and I'm looking forward to being on her in the Caulfield Cup. Drawing 12 is probably ideal for her. She's the type of horse that, after speaking to David Payne, probably needs to keep her momentum building from the half-mile onwards – she needs to come with one run. I think it will set up well.
"She travelled down well and seems very bright and happy."
LINDA MEECH – Persan (Barrier 11)
"Sounds good to me. I didn't want to draw out wide and drawing right in is so good either.
"He's really working into fitness so I'm excited to have a ride in the Caulfield Cup (her first) and I'm happy to be on him. Hopefully we can do a Cory Parish and get the job done.
"I don't try to confuse myself beforehand (with details). I try to go as the race is going and the way the horse is travelling. I don't try to overcomplicate things."
FRED KERSLEY – Selino – (Barrier 17)
"On face value it is a wide draw, but you've got the two emergencies and if they don't run he'll come in a couple (of gates). There's quality horses drawn around him out wide and I'm more than sure that he can find himself in a nice enough spot.
"He's Group 1 proven over two miles but if he's going to be competitive on Caulfield Cup Day then he would way to see it a strongly run race. He's certainly an outright stayer and if the tempo can be red hot throughout them I'm more than sure that my tough bugger will play a part late."
DAMIAN LANE – The Chosen One (Barrier 9)
"Murray and Andrew have got a good knack of getting these horses to come right at the right time and his run was pretty good in the Herbert Power.
"It does (provide options). He's a very versatile horse these days and we've to ride him quiet for the first four starts this prep because of poor barriers and this gives him options. He's going to run well.
"He loves getting his toe in the ground. That won't worry him and I'm sure it will worry a few others."
DAMIEN THORNTON – Ocean Billy (Barrier 7)
"I'm not sure, to be honest. He was good in New Zealand over two miles so he's a genuine stayer. For the first time this prep gets out to a distance that will suit him.
"We've drawn a good gate so it will give us a few options early in the race on where I want to be. I had the pleasure to sit on him yesterday for the first time and he worked well.
Horse's preparation over distances: "Different. His first run over 1200 metres was very good and then he seemed a little flat over the 1400 which was understandable, that can happen second-up.
"But he was good over the mile third-up with a lot of weight so there is a fair bit of uncertainty.
"He got back in the Auckland Cup. I'd like to be midfield (at the winning post the first time) and go from there. A lot of things can happen in these races but in a perfect world, midfield."