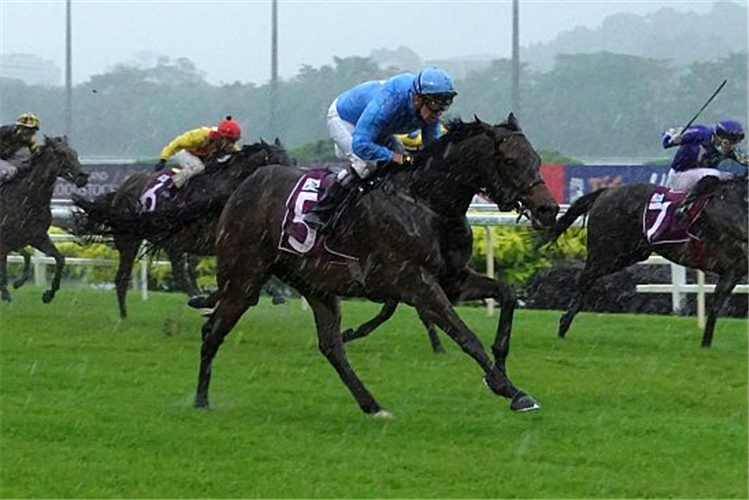 The French jockey had always hoped he could one day ride the 2020 Singapore Derby winner, but for obvious etiquette reasons, never at the expense of his Australian regular partner.
The saddle suddenly became vacant when Duric sensationally called it quits last week for health reasons.
Beuzelin, who has, for all intents and purposes, been trainer Michael Clements' go-to jockey in the last two years, was a hot favourite for the job.
He had already had a first feel of Top Knight at that closing second to Lim's Lightning in the Group 1 Raffles Cup (1600m) four weeks ago. That replacement came about during the time Duric was sidelined through kidney issues, but as it turned out, the saddle-warming job has become for keeps with the four-time Singapore champion jockey eventually not getting any better and left with no other choice but to cut his season short.
Not only the plum chance has come at a time when Beuzelin was going through his own quiet lull, but the Zoustar six-year-old was also peaking at the right time.
It's been one year since Top Knight last scored, incidentally in the same feature race he will attempt to win again this Saturday, the $300,000 Group 1 Queen Elizabeth II Cup (1800m).
In seven starts since, he has finished in the money only at either end, third to stablemate Big Hearted in the Group 1 Singapore Gold Cup (2000m) straight after the QEII Cup triumph, and a resurgent second in the Raffles Cup last time out on September 18.
Beuzelin's high opinion of the Falcon Racing's stalwart never took a scratch during that winless period. If anything, he is feeling upbeat about the stars aligning from this Saturday.
"Top Knight has always been Vlad's horse from Day 1. He had first pick on him," he said.
"For example, he chose Top Knight over Bold Thruster in a Group 3 race (Silver Bowl) last year. That's how I landed the ride on Bold Thruster, who won (and beat Top Knight into second place).
"But it's always been a long-held ambition of mine to ride Top Knight in a race one day. The opportunity has come up with Vlad leaving, and as I've always been loyal to Michael, riding work for him every day, I was glad I got the job.
"I was never worried he had not been winning for a while. He picked up too many points after the Gold Cup, and the distances he was running didn't suit him.
"I really liked his last start in the Raffles Cup even though it was not his best trip, plus it was on the Short Course.
"The QEII Cup trip on the Long Course will suit him better. He'll be going in to defend his title.
"A bit of rain will be to his advantage, just like it was last year when he won. It was pouring during the race.
"He loves a soft track. When others are slowed down by a soft track, or even stop, he keeps going, and the further it is, the better it is for him.
"A cut up track could also be our only chance to beat Lim's Lightning. I think it might affect his ability to stay the trip."
Top Knight will again wear blinkers, which he was fitted with for the first time in the Raffles Cup. As expected, he won't be alone with Clements also saddling Big Hearted, Ocean Crossing, So Hi Class and Prosperous Return.
Barring Ocean Crossing, Beuzelin knows all the other stablemates inside out for having ridden and won on them, but has singled out Big Hearted as the next one in line should Top Knight not rise to the occasion.
A closing third in the Raffles Cup, the Hallowed Crown five-year-old was at some stage Beuzelin's Cup horse, but musical chairs kicked in again.
"I galloped Top Knight alongside Big Hearted on Track 6 (back) on Monday," said Beuzelin.
"Top Knight didn't show me anything, but that's his usual pattern in his trackwork. It's the trait of a good horse, they save the best for their races.
"Big Hearted worked very well on the other hand. He's going to be a big threat, and he's also going for a second Gold Cup."
A win in either or both majors would certainly restore a bit of the gloss lost from Beuzelin's last couple of quiet months.
Things were going swimmingly well thanks mainly to Clements' pillar of support until the trainer hit a flat spot and inevitably, by ricochet, the jockey, too, in August (two winners for Clements, one of which, Celavi gave Beuzelin his only win on August 15) and September (slumped to only one for Clements, Ablest Ascend and none for Beuzelin).
"I was suspended a few times (two careless riding charges in May and June) when I was riding full steam ahead. That slowed my momentum down," said Beuzelin.
"Michael had to change jockeys as a result, and from that time, I've not been getting on quality rides. In this game, you need good horses to get the results, as simple as that.
"It's been a struggle getting decent rides from other trainers, but I got by. Never was I really worried as my ability and my fitness were always 100%.
"Hopefully, Top Knight will be the turnaround for me. I also have Celavi in the Merlion Trophy at the end of the season."
The Group 3 Merlion Trophy (1200m) is this year the one and only Polytrack feature run in this severely-depleted feature race fixtures line-up, and wraps up the season on November 27.
Clements' speedy filly is likely to start among one of the favourites in the all-weather sprint which typically takes place earlier in the year and used to kick off the Singapore Sprint series, which like all the other race series, was aborted in this COVID-19-afflicted season.