Race Result:
1st: Swelter Magic (M Cartwright/K Corstens) - $12
2nd: Lost Impact (A Kelly/L Smith) - $3.50F
3rd: Salto Angel (D Lane/D O'Brien) - $5
Winning Time: 2:34.01 Last 600m: NA
Margins: 3-L x 1-¼ L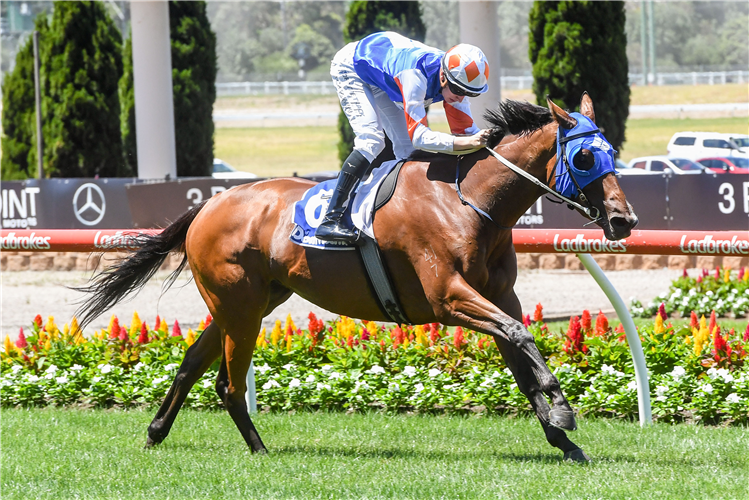 As easy as you like for Swelter Magic!

Dominant win over 2500m at @TheValley. @KevinCorstens pic.twitter.com/dRF4DXHFkS

— Racing.com (@Racing) January 22, 2022
Winning Trainer: Kevin Corstens
On the mare: "She's just improved every time, she's matured and gets better as she gets older. Typical of the Ghibellines breed. She's been working super and she's just improved since her last start - it was 1800 (metres) and I just thought she was looking for that bit more ground. She was doing her best work probably the last 50 (metres) and just improved since.
Tasmanian options: "There is certainly the thought there, i said she had to go good today to think about that sort of thing but we might head that way.
On the ride: "Sensational. It didn't actually go to plan. We were going to try to lead on her which is her normal pattern of racing. He tried to hold out the leader as long as he possibly could and made it work and then he sat behind it and got the run - great ride.
Winning Jockey: Matt Cartwright
On the run: "I knew Tom's horse likes to go hard so I wanted to try and get a bit of cover off him and I'm glad I did. She travelled right into it and let go good and she proved too tough for them. I was travelling strongly throughout and I thought it's going to take a good one to catch me, but they didn't so it was a good win.

FP
Silk
Horse, Age & Sex
Sire & Dam
Jockey
Trainer
SP
WT

1st

6. SWELTER MAGIC (NZ) 4yo M


GHIBELLINES (AUS) - SWELTER (NZ)

MATTHEW CARTWRIGHT
K CORSTENS
$12.00
56.0kg
Ms I M Dogne, A Burns, J Deas, J Guest, Mrs S Guest, S Black, R Macintyre, Ms G Bayliss, N Livock, T Tanis, Miss K L Turner, A Rinaldi & J Q Twelve (Mgr: S Carey)

2nd

4. LOST IMPACT (JPN) 6yo M


DEEP IMPACT (JPN) - SIREN'S SONG (IRE)

ALANA KELLY
LINDSEY SMITH
$3.50
56.5kg
Waratah Thoroughbreds (Mgr: P G Fudge)

3rd

2. SALTO ANGEL (NZ) 4yo M


SACRED FALLS (NZ) - JACILO (NZ)

DAMIAN LANE
DANNY O'BRIEN
$5.00
59.0kg
Mrs J O'Brien, R H Hitt, T H Rourke, R J Parkes, S A Workman, Mrs H M Hitt, Miss B B Hitt, J C Hitt, Peake Racing (Mgr: P N Edwards), Rkh Thoroughbreds (Mgr: R K Hamer), R & C Legh Racing Pty Ltd (Mgr: R P Legh) & Glentree Racing (Mgr: B W C Wilson)
4th
8. EATON (AUS) 9yo G


HIGH CHAPARRAL (IRE) - CHORUS OF ANGELS (GB)

PATRICK MOLONEY
M & L CERCHI
$17.00
56.5kg
5th
3. COUP DE TONNERRE (AUS) 4yo G


NIGHT OF THUNDER (IRE) - SEA TERRACE (AUS)

JAMIE KAH
MATT CUMANI
$5.50
58.5kg
6th
7. WELLSFORD (AUS) 5yo G


MONACO CONSUL (NZ) - DEEP FOREST (NZ)

DEAN HOLLAND
JARROD ROBINSON
$8.00
58.0kg
7th
9. ALIENATED (AUS) 8yo G


DANESIS (IRE) - BELLE TOWER (AUS)

JASON BENBOW
CLIFF MURRAY
$41.00
55.0kg
8th
1. SAVING (NZ) 6yo G


SAVABEEL (AUS) - SPENDING (NZ)

THOMAS STOCKDALE
ANDREA LEEK
$6.00
58.5kg
9th
5. PACKER'S BOND (AUS) 5yo G


DUNDEEL (NZ) - DELIVER THE DREAM (AUS)

BLAIKE MCDOUGALL
HENRY DWYER
$31.00
58.5kg