Race Result:
1st: Chartres (M Laurie/E Brown) - $5.50
2nd: Eventually (T & C McEvoy/J Allen) - $21
3rd: The Claimant (M Kent/C Williams) - $12
Winning Time: 1:37.45 Last 600m: N/A
Margins: ¾ lengths x ¾ lengths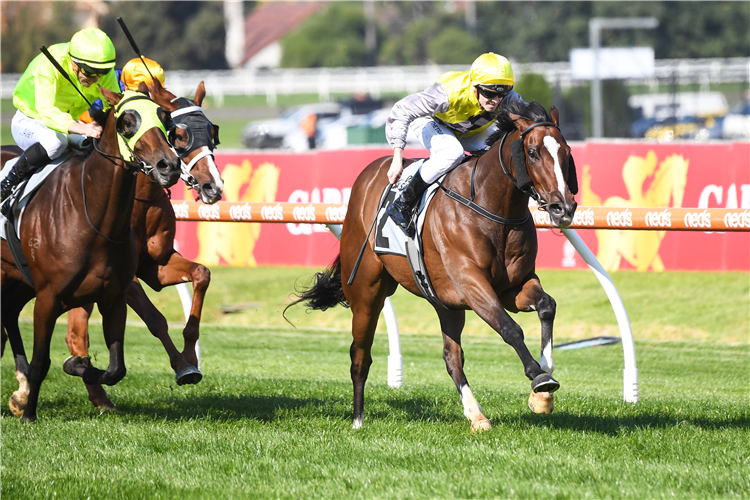 "Chartres extends, Chartres clear, Chartres won it."

The son of Toronado takes out the VOBIS Sires Guineas @mattlaurierace @Brown_ethan8 pic.twitter.com/2zFFTkpGI2

— Racing.com (@Racing) April 23, 2022
Winning Trainer: Matt Laurie
On the win: "Really pleased. He's a genuine little horse, he doesn't run a bad race and was really well placed against this field today so it was good to see him put them away."
The horse's preparation: "He's a horse that keeps making good solid progression, he comes into the race at the right time, he responds to pressure, he's very genuine and on paper it looked a beautiful race for him and it's great that it's come off
Interstate plans: "We've got a couple of things in mind, but this was the priority."
Winning Jockey: Ethan Brown
Winning for connections: "Everyone's very happy and emotional, I'm just grateful that they stuck with me and to get the job done on a grand final, it makes everything worthwhile."
On the horse: "He's a nice horse, not much has gone right this prep running into track bias and whatnot, but his work here was really good on Tuesday so I had a head full of confidence and he let down the way we knew he could.

FP
Silk
Horse, Age & Sex
Sire & Dam
Jockey
Trainer
SP
WT

1st

2. CHARTRES (AUS) 3yo G


TORONADO (IRE) - THE FRENCH HOUSE (AUS)

ETHAN BROWN
MATT LAURIE
$5.50
58.0kg
P Dugan, Mrs V Pucea, S McDonald, S McDonald, Miss S McDonald, Mrs T McDonald, P Gales, Mrs S Gales, P Newton, P Parsons, C Walker, Miss K Manning, N Lovett, H Clement, Dr F Hawker, J Silver, P Hines, Just Horse Racing (Mgr: M Payne), Butters Racing 3 (Mgr: R Butters) & Brave Planet (Mgr: D Taylor)

2nd

13. EVENTUALLY (AUS) 3yo F


HELMET (AUS) - WALDORF (AUS)

J ALLEN
T & C MCEVOY
$21.00
56.0kg
G R Lechte, Mrs C A Lechte, B D Lechte, J K Lechte, Mrs Z Y Williams & Miss P R Lechte

3rd

10. THE CLAIMANT (AUS) 3yo C


HELMET (AUS) - PRINCESS REGINA (NZ)

CRAIG WILLIAMS
MICHAEL KENT
$11.00
58.0kg
Dr N Berry, Mrs M Berry, G Abblitt, Dr A Dortimer, Dr J Lucas, Mrs I Lucas, D Tymms, Mrs L Chisholm, M S Williams, S M Williams, A Alderton, Mrs J Alderton, M J Bruin, L P F Racing (Mgr: K Ferguson), Blood Brothers (Mgr: S Brown), Bdp Racing (Mgr: A Berry) & Quadstack (Mgr: A Macgillivray)
4th
9. DON DIEGO (AUS) 3yo G


TORONADO (IRE) - TOTTENHAM GIRL (AUS)

DAMIAN LANE
GREG EURELL
$2.88
58.0kg
5th
1. BLUSHING TYCOON (AUS) 3yo G


WRITTEN TYCOON (AUS) - CRIMSON KISS (NZ)

JYE MCNEIL
TRENT BUSUTTIN & NATALIE YOUNG
$13.00
58.0kg
6th
3. TOBAYSURE (AUS) 3yo G


CABLE BAY (IRE) - BLACK VELVETEEN (AUS)

DANIEL MOOR
PHILLIP STOKES
$3.75
58.0kg
7th
11. TAUTY (AUS) 3yo F


CLUSTER (AUS) - TAUT (AUS)

MICHAEL DEE
GREG EURELL
$101.00
56.0kg
8th
8. SACHEM (AUS) 3yo G


STREET BOSS (USA) - FLYING TESSIE (AUS)

MARK ZAHRA
MATTHEW WILLIAMS
$17.00
58.0kg
9th
5. ENUFF HE SAID (AUS) 3yo G


RICH ENUFF (AUS) - SHE'S CURVACEOUS (AUS)

BILLY EGAN
PATRICK PAYNE
$21.00
58.0kg
10th
12. RIVERINA CYCLONE (AUS) 3yo F


FROSTED (USA) - PLUS JAMAIS (AUS)

DAMIEN THORNTON
MATT LAURIE
$61.00
56.0kg
11th
7. AIRCLASH (NZ) 3yo G


TORONADO (IRE) - CRAZY LIFE (NZ)

MATTHEW CARTWRIGHT
MATT LAURIE
$61.00
58.0kg
12th
6. DAYAN STAR (AUS) 3yo C


ZOUSTAR (AUS) - MARACOOLA (AUS)

JACK HILL
Leon & Troy Corstens
$41.00
58.0kg
13th
4. MATTASH (AUS) 3yo G


REWARD FOR EFFORT (AUS) - SISTER SOLIE (AUS)

TAHLIA HOPE
DANIEL MCCARTHY
$151.00
58.0kg