Race Result:
1st: Comica (M Kent/E Brown) - $5.00
2nd: Sirleo Miss (S Wilde/D Oliver) - $1.85F
3rd: Starelle (D O'Brien/J McNeil) - $5.50
Winning Time: 1:23.82 Last 600m: N/A
Margins: 1½L x ½ Head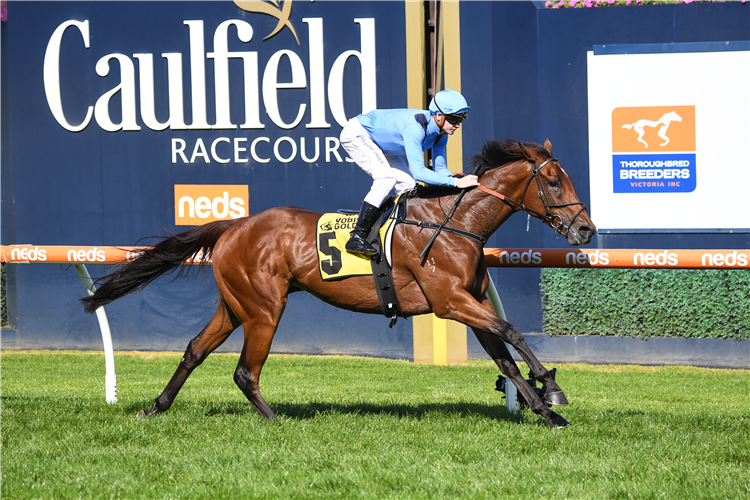 "She's flying at the moment!"

That's three wins from the last four starts for Comica
@Brown_ethan8 @MCKentRacing pic.twitter.com/VVDYZ5uiXA

— Racing.com (@Racing) April 23, 2022
Winning Trainer: Mick Kent
"She's going well, isn't she. I thought he rode her particularly well. Didn't want to get stuck on the fence, thought the fence was getting a bit chopped up.
"We knew how fit she was and though if they'd let us lead we'd be happy to take it up and make it a good solid test.
"We're looking at Adelaide. We thought that if she did well then that'd be something we looked at for sure. There's mile Group 2 but there's also that 2000 metre race listed race which gives us a bit of scope."
2000 metres suits: "She keeps galloping. Her mother was a mile-and-a-quarter horse and her figures always tell me that she wants a trip. As long as she doesn't get held up and they go too slow, if she can keep galloping then ten furlongs is well within her realm."
Winning Jockey: Ethan Brown
Thought the race set up well: "I was happy to take up the lead. If they went harder I was happy to take the sit but ran it to suit ourselves. She's a horse that can't really quicken but she keeps galloping so I upped the tempo from the 600 (metre mark) and she was really strong to the line."

FP
Silk
Horse, Age & Sex
Sire & Dam
Jockey
Trainer
SP
WT

1st

5. COMICA (AUS) 4yo M


MAGNUS (AUS) - MYTIKA (AUS)

ETHAN BROWN
MICHAEL KENT
$5.00
59.0kg
G G Loader, Dr D M Giltinan, B Dodovski & Mrs A Dodovski

2nd

1. SIRILEO MISS (AUS) 4yo M


PRIDE OF DUBAI (AUS) - SHE'S SIRIUS (AUS)

DAMIEN OLIVER
SYMON WILDE
$1.90
59.0kg
S W Wilde, Mrs L M Bryant, G M Bryant, Mrs C M Douglas, T J Wilson, Mrs S L Wilson, W D Douglas, G W O'Meara, S S O'Meara, G A Struth, Mrs C Hibbert, D O Moloney, Mrs S Moloney, A A Hibbert, Mrs J L Wilson, Central Rotary, Forty-One Fullbacks & Armsville

3rd

2. STARELLE (AUS) 4yo M


MORE THAN READY (USA) - STAR OF GISELLE (AUS)

JYE MCNEIL
DANNY O'BRIEN
$5.50
59.0kg
R M Anderson
4th
11. BLISTERING (AUS) 3yo F


READY FOR VICTORY (AUS) - YASEY SAN (AUS)

CRAIG WILLIAMS
JOHN PASCOE
$7.00
55.0kg
5th
3. BRAZEN SONG (AUS) 5yo M


BRAZEN BEAU (AUS) - HONOR HYMN (USA)

MICHAEL DEE
SHANE NICHOLS
$21.00
58.0kg
6th
8. MILLENNIAL GIRL (AUS) 5yo M


REWARD FOR EFFORT (AUS) - MISS GRABLE (AUS)

ALANA KELLY
S R FISHER
$101.00
57.0kg
7th
7. MAKE MINE HENNESSY (AUS) 6yo M


TURFFONTEIN (AUS) - DANISH PRINCESS (AUS)

PATRICK MOLONEY
SAAB HASAN
$101.00
57.0kg
8th
6. FLORENT (AUS) 5yo M


FIORENTE (IRE) - STOCKPIN (NZ)

J NOONAN
TONY NOONAN
$21.00
57.0kg
9th
10. MISS DAYTONA (AUS) 5yo M


STARSPANGLEDBANNER (AUS) - KARALLI (AUS)

LEWIS GERMAN
DAVID PRIOR
$201.00
57.0kg
10th
9. ALL TOO TERRIFIC (AUS) 5yo M


ALL TOO HARD (AUS) - TERRIFIC TULLA (AUS)

JORDAN CHILDS
D T CURRAN
$101.00
57.0kg