Race Result:
1st: Extreme Warrior (M Price & M Kent Jnr/J Kah) - $2F
2nd: It'sourtime (D O'Brien/F Kersley) - $7.50
3rd: Curran (L Tolson & L Proctor/M Cartwright) - $18
Winning Time: 1:03.67 Last 600m: N/A
Margins: ¾L x ½ Head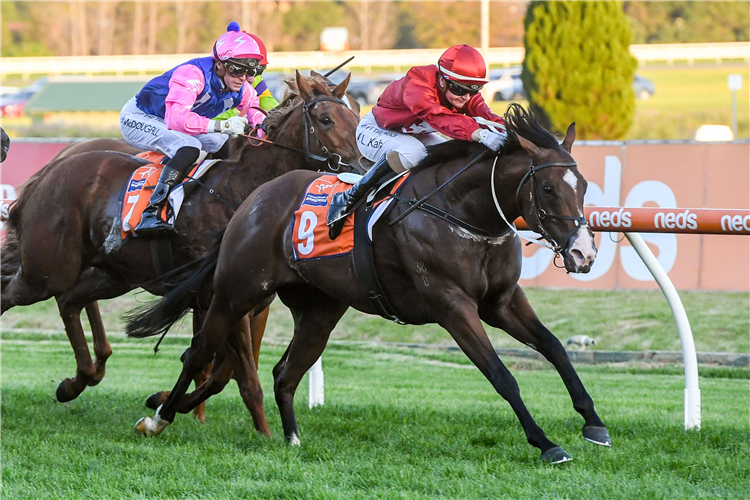 "The final favourite won!"

Extreme Warrior handles the pressure beautifully as @jamieleekah07 notches a treble @MickPriceRacing pic.twitter.com/4f6ft6CjVU

— Racing.com (@Racing) April 23, 2022
Winning Trainer: Mick Price & Michael Kent Jnr (Michael Kent Jnr speaking)
"Very good. He's a brilliant colt. He got very worked up behind the gates and almost half melted so we thought he might be a big fresh and a bit underdone but he was too good in the end.
"He's a beautiful colt and everyone that comes to see him loves him. He's got a massive hip and he's what Extreme Choice can throw.
"There's not many of these bulls around so he's obviously been highly sought after and secured by Rosemont and their investors.
"It's really good to get back with a win and he's got one of those freakish actions with a really long stride and he's a very quick horse.
"He's a big bull. I just saw him in the yard there and he's got a lot of improvement to come. The Goodwood is four weeks away so we'll put a run in between. We'll talk to the team and work that one out."
Winning Jockey: Jamie Kah
"There's plenty of improvement there and the team has been very kind on him. He was probably a trial short so it was really nice to see him hit the line like he did.
"My first sit on him the other day in a trial he really impressed me. He's a very talented colt and I think he's got more improvement to come.
"He rolled in a little bit and I got 'called' so I went easy on him a little bit. He pulled up like he needed the run as well so he's going to improve off that. He's very talented."

FP
Silk
Horse, Age & Sex
Sire & Dam
Jockey
Trainer
SP
WT

1st

9. EXTREME WARRIOR (AUS) 3yo C


EXTREME CHOICE (AUS) - HEART OF THRILLS (AUS)

JAMIE KAH
MICK PRICE & MICHAEL KENT JNR
$2.00
54.0kg
Rosemont Stud, Extreme Warrior, Canning Downs, Iskander Racing, A Mithen, Qatar Bloodstock, Yarraman Park, M Davidson, China Horse Club, Eureka Stud, Rma Bloodstock, Two Bays Farm, G & C Pastoral, Bell River Thoroughbreds, G1g Racing, D Barham, A Koureas, Northerly Holdings, Ms C Shaw & Mrs L Bruhn

2nd

11. IT'SOURTIME (AUS) 4yo G


TIME FOR WAR (AUS) - ZEDOBLE (AUS)

Fred W Kersley
DANNY O'BRIEN
$7.50
54.0kg
S L Pitts, Miss J Lambert, P De Oliveira & Mrs R De Oliveira

3rd

12. CURRAN (AUS) 4yo G


NIGHT OF THUNDER (IRE) - TRAMELL (AUS)

MATTHEW CARTWRIGHT
LYN TOLSON & LEONIE PROCTOR
$17.00
54.0kg
Miss L G Proctor, R Cartwright & Mrs L Tolson
4th
2. GENERAL BEAU (AUS) 3yo C


BRAZEN BEAU (AUS) - PHOSPHORESCENCE (AUS)

DAMIAN LANE
M J ELLERTON
$6.00
57.0kg
5th
7. BLESS HER (AUS) 5yo M


STREET BOSS (USA) - BLESSIT (AUS)

BLAIKE MCDOUGALL
CLAYTON DOUGLAS
$26.00
54.0kg
6th
4. SWORD OF MERCY (AUS) 6yo M


SEBRING (AUS) - CURTANA (AUS)

DANIEL MOOR
M J ELLERTON
$21.00
56.0kg
7th
3. NOT AN OPTION (AUS) 4yo G


NOT A SINGLE DOUBT (AUS) - CHINTZ (NZ)

PATRICK MOLONEY
MICHAEL MORONEY
$26.00
57.0kg
8th
1. ROMANCER (NZ) 8yo G


REDWOOD (GB) - ROMANTICALLY (AUS)

JORDAN CHILDS
GRAHAME BEGG
$41.00
58.0kg
9th
10. INN KEEPER (AUS) 8yo G


HOST (CHI) - PETIT CADEAU (AUS)

LINDA MEECH
SYMON WILDE
$61.00
54.0kg
10th
6. PANDEMIC (AUS) 5yo G


SEPOY (AUS) - CATACLYSM (AUS)

CRAIG WILLIAMS
JAMES CUMMINGS
$21.00
54.5kg
11th
5. WILLIAM THOMAS (AUS) 7yo G


NICCONI (AUS) - GIRLS ROCK (AUS)

DECLAN BATES
LINDSEY SMITH
$41.00
55.5kg
12th
8. LA MEXICANA (AUS) 4yo M


I AM INVINCIBLE (AUS) - CAILIN MISS (AUS)

JYE MCNEIL
A & S FREEDMAN
$13.00
54.0kg