Race Result:
1st: Grandslam (Maher & Eustace/J Kah) - $1.80F
2nd: Ain'tnodeeldun (A & S Freedman/D Lane) - $4.40
3rd: Agnelli (C Waller/C Williams) - $8.50
Winning Time: 2:03.42 Last 600m: N/A
Margins: 5 & ½ lengths x 2 & ¼ lengths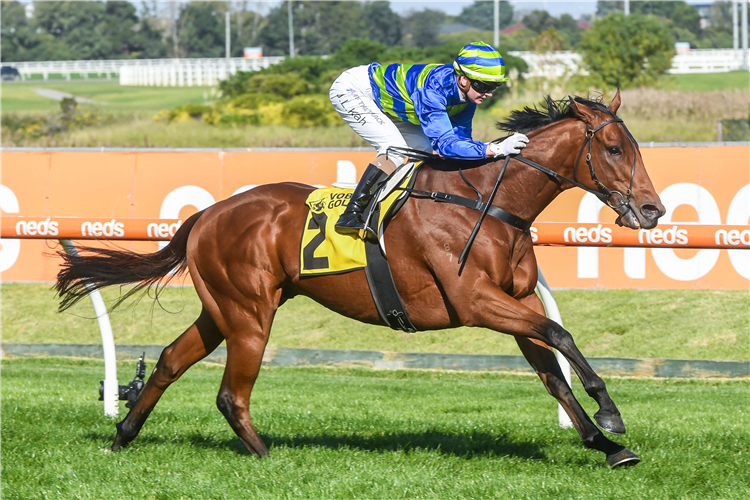 Game, set & match!

Grandslam serves up a masterclass @cmaherracing @jamieleekah07 pic.twitter.com/QXSC7AKz9q

— Racing.com (@Racing) April 23, 2022
Winning Trainer: Ciaron Maher & David Eustace (Ciaron Maher speaking)
On the win: "The whole team, Col Mckenna, he's been a huge supporter with these colours since I started training and for them to race Jameka and to win the big race here is unbelievable. Today's all about the owners and the breeders."
What next: "He had a long break, he's en route to a Warrnambool Cup, hopefully he gets there. He hasn't been beyond 2040m but we'll probably look at that next start."
On Jamie Kah: "He's not easy to ride this horse, she does a lot of work with him, a lot of gallops, he makes it hard work for her but you could see she knows him so well and gave them the slip before the bend."
Winning Jockey: Jamie Kah
On his quirks: "It's not pretty, he does what he wants to do, but on Tuesday was the first piece of work where I felt him really relax. I think he's taken a big step up from his last race, he looks lengths better and Ciaron's done a fantastic job."
Stepping up in trip at Warrnambool: "I thought he was going well, I wanted to see him do that today. He could've gone further, I couldn't pull him up. He's got a great set of lungs on him and he can just stay all day."

FP
Silk
Horse, Age & Sex
Sire & Dam
Jockey
Trainer
SP
WT

1st

2. GRANDSLAM (AUS) 4yo G


MYBOYCHARLIE (IRE) - MINE GAME (AUS)

JAMIE KAH
CIARON MAHER & DAVID EUSTACE
$1.90
60.0kg
Mrs J McKenna, C B McKenna, Mrs E Maher, J P Maher, Mrs K E Ristell, M R Fallon, A L Herbert, Mrs N Herbert, Mrs J Degenhardt, Mrs S M Montague, Montague Lilley Racing, Mrs J M Barham, Ms R Goutzioulis, R R Jamieson, Ms J L Nolte, Mills, Mrs S J Verdoorn, G M Verdoorn, Mrs M Quadroy & S Priestley

2nd

6. AIN'TNODEELDUN (AUS) 4yo H


DUNDEEL (NZ) - AIN'TNOFALLENSTAR (AUS)

DAMIAN LANE
A & S FREEDMAN
$4.50
57.0kg
Musk Creek Farm P/L (Mgr: D H Kobritz), Glentree Racing (Mgr: B W C Wilson), M I Hansky, J D Deague, P Fusca, C Numa, R R G Gamble, R B Nettlefold, C J King, Mrs K Numa & R B Bowman

3rd

8. AGNELLI (AUS) 4yo G


WRITTEN TYCOON (AUS) - SIMPLY THE BEST (NZ)

CRAIG WILLIAMS
CHRIS WALLER
$8.50
57.0kg
Star Thoroughbreds Pty Ltd (Mgr: Ms D J Martin), Boeara Holdings (Mgr: Ms D A Dunphy), Paramount Racing (Mgr: Ms K M Wood), McLeish Family Racing (Mgr: D M McLeish), O Enriquez, M I Ive, Mrs R Ive, J F Hepburn, Mrs P L Hepburn, Mrs A M Howlett, Mrs K A Pailthorpe, R L McKay, Ms E Weston & J W L Tan
4th
12. UNIQUELY (AUS) 4yo M


TORONADO (IRE) - ST TRINIANS (AUS)

ALANA KELLY
DAN O'SULLIVAN
$16.00
55.0kg
5th
4. BARRY THE BAPTIST (AUS) 8yo G


HARD SPUN (USA) - I MEAN BUSINESS (AUS)

JAMIE MOTT
PETER A JONES
$21.00
57.0kg
6th
11. REFLECT THE STARS (AUS) 6yo M


STARSPANGLEDBANNER (AUS) - MANNYA (NZ)

JYE MCNEIL
DANNY O'BRIEN
$26.00
55.0kg
7th
1. DOUBLE YOU TEE (AUS) 7yo G


WRITTEN TYCOON (AUS) - KANDY KORN (AUS)

BILLY EGAN
PATRICK PAYNE
$15.00
60.0kg
8th
7. KIPTANUI (AUS) 5yo G


DEEP FIELD (AUS) - CAFE SCIENTIFIC (AUS)

CRAIG NEWITT
WENDY KELLY
$101.00
57.0kg
9th
10. TRUE IMPACT (AUS) 4yo G


REAL IMPACT (JPN) - BLUE NOTE (AUS)

JACK HILL
JULIE SCOTT
$151.00
57.0kg
10th
3. ROYAL CROWN (AUS) 5yo G


HELMET (AUS) - PRINCESS REGINA (NZ)

MARK ZAHRA
MICHAEL KENT
$26.00
59.0kg