Race Result:
1st: Kings Consort (A & S Freedman/M Zahra) - $10
2nd: Bello Beau (A Trinder/B McCoull) - $2.60F
3rd: Volander (M Laurie/E Brown) - $41
Winning Time: 1:10.80 Last 600m: N/A
Margins: Short Neck x 1¼L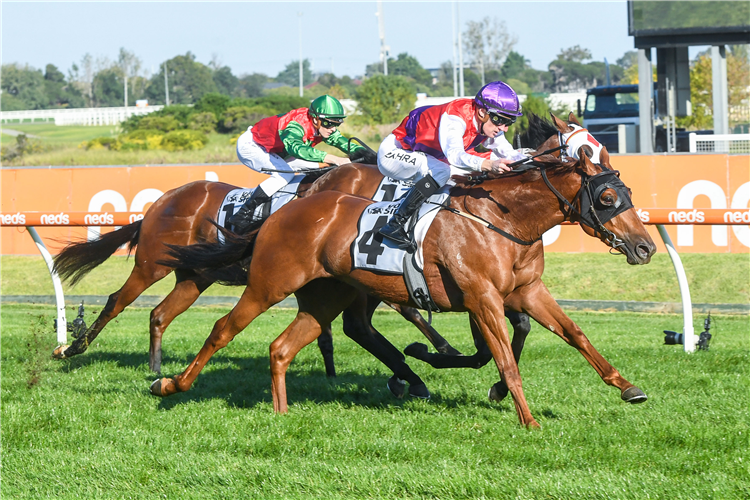 "Kings Consort's flying!"

The @FreedmanRacing 2YO wins the $1m Showdown pic.twitter.com/H2CDSR6oSG

— Racing.com (@Racing) April 23, 2022
Winning Trainer: Anthony & Sam Freedman (rep by Brad Taylor)
"Do they have to shut the track (Caulfield) for the next two years? We'd prefer to stay here, I think, for these two-year-old races over 1200 metres.
"Big result. Obviously we had the favourite for the race (Crosswinds) but unfortunately he sustained an injury and missed the race. We had Mark as the rider and on Wednesday morning we thought we'd throw him in rather than going to Bendigo next week for a maiden.
"He's a horse that has always shown a little bit and he's a horse that is going to get further and when they went a nice tempo and Mark peeled out at the top of the straight I thought he was going to be closing hard.
"Shades of Artorius."
Purchase: "When Anthony goes to Adelaide he shuts the book and finds horses on type and this is another one of his fantastic buys. He's a freak of a judge and with the help of Julian and Sam, our bloodstock agents, he picks good horses and the team are fortunate enough and the owners reap the rewards."
Winning Jockey: Mark Zahra
"The world works in mysterious ways. We were on Crosswinds and he was due for a jump out last week and, to be honest, when he didn't accept and this one accepted, I said 'I've never heard of this horse, what happened here?'
"One went sore so I picked this up and thought alright away we go and luckily he's got the money."

FP
Silk
Horse, Age & Sex
Sire & Dam
Jockey
Trainer
SP
WT

1st

4. KINGS CONSORT (AUS) 2yo G


ILOVETHISCITY (AUS) - PECKISH (AUS)

MARK ZAHRA
A & S FREEDMAN
$10.00
58.0kg
Footy Racing Pty Ltd (Mgr: R C Benkel), M B Trevaskis, P A Ryan, J W McKay, P S Brown, Rob The Piggy Bank Racing, J G Falcke, Miss C L Logan, Mrs B D Gallaher, S L Devlin, C D Charteris, N E Lowe, B Lowe, Ms L De Jong, P C Yalden, Miss J L Thomson, B S Wilson, Ms S L Taylor & Pkngm Racing Syndicate

2nd

1. BELLO BEAU (AUS) 2yo G


BRAZEN BEAU (AUS) - BELLA PRINCESS (AUS)

BRENDON MCCOULL
ADAM TRINDER
$2.62
58.0kg
W G Roser

3rd

14. VOLANDER (AUS) 2yo F


BEL ESPRIT (AUS) - TURF TIMES (AUS)

ETHAN BROWN
MATT LAURIE
$41.00
56.0kg
J G Ferguson, Ms J C Monk, C W J Ferguson, B A Jamieson, Mrs L M Jamieson, Mrs R D Scott, D L Pitt, M Panagakis, Mrs K Panagakis, P Silk & Carringbush Park (Mgr: M Laurie)
4th
8. STARDOM AWAAYTS (AUS) 2yo G


TOSEN STARDOM (JPN) - AWAAYED (AUS)

DAMIEN THORNTON
MATTHEW WILLIAMS
$151.00
58.0kg
5th
5. DON'T CHANGE (AUS) 2yo G


HOLLER (AUS) - NEW SENSATION (AUS)

RHYS MCLEOD
NICK RYAN
$16.00
58.0kg
6th
10. OVER SHADY (AUS) 2yo F


OVERSHARE (AUS) - SOMBRE SEA (AUS)

JYE MCNEIL
MATT LAURIE
$21.00
56.0kg
7th
12. CAPITAL EXPRESS (AUS) 2yo F


ILOVETHISCITY (AUS) - ROMAN BELLE (AUS)

BILLY EGAN
NICK RYAN
$17.00
56.0kg
8th
9. HOLLERLUJAH (AUS) 2yo F


HOLLER (AUS) - LITTLEMISS SANDOWN (AUS)

MITCHELL AITKEN
HENRY DWYER
$9.00
56.0kg
9th
3. NEW YORK HURRICANE (AUS) 2yo G


MANHATTAN RAIN (AUS) - AL DHAKIRA (USA)

JASON MASKIELL
LIAM HOWLEY
$17.00
58.0kg
10th
11. SOJU SESSION (AUS) 2yo F


NOSTRADAMUS (AUS) - LEMON SOJU (AUS)

CRAIG NEWITT
TRENT BUSUTTIN & NATALIE YOUNG
$21.00
56.0kg
11th
2. SIR BAILEY (AUS) 2yo C


IMPENDING (AUS) - JAMEKA (AUS)

JAMIE KAH
CIARON MAHER & DAVID EUSTACE
$5.50
58.0kg
12th
7. PROMISES KEPT (AUS) 2yo G


CLUSTER (AUS) - MORE THAN PROMISED (USA)

BLAIKE MCDOUGALL
GREG EURELL
$41.00
58.0kg
13th
6. RUE DE PALAIS (AUS) 2yo G


STREET BOSS (USA) - GRAND PALACE (AUS)

J ALLEN
T & C MCEVOY
$17.00
58.0kg
14th
13. MAKE IT HAPPEN (AUS) 2yo F


IMPENDING (AUS) - SASSY DRAGON (AUS)

MICHAEL DEE
BEN & JD HAYES
$61.00
56.0kg