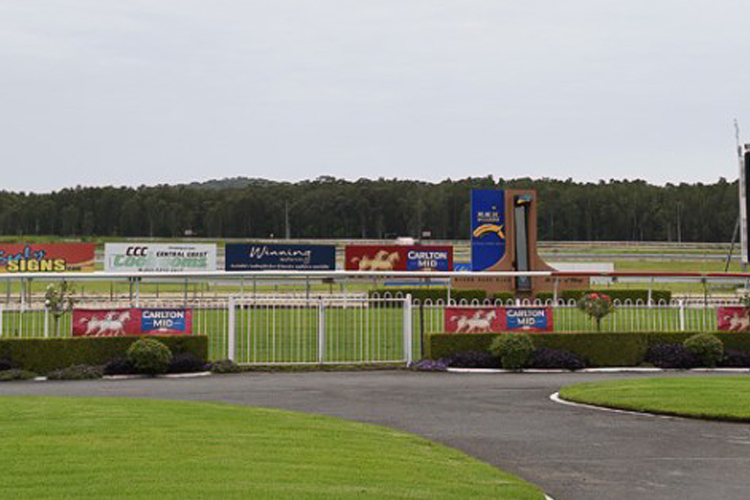 Duke Of Gordon runs in the HMA Flow & Industrial Class 1 Handicap (1600m) after an easy win on a heavy track at Wyong last start two weeks ago.
Publicist won a Warwick Farm maiden in January and he bolted in with a Randwick trial on April 19. He will contest the HMA Geotechnical Benchmark 64 Handicap (1350m) The West Australian has also been booked for the well fancied Not That Easy (race 2-$3.50) and Cushy (race 7-$4.40 fav).
Hugh Bowman will also ride at Wyong where he has three mounts, One Way Street (race 2-$3.10 fav), Naval Seal (race 4-$3.80 equal fav) and Kopangi (race 5-$13). His first two mounts are early favourites.
RACE 1, HMA GROUP MAIDEN PLATE, 1350M: Oxford Vision ($2 fav) is unlikely, with the horse slotted in to run at Warwick Farm on Wednesday. African Daisy ($2.60) is first-up and is the main threat while Promise The Moon ($8.50) has a place chance.
SELECTIONS: 3 OXFORD VISION (UNLIKELY), 7 AFRICAN DAISY, 11 PROMISE THE MOON
RACE 2, HMA INSTRUMENTATION MAIDEN, 1200M: One Way Street's ($3.10 fav) best two runs have been on this track where he is trained. He was a close second in both starts in very strong maiden races. His two recent runs have been disappointing, however, a return to his home track and the engagement of Bowman could see the 4yo break through. Not That easy ($3.50) is on debut after a nice trial and Promise The Moon ($4) - also in the opening event - has a chance.
SELECTIONS: 1 ONE WAY STREET, 4 NOT THAT EASY, 5 PROMISE THE MOON
RACE 3, HMA POWER GENERATION MAIDEN PLATE, 2000M: Bay Of Kiel ($2.80 fav) is a lightly raced 3yo blueblood and this is her race. The daughter of Redoute's Choice-Faint Perfume was narrowly beaten on the Kensington Track last August. She has struggled in her two runs this prep but is fitter now. Love Rules' ($3.60) country form is okay and All About Ollie ($7) should run well.
SELECTION: 9 BAY OF KIEL, 10 LOVES RULES, 1 ALL ABOUT OLLIE
RACE 4, HMA MATERIALS HANDLING MAIDEN, 1600M: Naval Seal ($3.80 eq fav) is knocking on the door with placings on heavy tracks at Newcastle and Warwick Farm. He is still learning and the drop in class is a major factor. Bowman rides him for the third time and he will be hard to beat. Calm Down ($5.50) has been placed in two of three starts and his first-up run was good. Kamea ($7) has a place chance.
SELECTIONS: 1 NAVAL SEAL, 4 CALM DOWN, 10 KAMEA
RACE 5, HMA FLOW & INDUSTRIAL CLASS 1, 1600M: Duke Of Gordon ($1.95 fav) bolted in on this track on a heavy 10 last start. That followed up a solid placing at the Scone Provincial meeting two starts back. Pike rides from a good barrier and this is a winnable race. Gwan So ($3.40) won well at Canberra last start and Shorebreak ($5.50) can lead and he was a Hawkesbury winner three starts back.
SELECTIONS: 3 DUKE OF GORDON, 1 GWAN SO, 4 SHOREBREAK
RACE 6, HMA GEOTECHNICAL BENCHMARK 64, 1350M: Publicist ($3.80 fav) resumes after a brilliant trial win. Last prep he led all the way to win a Warwick Farm maiden on a wet track. He was narrowly beaten in a Kensington Track maiden in July. The 3yo is quick and Pike rides. Georgian Bay's ($4.80) last start Goulburn win was impressive and he is a big threat. Cream Rises ($8.50) can run well.
SELECTIONS: 2 PUBLICIST, 10 GEORGIAN BAY, 1 CREAM RISES
RACE 7, HMA WEAR SOLUTIONS CLASS 1, 1200M: Cushy ($4.40 fav) resumes here and is trialling well. He has had three starts on this track for a win and a second. He is lightly raced, draws a good barrier and Pike rides. If it is a wet track it won't be a problem. Mission Value ($5) won well on a heavy track here two weeks ago and Sabino ($5) is racing well.
SELECTIONS: 4 CUSHY, 1 MISSION VALUE, 2 SABINO
RACE 8, HMA GTECH CYCLONES BENCHMARK 64, 1000M: Sachello ($3.80 fav) is a fast filly with two wins from four starts. She won two on the trot in the spring at Newcastle and Kembla leading all the way. Her recent trials have been good and Reece Jones claims. Selhurst Park ($5) has a good record and is quick and Crimson Rock ($6.50) won well first-up.
SELECTIONS: 5 SACHELLO, 2 SELHURST PARK, 1 CRIMSON PARK
LATE MAIL
RACE 1
3 OXFORD VISION – DOUBTFUL, RACING AT WF TODAY
7 AFRICAN DAISY – 1ST UP. NICE TRIAL
11 PROMISE THE MOON – FORM OK
6 GRACIOUS GRACIE – PLACE
RACE 2
1 ONE WAY STREET – LOVES THIS TRACK
4 NOT THAT EASY – ON DEBUT
5 PROMISE THE MOON – FORM OK
6 RED COBRA – PLACED ONLY TWO
RACE 3
9 BAY OF KIEL – WILL WIN ON BEST FORM
10 LOVE RULES – COUNTRY FORM OK
1 ALL ABOUT OLLIE – LAST RUN OK
5 CROWN'M – GOT CLOSE LAST RUN
RACE 4
1 NAVAL SEAL – HAS FOOT ON TILL
4 CALM DOWN – ENCOURAGING RUN 1ST UP
10 KAMEA – NOT FAR AWAY CANTERBURY
6 SNEAKY ISLAND – JUST MISSED LAST START
RACE 5
3 DUKE OF GORDON – EASY WIN HERE LAST START
1 GWAN SO – STRONG CANBERRA START
4 SHOREBREAK – SPEEDY. TRACK SUITS
2 KOPANGI – PLACE
RACE 6
2 PUBLICIST – FAST. SMART TRIAL WIN
10 GEORGIAN BAY – HUGE GOULBURN WIN
1 CREAM RISES – CAN IMPROVE
3 CRAZY TRAIN – WINNER ONLY RUN HERE
RACE 7
4 CUSHY – GOOD FORM HERE. TRIALS OK
1 MISSION VALUE – LAST START WINNER HERE
2 SABINO – NEVER RACED BETTER
5 DAICHI – LOVES WET TRACK
RACE 8
5 SACHELLO – TALENTED. WON 2 OF 4 AND LEADS
2 SELHURST PARK – HAS SPEED. RACING WELL
1 CRIMSON ROCK – WON 2 OF 5. WON WELL 1STUP
4 NATIVE ROCK – NICE WIN THIS TRACK LAST START