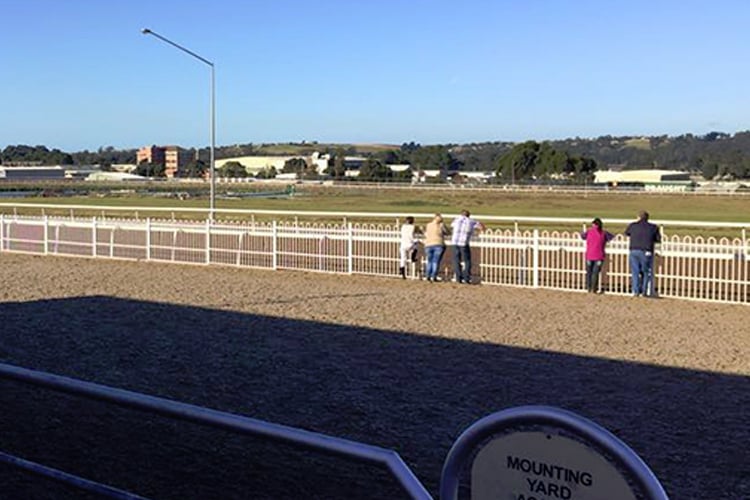 R1 Kevin Sharkie Class 1 Hcp, 1009m
TWO DOLLAR TOM (1) won at his first Tasmanian start beating a field that included DADORABLE (6) who subsequently won the next time out. Both horses have been freshened since then but Dadorable has a 6.5kg swing in her favour from last time they met. GEE GEES BUZZ (4) resumed with a maiden win at the T&D last start. That form has yet to be proven but it's clear he runs his best races here. I'M KRUPT (2) is another last start winner who is first-up. There wasn't a lot between him and ETOSHA (3) when they met back in January. The draw dictating Etosha will need to cross the field if he's to take a forward position which is his racing style.
R2 Ladbrokes Mates Mode Maiden, 1150m
EIGHT MARGARITAS (6) resumes without a trial after weighing in at all four previous starts. She draws to enjoy a good run if she shows some speed from the machines. ALPINE AVIATOR (1) had market support at his Tasmanian debut and closed strongly to finish alongside ZEVA ROYALE (13) who was having her first start for Barry Campbell. The form for both can receive a push through Gee Gees Buzz in the opener. QUEEN'S THE WORD (9) draws poorly but strikes an 1150m without a lot of noted speed which could be an advantage. SHAMMGOD (10) was scratched from Hobart last Sunday to run here. Her racing style has worked against her trying to win a maiden for a while now. SOULITA (11) is in a similar boat to Shammgod, but it wouldn't be a great surprise to see either finish in the money. EGYPTIAN STRYKER (5) has mixed form through her career, evident by her two runs this time in.
R3 Goodstone Group Maiden, 1350m
SILVER PERSUASION (10) was on the wrong end of a two-horse war to open the Good Friday program in Launceston. If she can cross early and bring her grass form to the carpet, she's a big chance to go one better. Stablemate BIG JOHN (2) was well-supported on debut but could only grind to the line after settling well back. He may already be looking for a mile off that run and crossed the line with OUR SONNY BOY (4) who is fairly exposed now in terms of his Tassie form. NAMABAALE (3) is an ex-Clinton McDonald horse coming to a stable who have had great success with tried horses in recent times. He's likely after further but it may pay to keep him safe. SILENT LOVE (9) looked to have every conceivable chance last time but couldn't wear down the leader. She should enjoy a good run again. The market suggested ALMIGHTY VIRTUE (1) is a better horse than what he showed in Launceston so may improve back to his home track.
R4 Tasmanian Horse Transport Class 1 Hcp, 1350m
FANCIFUL FLYING (5) absorbed some early pressure at the T&D last start but held the challengers at bay in the run to the line. That form can be franked in the previous race. Her winning time was slightly slower than the Class 1 on the same day that a host of others in this field come through headlined by SPIRITED TOFF (1) who led and was grabbed in the shadows of the post. SWEETSOP (8) and BELMISTA (3) were close for the minors in that race, the latter enduring a torrid run after being caught wide for most of the race. GEE GEE REAL DEAL (6) has been OK in a couple of Launceston runs since she resumed. She was ahead of BLACK EAGLET (2) who only ground to the line on a rain-effected track in Launceston and may appreciate the rise in distance. SQUARE DONUT (4) was well beaten in the same race and has the blinkers back on at start three for the campaign.
R5 Thai Imperial Bm62 Hcp, 1350m
ROCK THE BOWLER (3) was as much as $20 into $3.80 at his first Tassie start but settled well back in a race where the leader had things gift wrapped. That run, and his previous form suggest he may already be looking for further. INCRIMINATE (4) was a bit plain resuming in Launceston. He's drawn to land in a nice spot and can improve back to his home track. GEEGEE LUCKY JESS (5) can have her last start win franked in the previous race. She had the perfect run there and will need a good Siggy Carr ride again from a tricky draw. SKILENDRA (10) lacked her usual turn of foot on a soft track last time and always needs luck from back in the field. GEE GEE GOLDENLASS (9) was only fair last Sunday but may be looking for the rise in distance. RING OF HONOUR (1) is a new arrival to the state who won two of his first three starts but hasn't tasted victory since August 2020. THE MASTER SPEED (2) hasn't run up to market expectation at his past couple. Along with HOT RELATION (7), their best chance may be to lead in a race lacking a heap of obvious speed.
R6 Carlton Draught Bm62 Hcp, 1650m
EIGHTY EIGHT DAYS (4) chases a hat-trick after two strong wins over the Launceston 1400m. He looks ready for a mile now and the claim for EBB sees him get in with the same weight as last start. DRAMAZING (5) was an arrogant winner at the T&D last time, atoning for a luckless run two starts ago. She rises in weight, 58.5kg is 1.5kg more than she's ever carried in a race before. ALWAYS A WINNER (2) had the right part of the track on Good Friday but showed a will to win when challenged. He's back in distance but should lead here with the only likely challenger GEEGEES FIRST LADY (8). Both her and DARGO (1) are suited up in trip and had little chance with the way the race was run first-up. HAMOGANY (3) blew the start last time but she's well exposed at start 10 in a campaign that started back in November.
R7 Go Racing Tasmania Bm68 Hcp, 1150m
GEE GEE PLANE (3) continued his love affair with the Devonport track last start where he had the run of the race and duly saluted. He goes up 1.5kg but draws the same gate and Troy Baker has continuously found ways to give him the right run around this track. ARTUSO (2) led at a moderate clip there and was only nabbed late. He is rarely far away when he races at home. FIGHTING PHOENIX (7) saw gaps close on her in the home straight when LADY JOKER (10) layed out in the same race. RISING HSIANG (4) also comes via that formline and will strip fitter. The lightly raced JULIUS (5) resumes a career that began in July 2020 but lines up for just start seven here. He's had his share of issues, but recent trials point towards him being back near his best. He'll need luck from the draw with the likes of GEEGEE TRENDSETTER (1), GEE GEES CRICKET (11) and GEE GEE ROYBOY (13) capable of ensuring a strongly run race. TROJAN STORM (8) was a big drifter first-up and missed the start before running on reasonably well.
R8 Birdcage Tavern Bm76 Hcp, 1880m
This is a benchmark 76 where GREGORIAN CHANT (1) is the only horse rated anywhere near that number. She finished with the fastest final 200m of the program last start which provides an idea of how quiet the ride was. 1880m is an unknown for her. BARJEEL (2) wasn't suited with the Launceston track downgrades last time out. Back to the synthetic shouldn't hold any fears and he's been solid throughout the campaign. PHENOMENAL DANCER (5) was first home of a few of chances coming via the BM62 won by Dramazing. There wasn't much between her, TEE JAY FRANKIE (8) and GEEGEES ROCK OPERA (6) with the latter perhaps having the most excuses given she was held up in the straight. VIDEMANETTE (4) and SHAMPZ AGAIN (3) were right in the market last start before disappointing. They'll need to be taken on trust. RED FIORE (7) wouldn't be the first horse to rebound from atrocious Hobart form to improve considerably on the carpet.