Race Result:
1st: Agreeable (Matthew Cartwright/Anthony & Sam Freedman) - $7
2nd: Saigon (Chris Waller/Craig Newitt) - $16
3rd: Commands The Field (Trent Busuttin & Natalie Young/Beau Mertens) - $4F
Winning Time: 1:19.19 Last 600m: NA
Margins: Short Neck x Neck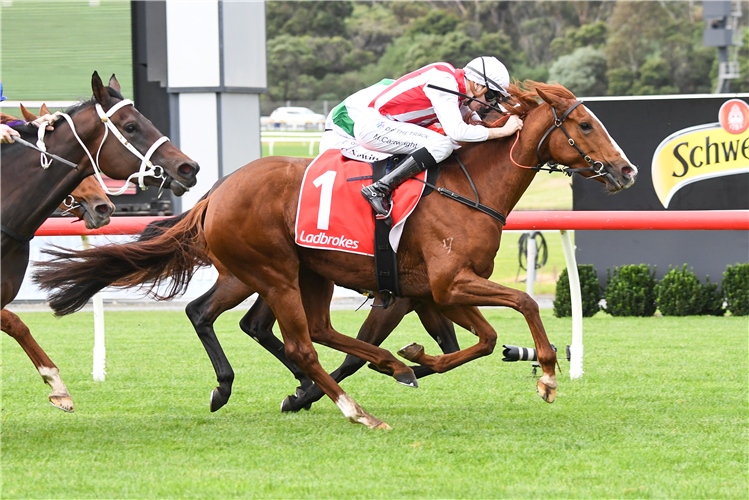 "Agreeable got the split."

Great return from the Sebring mare @FreedmanRacing @MelbRacingClub pic.twitter.com/JP1UEPw0br

— Racing.com (@Racing) April 30, 2022
Winning Trainer: Anthony & Sam Freedman (Pinecliff racing manager Rod Douglas speaking)
On Agreeable a horse: "You knew she was fit and she doesn't get fat, she's one of those lean type of fillies, and it's good to see her win."
Paying tribute to Anthony Freedman's mother Del: "The Freedmans have had a bit of devastation this week with Anthony and boys' mum passing away yesterday, so it's a bit of a sombre time for them but hopefully this puts a cheer on their face."
On the future: "She'll push on and hopefully she gets Black Type at some stage."
Winning Jockey: Matthew Cartwright
On the win: "It was a good win. It was a little bit tricky coming into the straight, I just had to wait and bide my time, but once I got the gap she let down well.
"She's probably not as effective on the wet track as she is a firmer deck but her class prevailed today."
Further detailing the difficult spot he was in on the turn: "I just had a few horses come around me and I had a few horses in front of me that weren't going to take me into the race, so I just had to wait, but I got the run, she let down well and she'll improve a lot out of it (fitness-wise) as well."

FP
Silk
Horse, Age & Sex
Sire & Dam
Jockey
Trainer
SP
WT

1st

1. AGREEABLE (AUS) 4yo M


SEBRING (AUS) - AFFABLE (AUS)

MATTHEW CARTWRIGHT
A & S FREEDMAN
$7.00
58.5kg
Pinecliff Racing (Mgr: J Munz)

2nd

5. SAIGON (AUS) 5yo M


I AM INVINCIBLE (AUS) - SAIGON TEA (NZ)

CRAIG NEWITT
CHRIS WALLER
$16.00
58.5kg
Laurel Oak Bloodstock Pty Ltd (Mgr: L Mihalyka), Mystery Downs (Mgr: F Cook), Nick Vass Bloodstock (Mgr: N Vass), T Millard, S & K Dean (Mgr: S Dean), M McMahon, Mrs S McMahon, D Weston, Mrs G Weston, A Jolley, M Houston, G Aldridge, D Jeffery, Mrs C Jeffery & M Riley

3rd

9. COMMANDS THE FIELD (AUS) 3yo F


DEEP FIELD (AUS) - EGYPTIAN CROSS (AUS)

BEAU MERTENS
TRENT BUSUTTIN & NATALIE YOUNG
$4.00
54.0kg
Ms N Young, Mrs T Davis, Mrs D Dormer, Mrs J Foley, Mrs K Jones, Mrs S Juratowitch, Ms S Story, S Matthews, Ms D Pope, Mrs P Speechley, Mrs N Stuart, Ms C Szentkuti, Mrs A Tudorovic & Mrs W Yesberg
4th
10. SUCCEED INDEED (AUS) 4yo M


AKEED MOFEED (GB) - LUCKY MORNA (AUS)

JYE MCNEIL
Leon & Troy Corstens
$13.00
54.0kg
5th
8. APRES LA MER (AUS) 5yo M


REWARD FOR EFFORT (AUS) - COMBERMERE (AUS)

JOSH RICHARDS
DEAN BINAISSE
$12.00
52.5kg
6th
2. NEED NEW FRIENDS (AUS) 5yo M


SHAMUS AWARD (AUS) - THAT'S AMORE (AUS)

ALANA KELLY
DANNY O'BRIEN
$21.00
58.0kg
7th
3. OCEAN MISS (AUS) 5yo M


OCEAN PARK (NZ) - BOUND TO IMPRESS (NZ)

BRETT PREBBLE
D & C FEEK
$8.00
59.5kg
8th
6. LA VINA (AUS) 5yo M


ARTIE SCHILLER (USA) - FOO KEIMA (AUS)

JARROD FRY
LINDSEY SMITH
$5.50
57.5kg
9th
7. CIRRINA (AUS) 5yo M


TORONADO (IRE) - MISS OCTOPUSSY (AUS)

LOGAN MCNEIL
MICHAEL MORONEY
$6.00
54.0kg
10th
4. LAFFALONG (AUS) 5yo M


ALL TOO HARD (AUS) - SMILES FOR LAYLA (NZ)

BLAIKE MCDOUGALL
NIGEL BLACKISTON
$26.00
58.5kg