Race Result:
1st: Regardsmaree (Nick Ryan/Billy Egan) - $2.60 fav
2nd: Buffalo River (Michael Moroney/Jordan Childs) - $2.90
3rd: Excelida (Ben & JD Hayes/Patrick Moloney) - $8
Winning Time: 1:26.12 Last 600m: NA
Margins: Half-Length x Short Neck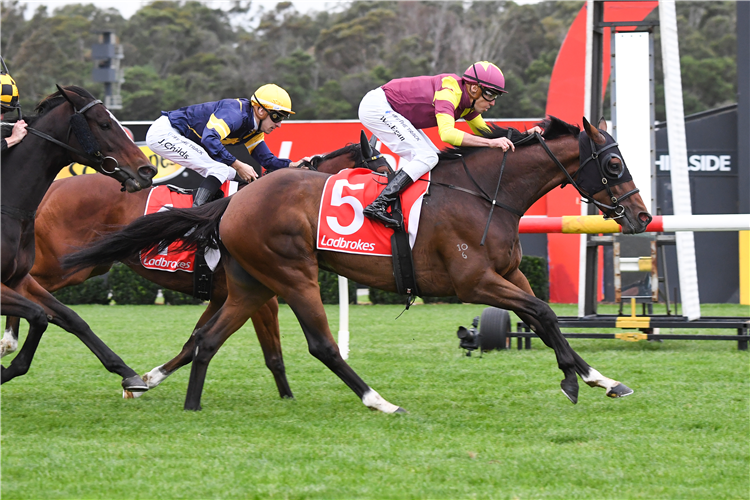 "Regardsmaree won again."

Another terrific performance from the @nryanracing-trained galloper @MelbRacingClub pic.twitter.com/ep8j9qwMKp

— Racing.com (@Racing) April 30, 2022
Winning Trainer: Nick Ryan
On Billy Egan's ride: "We had a plan and he executed it 150 percent. We were a little bit worried about letting Buffalo River get out of his sights. I said go forward, aim for the one-one and work it out from there. It was lucky he did because we probably wouldn't have run him down."
On the ownership group: "There are some great owners I've had some great luck with and to get a Stakes win for them today is very rewarding."
On future plans: "We love him on the back-up. Obviously we wouldn't have run him today if we didn't think he was well but he was hard-fit and we might have an exciting three weeks, we might keep him fresh go to Adelaide (for The Goodwood)."
Winning Jockey: Billy Egan
On his performances the past two weeks: "The last two weeks for me he's begun very well and that just makes my job so much easier when he's willing to begin from the gates cleanly with the majority of the pack.
"Then I've just got to be neutral and not panic. We've got plenty of time down the back straight and let us find our position from there."
On his prospects in a Goodwood: "I think a Goodwood would be within his reach, on a light weight. I have noticed the last two times I've ridden him he has appreciated coming off a good speed, there'll be good speed in a race like that and he'll be the one chiming in."

FP
Silk
Horse, Age & Sex
Sire & Dam
Jockey
Trainer
SP
WT

1st

5. REGARDSMAREE (AUS) 5yo G


SO YOU THINK (NZ) - ROSSA MIA (AUS)

BILLY EGAN
NICK RYAN
$2.62
56.0kg
M A Schiavello, D M Schiavello, J De Luca, T J Nation, P B Graham, D A Smith, J Brewster, P A S Breden, D M C Willis, B I Poynter, D Josselsohn, K M Dagg, S P Cunliffe, B W Bayot & Clanbrooke Racing (Mgr: D P Humphries)

2nd

1. BUFFALO RIVER (USA) 6yo G


NOBLE MISSION (GB) - FASHION INSIDER (USA)

JORDAN CHILDS
MICHAEL MORONEY
$2.88
60.0kg
Ballymore Stables (Aust) P/L, R&C Legh Racing P/L, Gee Gee Equine Ltd, Ms A Bergin, Dr A & B Pang, Halo Racing Services P/L (Mgr: C McKenna), Dr C & S Cowan, Mrs R & F Cain, Top Tier Racing, Gjdm Racing Syndicate, Vermont Racing Club 2, M King, Gurners Bloodstock, D & Mrs S Kenley, Ms S Ng & Ms X Wu

3rd

9. EXCELIDA (AUS) 5yo M


EXCEED AND EXCEL (AUS) - LADY SAYYIDA (NZ)

PATRICK MOLONEY
BEN & JD HAYES
$8.00
54.0kg
B J Lindsay & Mrs J E A Lindsay
4th
2. JUSTACANTA (NZ) 8yo G


PER INCANTO (USA) - JUST CASUAL (NZ)

LUKE NOLEN
PATRICK PAYNE
$12.00
58.5kg
5th
12. BEAUFORT PARK (AUS) 6yo G


WARHEAD (AUS) - WARLADY (NZ)

Fred W Kersley
SAAB HASAN
$21.00
54.0kg
6th
11. BALLET MASTER (NZ) 8yo G


STRAVINSKY (USA) - LADY PERPETUATE (NZ)

BEAU MERTENS
CHRIS HYLAND
$41.00
54.0kg
7th
6. ZIEGFELD (GB) 5yo G


NEW APPROACH (IRE) - MAID TO DREAM (GB)

BLAIKE MCDOUGALL
GAVIN BEDGGOOD
$13.00
56.0kg
8th
13. TIBETAN (NZ) 5yo G


SHOCKING (AUS) - BALTIS (NZ)

MATTHEW CARTWRIGHT
MATTHEW ENRIGHT
$81.00
54.0kg
9th
4. GREAT AGAIN (AUS) 9yo G


VISCOUNT (AUS) - FREE AT LAST (NZ)

JARROD FRY
LINDSEY SMITH
$17.00
57.0kg