Race Result:
1st: Sir Davy (Ciaron Maher & David Eustace/Linda Meech) - $3.40 fav
2nd: Vitruvius (Paul Preusker/Brett Prebble) - $5.50
3rd: Basarwa (Danny O'Brien/Jye McNeil) - $8
Winning Time: 1:39.56 Last 600m: NA
Margins: Half-head x Neck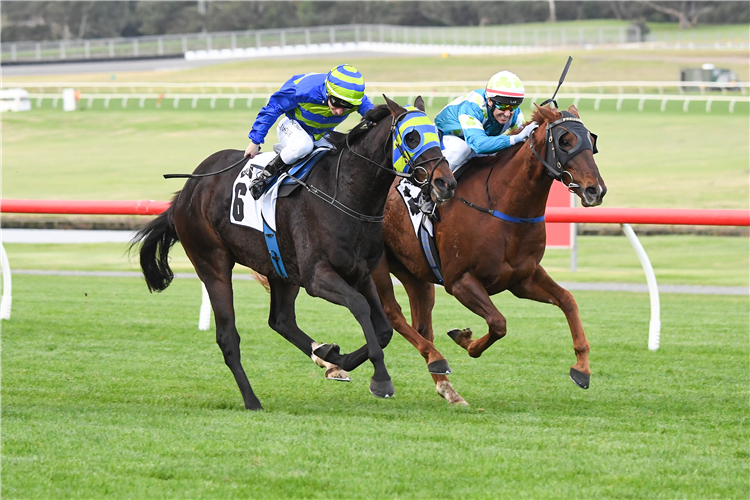 Winning Trainer: Ciaron Maher & David Eustace (Assistant trainer Jack Turnbull speaking)
On today's performance: "He had a bit of weight today and ended up in an awkward spot. The second horse ended up helping us in the end, we got on the back of him, but credit to the horse. He's in a rich vein of form and he's done it again."
On the chance of backing up at Warrnambool during the week: "Probably unlikely. We like to space his runs, we'll naturally have a look, but I dare say we'll bypass that."
On the decision to run today instead of Warrnambool: "It was a call by Colin and Janice (McKenna, owners) and Andy (Makiv, racing manager) and it's paid off.
"They bred and own the horse, so big credit to them and hopefully it's a sign of a big week at Warrnambool."
Winning Jockey: Linda Meech
On today's ride: "I got there too soon and he got me out of hole so all credit to the horse."
On whether he could get a further trip: "I'm sure he's in the right stable to get a bit further as well. The mile was good for him today but I'm sure he could run a trip. He's a lovely, relaxed, casual sort of bloke and I couldn't see why he couldn't step up."

Thoroughbred Club (Bm78)
WT: 54.0kg Type: BM78
FP
Silk
Horse, Age & Sex
Sire & Dam
Jockey
Trainer
SP
WT

1st

6. SIR DAVY (AUS) 4yo G


STREET BOSS (USA) - CATECHUCHU (AUS)

LINDA MEECH
CIARON MAHER & DAVID EUSTACE
$3.50
59.5kg
Halo Racing Services Pty Ltd (Mgr: C B McKenna), Mrs Janice McKenna, A Makiv & Miss S Negre

2nd

14. VITRUVIUS (AUS) 4yo G


STAR WITNESS (AUS) - LUCHARDO (AUS)

BRETT PREBBLE
PAUL PREUSKER
$5.50
55.0kg
J R Burke, L W Warner, K A J Peach, A F Pieters, D J Kydd, R P P Brown, Miss J Draper, Ms S Draper, L A Jordon, G Hicks, D R Cross, Mrs H M Etherton, B H Etherton & A F O'Sullivan

3rd

8. BASARWA (NZ) 4yo G


ATLANTE (AUS) - KALAHARI PRINCESS (NZ)

JYE MCNEIL
DANNY O'BRIEN
$8.00
58.5kg
B Perry, Mrs A M Perry & L Petagna
4th
4. KINANE (NZ) 5yo G


RELIABLE MAN (GB) - TRES RAPIDE (NZ)

LUKE NOLEN
MICHAEL KENT
$15.00
59.5kg
5th
12. WELSH LEGEND (AUS) 6yo M


CAMELOT (GB) - ONETHINGATATIME (AUS)

Fred W Kersley
CHRIS WALLER
$13.00
57.0kg
6th
13. RELIABLE DUDE (NZ) 4yo G


RELIABLE MAN (GB) - MERAYAAT (AUS)

ZAC SPAIN
M J ELLERTON
$13.00
55.0kg
7th
7. BORN A KING (GB) 5yo G


FRANKEL (GB) - FAIRWATER (USA)

CRAIG NEWITT
CHRIS WALLER
$16.00
59.0kg
8th
5. LYRICAL LAD (AUS) 4yo G


ROMAN EMPEROR (NZ) - GRECIAN MELODY (NZ)

BEN ALLEN
PHILLIP STOKES
$7.50
59.5kg
9th
10. OUR LONE STAR (AUS) 4yo G


MAGNUS (AUS) - MISS KEMPINSKY (AUS)

ALANA KELLY
SEAN MOTT
$10.00
55.5kg
10th
16. AGRIMONY (GB) 4yo G


PIVOTAL (GB) - ADJUDICATE (GB)

JOSH RICHARDS
CHRIS WALLER
$21.00
52.0kg