Race Result:
1st: Witchachar Star (Chris Hyland/Beau Mertens) - $6.50
2nd: Agnelli (Chris Waller/Brett Prebble) - $7.50
3rd: Eaton (Michael & Luke Cerchi/Teodore Nugent) - $21
Winning Time: 2:36.52 Last 600m: N/A
Margins: Neck x 1-¼ Lengths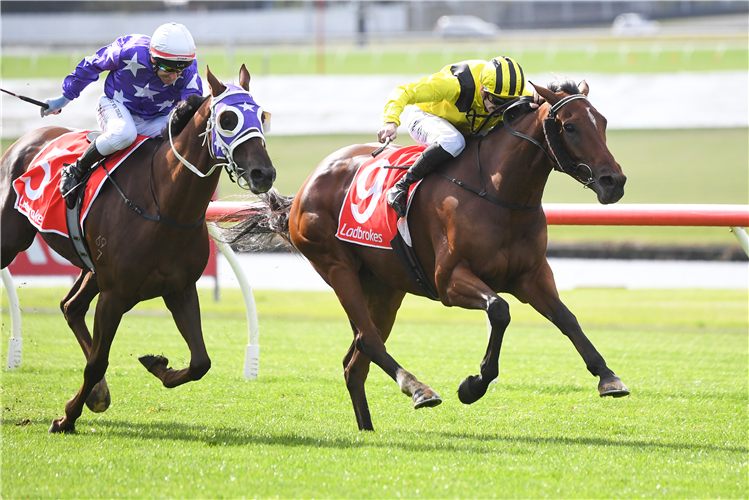 .@beau_mertens wins the first two races at Ladbrokes Park

Witchachar Star fights them all off & could back up at #TheBool on Thursday @CFHylandRacing @MelbRacingClub pic.twitter.com/ZRi4VthlUB

— Racing.com (@Racing) April 30, 2022
Winning Trainer: Chris Hyland
On today's performance: "It was a brave ride, I had my heart in my mouth for a little bit, but the horse just keeps fighting. He looks amazing. I sent the guys a video of him this morning in the sand roll and he was doing somersaults. It's just fantastic to get a horse like that trying his heart out."
On his record with tried horses: "We have a bit of luck with older horses and second-hand horses. If you place them in that modest grade early and they learn to get to win again, sometimes they can get back to dizzy heights. He was never at dizzy heights, but he's heading that way at the moment."
On winning rider Beau Mertens: "Beau does a lot of riding for me and I basically let him do his thing and more times than not he gets the job done."
Winning Jockey: Beau Mertens
On his mid-race move to take up the lead: "The tempo came really out of it by the time we hit the back straight and he gets keen as it is, he's quite a hard horse to get to relax and I could just see it not happening back there, so I popped out to give myself an opportunity to slide forward.
"It didn't take much to get there, he got there on his ear and lucky enough he was brave enough to hold on."
"He deserved that, it was a brave effort. Around the corner I thought maybe I was going to run a place and hold on, but he's a tough horse. He deserves the wins he gets."
On backing up in the Warrnambool Cup: "Now we're going to Warrnambool, I'm pretty sure, on Thursday and I think he'll be a good chance because he gives it his all. He's a great horse to ride."
On riding in the Warrnambool Cup: "I haven't, this will be a first. It will be something different, but I'm looking forward to it."
On dedicating the win to the late Peter Claridge on his birthday: "Unfortunately he passed away a couple of weeks ago, so I'd like to give my condolences to my partner Hayley Crane and her family, I know they're going through a tough time.
"He was one of my biggest fans, so I'd like to give that win to him."

FP
Silk
Horse, Age & Sex
Sire & Dam
Jockey
Trainer
SP
WT

1st

9. WITCHACHAR STAR (AUS) 6yo G


MYBOYCHARLIE (IRE) - WITCHUPONASTAR (AUS)

BEAU MERTENS
CHRIS HYLAND
$6.50
54.0kg
C F Hyland Racing Pty Ltd, M A Poes, Ms A M Purdey, J J Grant, M W Johnson, R W Ralph, Mrs F Ralph, J P Smith, Mrs N Barclay-Smith, T P Hynes, Ms K Hynes, C S Hanger, G F McDonald, S J McNamara, Mrs M R McDonald, J P Kelly, M J Hunter, M A Binns, J Ioannidis & Kool Kats (Mgr: M D Salisbury)

2nd

5. AGNELLI (AUS) 4yo G


WRITTEN TYCOON (AUS) - SIMPLY THE BEST (NZ)

BRETT PREBBLE
CHRIS WALLER
$7.50
56.5kg
Star Thoroughbreds Pty Ltd (Mgr: Ms D J Martin), Boeara Holdings (Mgr: Ms D A Dunphy), Paramount Racing (Mgr: Ms K M Wood), McLeish Family Racing (Mgr: D M McLeish), O Enriquez, M I Ive, Mrs R Ive, J F Hepburn, Mrs P L Hepburn, Mrs A M Howlett, Mrs K A Pailthorpe, R L McKay, Ms E Weston & J W L Tan

3rd

10. EATON (AUS) 9yo G


HIGH CHAPARRAL (IRE) - CHORUS OF ANGELS (GB)

TEODORE NUGENT
M & L CERCHI
$21.00
52.5kg
Bulla Thoroughbreds Pty Ltd (Mgr: M E Ruff), Miss S Bridgland, D E Bridgland, Mrs C M Bridgland, P Rooney, Miss E Rooney, P Rooney & Mrs B M C Rooney
4th
3. HARMYSIAN (GB) 5yo G


LOPE DE VEGA (IRE) - ADJA (IRE)

LUKE NOLEN
CLAYTON DOUGLAS
$8.50
58.5kg
5th
2. EUREKA STREET (AUS) 8yo G


STREET CRY (IRE) - RATHSALLAGH (NZ)

LOGAN MCNEIL
J WARREN & D KRONGOLD
$7.50
55.5kg
6th
1. NORDIC PRIDE (AUS) 5yo G


ZOFFANY (IRE) - CENTASHANI (NZ)

PATRICK MOLONEY
BEN BRISBOURNE
$7.50
59.5kg
7th
7. THE NEPHEW (AUS) 3yo G


WORDSMITH (AUS) - HUSSON'S KISS (AUS)

BILLY EGAN
PATRICK PAYNE
$5.50
56.0kg
8th
6. BLANDFORD LAD (NZ) 6yo G


SAVABEEL (AUS) - STARYN GLENN (NZ)

MATTHEW CARTWRIGHT
PETER GELAGOTIS
$9.00
54.5kg
9th
8. OH SO FAR (AUS) 4yo M


NEEDS FURTHER (AUS) - OH SO GOLD (AUS)

JYE MCNEIL
MICHAEL KENT
$8.00
54.0kg
10th
4. RUDIMENTAL (FR) 6yo G


MASTERCRAFTSMAN (IRE) - RUSSIANA (IRE)

BLAIKE MCDOUGALL
SIMON ZAHRA
$21.00
58.5kg