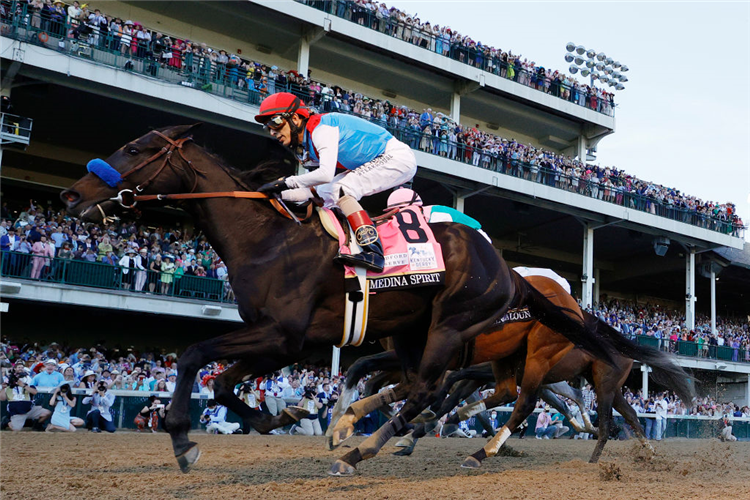 There was 'some' controversy after Medina Spirit won for Bob Baffert in 2021*. Who gets the roses in the 2022 Kentucky Derby (2012m) at Churchill Downs on Saturday?
2022 KENTUCKY DERBY - RACE HISTORY AND BACKGROUND
The Kentucky Derby is a Grade 1 race run under Set Weight conditions for three year olds at Churchill Downs conducted by Louisville Jockey Club.
The Kentucky Derby is run over a mile and a quarter (2012m). It was first run in 1875 and won by Aristides.
From 1872, a Colonel Meriwether Clark visited Epsom in England, and the Derby, as well as Paris for the Grand Prix de Paris. Garnered with information, he arranged for the facilities in Louisville for racing which would become Churchill Downs.
The Kentucky Derby was originally run at a mile and a half but reduced in 1896.
It is run at Churchill Downs or the 'Twin Spires' course in early May each year on the dirt surface in Louisville Kentucky. There is a maximum field size of 20.
Colloquially it has been known as "The Most Exciting Two Minutes In Sports".
The race record still stands with the legendary Secretariat who ran 1:59.40 in 1973.
In front of crowds of in excess of 150,000 most years, there are several traditional acts on the day. The favoured drink is the mint julep made up of bourbon, mint and sugar.
The race is also commonly known as "The Run For The Roses" as a garland of roses is draped on the winner. They also sing My Old Kentucky Home prior to the race.
Most wins as a trainer is with Bob Baffert and Ben A Jones with six while Eddie Arcaro and Bill Hartack have five wins each as a jockey. Interestingly one of the legends of US racing Bobby Frankel, after whom the champion English horse was named, never won the Derby.
Perhaps the most famous Kentucky Derby victor of them all is Secretariat. He won in 1973 in the record time and would take the Triple Crown. He went on to a career at stud which was successful in its own right including a Melbourne Cup winner Kingston Rule, who also co-incidentally broke the track record.
One of the great controversies was the 145th running of the 2019 Kentucky Derby as Country House was awarded the race after Maximum Security was disqualified. That horse led and drifted out before the corner and then back in. The interference certainly occurred but doubtful under the rules in different countries that the result would have been altered.
Medina Spirit won the 2021 Kentucky Derby but 9 months later was disqualified for failing a drug test. Trainer Bob Baffert was fined $7,500 and suspended for 90 days. Mandaloun* was awarded the race.
The 148th Kentucky Derby was worth US$3m in 2022.
It was moved to September for 2020 due to the coronavirus delays and run in front of no crowd.
The only filly winners are Regret (1915), Genuine Risk (1980) and Winning Colours (1988).
The US 3yo Triple Crown is made up of the Kentucky Derby, Preakness Stakes and Belmont Stakes.
Those that began their Triple Crown wins with the Kentucky Derby number 13. They are Sir Barton (1919), Gallant Fox (1930), Omaha (1935), War Admiral (1937), Whirlaway (1941), Count Fleet (1943), Assault (1946), Citation (1948), Secretariat (1973), Seattle Slew (1977), Affirmed (1978), American Pharaoh (2015) and Justify (2018).
Some famous Kentucky Derby winners include Donerail (1913), Citation (1948), Northern Dancer (1964), Secretariat (1973), Seattle Slew (1977), Affirmed (1978), Spectacular Bid (1979), Genuine Risk (1980), Sunday Silence (1989), Fusaichi Pegasus (2000), Monarchos (2001), Smarty Jones (2004), Barbaro (2006), Animal Kingdom (2011), California Chrome (2014), American Pharoah (2015), Nyquist (2016), Justify (2018) and Country House (2019).
The 2022 Kentucky Derby was won by Mandaloun* from Hot Rod Charlie and Essential Quality.