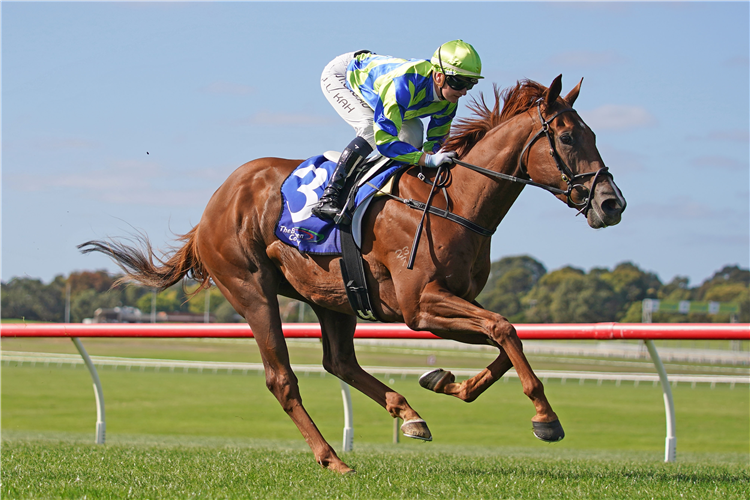 Beau Rossa with a nice run in transit is $5 in the 2022 DC McKay Stakes (1100m) at Morphettville on Saturday.
2022 DC McKay Stakes: Final Field, Barriers and Market
2022 DC McKay Stakes: Race History
2022 DC McKay Stakes: Nominations
2022 DC MCKAY STAKES – RACE ANALYSIS AND TIPS
A strong tempo assured with Savatoxl and Free Of Debt leading the charge. The DC McKay Stakes has a familiar feel to it with the last two winners engaged. BEHEMOTH (1) is one of those and is a star when he's right. He just might not have been on top of his game in the Spring. Off a break, he will run you a race again.
He may be vulnerable to a younger horse like BEAU ROSSA (4) who loves it fresh and on this course. Should be getting a superb run all the way. IRONCLAD (5) was good on the line in the Matrice Stakes. He is unbeaten here. THE INFERNO (3) has to be respected on his best. The Sale race was too bad to be true. Watch the betting. SAVATOXL (2) runs big races on this track.
2022 DC MCKAY STAKES – SELECTIONS
1st – 4 Beau Rossa
2nd – 1 Behemoth
3rd – 5 Ironclad
4th – 3 The Inferno
WHEN IS THE 2022 DC MCKAY STAKES?
WHEN: – Race 7 @ 3:52pm AEST
WHERE: Morphettville Racecourse
Racing and Sports has all the form for Morphettville
* Note that betting odds may differ from time of publication

FP
Silk
Horse, Age & Sex
Sire & Dam
Jockey
Trainer
SP
WT

1st

8. FREE OF DEBT (AUS) 5yo G


UNENCUMBERED (AUS) - STAGERUSH (AUS)

DOM TOURNEUR
CHRIS BIEG
$26.00
54.0kg
P Mauger, M Higgins, Dr H Lewis, S Sloan, A Taylor, Woodstock Racing (Mgr: A Larwood), J Higgins, D Reynolds, J Dollman, N Dinning, D Champion, G Carnegie-Smith, R Bosher, M Brougham, A Gurry, W Gurry, M Pickering, M Stewart, D Stewart & R Beens

2nd

2. SAVATOXL (AUS) 6yo G


KUROSHIO (AUS) - LI'L MISS HAYLEY (NZ)

BAREND VORSTER
T & C MCEVOY
$13.00
60.0kg
W A Savage, Mrs B R Gordon & T L Gordon

3rd

3. THE INFERNO (AUS) 5yo G


HOLY ROMAN EMPEROR (IRE) - SPINA ROSA (AUS)

MARK ZAHRA
CLIFF BROWN
$10.00
59.0kg
Barree Pastoral Co Pty Ltd
4th
7. AYSAR (AUS) 4yo H


DEEP FIELD (AUS) - MISS INTERIORS (AUS)

CRAIG WILLIAMS
BEN & JD HAYES
$8.50
54.5kg
5th
12. MISS ALBANIA (AUS) 5yo M


MAGNUS (AUS) - LITTLE ARTIST (AUS)

DAMIEN OLIVER
PAUL KOUMIS
$26.00
55.0kg
6th
1. BEHEMOTH (AUS) 6yo G


ALL TOO HARD (AUS) - PENNY BANGER (AUS)

KAYLA CROWTHER
DAVID JOLLY
$8.00
62.0kg
7th
5. IRONCLAD (GB) 6yo G


DUBAWI (IRE) - HEAT HAZE (GB)

JAMIE KAH
WILL CLARKEN
$4.50
55.5kg
8th
9. OUTLAWS REVENGE (AUS) 4yo G


REWARD FOR EFFORT (AUS) - WINGS OF ALICE (AUS)

WILL PRICE
RYAN BALFOUR
$31.00
54.0kg
9th
10. SHAMINO (AUS) 6yo G


SHAMUS AWARD (AUS) - ELUMINO (AUS)

MS C JONES
PHILLIP STOKES
$21.00
54.0kg
10th
6. DEXELATION (AUS) 7yo G


AMBIDEXTER (AUS) - A FEATHERED TALE (AUS)

JAKE TOEROEK
R & C JOLLY
$7.00
55.0kg
11th
13. ASTON RAPOVA (AUS) 4yo G


NICCONI (AUS) - OUR SHARAPOVA (AUS)

JOE BOWDITCH
W F FRANCIS & G KENT
$101.00
54.0kg
12th
4. BEAU ROSSA (AUS) 4yo G


UNENCUMBERED (AUS) - MY CHOISIR (AUS)

LINDA MEECH
WILL CLARKEN
$4.50
58.0kg