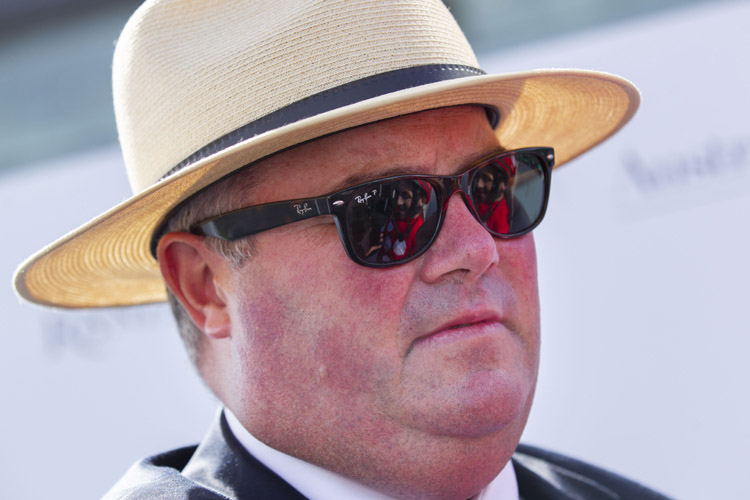 Leading trainer Brad Widdup edged closer to a half century of wins for the season, whilst compatriot Jason Clisby became the 25th Hawkesbury trainer to taste success in the 2021-22 racing year.
Clisby landed the St John's Park Bowling Club Provincial & Country Maiden (1300m) with bargain buy Bondadosa ($16), whilst Widdup also clinched a narrow success with another filly Moon Reader ($3) in the Living Turf Benchmark 64 Handicap (1100m).
It was Clisby's first win in four years; his last being Avago Boy, also on his home track, on June 10, 2018.
Bondadosa, a three-year-old daughter of Press Statement, cost only $3250 when she was purchased online through Inglis Digital in November, 2020.
Clisby bought the filly on the recommendation of his good friend and fellow Hawkesbury trainer, Phil Vigouroux.
"Phil trialled her for her previous owner, and said that even though she wasn't big, did everything right," Clisby said this evening.
"I haven't pushed her and started her only twice as a two-year-old.
"I always felt she would be better once she got stronger and her distances were increased to 1300m or 1400m.
"She ran a really good race when second at Nowra on April 17, but then finished fourth in a field of five at that track nine days later when an odds-on favorite.
"The track was too heavy that day, and I was happy to run her again today when she had a swim last weekend and was jumping out of her skin."
Clisby's first success in four years was something to savour, but he has an even bigger goal on the radar.
A roofing contractor, he regards himself as a hobby trainer for now, but hopes to eventually make training his profession.
"I've got 40 acres at Ebenezer only 12 minutes from the track, and have just spent $60,000 on an equine swimming pool," he said.
"Bondadosa is the only horse racing at present, but I've also got three unraced two-year-olds, two by Star Witness and the other by Denman.
"The Denman filly is the first foal of Zaveena, whom I bought for $1250 and won five races with her (three at Gosford, all over 2100m).
"Zaveena is now in foal to Casino Prince, and to win a race with a horse I bred would be a fantastic achievement."
. Widdup is confident he can crack a half century of winners in a season for the second time, and is now within six of hitting that mark.
"We've still got just under three months left, and I'll be surprised if I can't do it," he said this evening.
Widdup trained 51 winners in his first full season in 2017-18, and since has prepared 41 twice and 36 last season.
Today's victory was the 218th of his career, and he was delighted to win with Odyssey Moon filly Moon Reader for sheep farmer Richard Walker and his son Simon.
Richard Walker is an Australian polo legend, representing Australia on 17 occasions and captaining the team three times.
"Richard bred this filly, and it's always special to win a race for him with this filly," Widdup said.
"Moon Reader has now twice, but her record should be even better."
Moon Reader has raced only seven times, and has also been placed twice. She is the second foal of the unraced Street Cry mare Zeitlin.