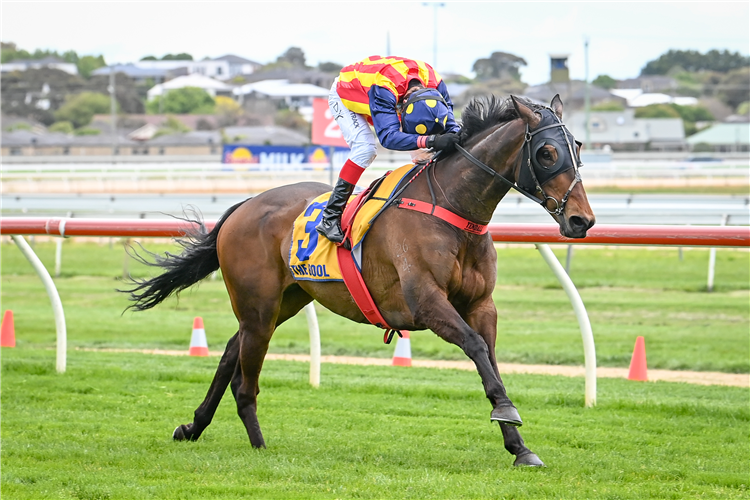 Ciaron Maher and David Eustace have claimed another victory in Australia's longest race with Heberite taking out the 150th running of the Grand Annual Steeplechase at Warrnambool.
Maher and Eustace took out the time-honoured race in 2020 with Ablaze which added to Maher's previous record with Al Garhood (2010-11) and Regina Coeli(2015-17).
Heberite led for the majority of Thursday's 5500m contest, momentarily losing the lead when he cornered badly coming back onto the course proper after jumping the Tozer Road double.
It was at that point on the first circuit as the field swung left that the $2.80 favourite Vanguard slipped on the flat and fell.
San Remo ($8), who was moving into the race passing the grandstand on the second lap and fell heavily but received a resounding reception when he regained his feet.
Veterinary reports indicated Vanguard was lame while Will Gordon, the rider of Vanguard, was transported to hospital with a suspected dislocated shoulder.
Lee Horner, who partnered San Remo, escaped injury.
With 800m to run, the race looked to be anyone of the remaining seven runners, with five still in contention approaching the last jumped.
Under hard riding from Will McCarthy, Heberite ($3.40) prevailed by 1-½ lengths from Police Camp ($14) with Eyes Are Blue ($31) a further 2-¼ lengths away third.
"It's unbelievable," Maher said.
"I think it's the best race on the whole calendar, well it is to me anyway. It's phenomenal, and the whole carnival of jumps races have been really hard fought.
"William Mccarthy is a super rider, he's a great man to have around the stable.
"I'm thrilled for him, the owners, and my brother Dec, his heart and soul is these jumpers.
"He puts everything into it and his horse (Eyes Are Blue), at about a million-to-one, ran third.
McCarthy has had a stunning career since joining Maher and Eustace winning the Grand National Hurdle on Wil John last year along with a further three winners on Grand National Steeplechase Day.
At last year's Grand Annual meeting, McCarthy was in quarantine having just arrived in Australia on a working visa.
McCarthy has worked hard to strip the weight to ride Heberite at 64kg on Thursday.
"Unfortunately, he was out of Steve's (Pateman) weight category, it was a bit light for him, and I'm absolutely privileged to get the opportunity to step in when he can't do it," McCarthy said.
McCarthy said he was in the twilight of his career and does not expect too many more chances of riding in the Grand Annual.
He said he was glad to get this opportunity and even more blessed to win.
"Ciaron and Dave and Declan, they've been so supportive," McCarthy said.
"Two weeks ago, I said to Ciaron Maher 'I know you're going for your record in the Grand Annual and he said, 'I'm not worried about that, I want you to win your first'.
"That's the kind of people they are. He filled me with confidence coming out and I duly rode the horse just like that."