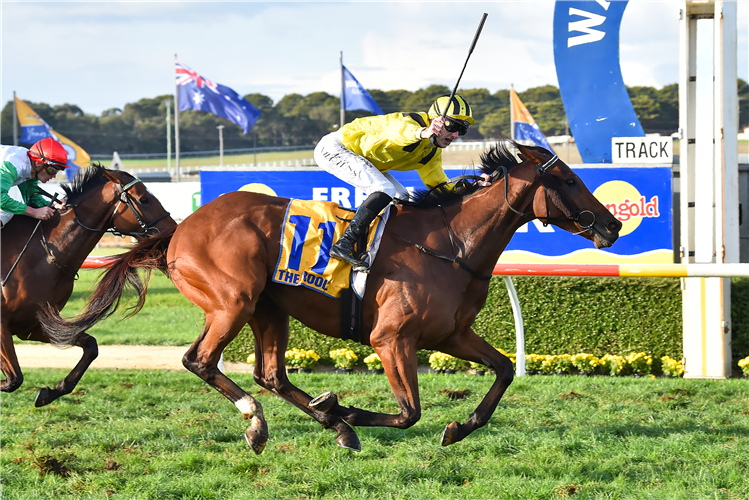 Witchachar Star has continued his meteoric rise up the ranks taking out the Listed Warrnambool Cup.
Backing up from a heavy track victory at Sandown last Saturday, Witchachar Star relished the heavy ground to record an impressive win over 2350m on Thursday.
Witchachar Star was having only his seventh start for trainer Chris Hyland after starting his career in South Australia with Stacey Kotz.
Winning first-up for Hyland at Yarra Valley in February, Witchachar Star was subsequently beaten in benchmark 58 grade at his next start before going on to win four of his next five starts.
Scouting wide under Beau Mertens, Witchachar Star ($9) raced to a 1-¼ length victory from Nerve Not Verve ($3.60) with Constantinople ($21) a further six lengths away third.
"He's just kept improving," Hyland said.
"We aimed very low just to get his confidence up and he's exceeded our expectations obviously.
"His first win at Sandown he smoked up too early like that too.
"He was just travelling so much better than everything and then that horse (Nerve Not Verve) came at him in the straight and I was a bit worried.
"But when you watch the replay, it'll show he probably had them covered and didn't need to worry."
Hyland became the first of his family to train a Warrnambool Cup winner while his father Pat, rode Warri Symbol and Sarfraz to victories in 1979-80 and his brother Sam, a co-owner of Witchachar Star, scoring on Asagain (1998) and Video Star (2008).
Mertens said it is crazy how much improvement Witchachar Star has made in the past three months.
"It just goes to show how well Chris can get these tried horses going, especially these stayers,
"I had a lot of confidence in him that he'd keep the horse right from Saturday to now and what a terrific job he's done.
"Every time I ride this horse it seems like I nearly go too early on him.
"He just takes you into the race so good. I knew I had Grandslam covered so I was just being conscious that I didn't go far too soon."
Mertens joined his father as a Warrnambool Cup winning jockey after Peter scored in 2005 aboard True Courser.
"Chris told me a few weeks ago, before he started his winning streak, that he'd be a good Warrnambool Cup horse, which made me inclined to do the 54 (kilos) and come down here," Mertens said.
"He was my only ride, it's my first Warrnambool Carnival winner, so what a thrill.
"I think that will make Dad proud."