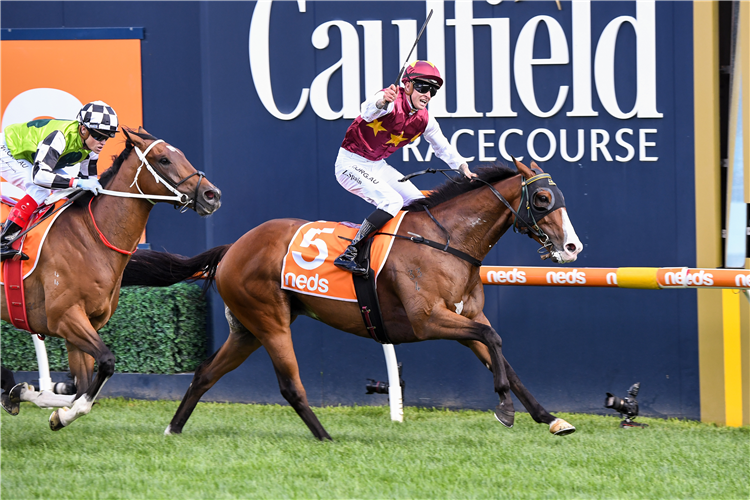 A mob of 20 locals – as syndicate leader Geoff Maynard explains – from across Central Queensland, who are mostly cattlemen and graziers that love their horse racing.
The Cupid Syndicate were not one of the first nine slot holders allocated for the first-ever race in Rockhampton and then missed out on the ballot to get another slot.
The last chance to grab a runner in the debut running of the race came down to an auction with Maynard's squad eventually landing a position in the event by handing over the most cash.
The syndicate expanded following the auction for the slot, adding the under bidder – Simon Adams - to their team, which resulted in a crew of 20 coming together.
"We are conglomerate of also-rans that are really enjoying the journey," Maynard said with a laugh.
Maynard and his group are attacking The Archer with a loud and positive attitude, with their syndicate name an acronym for 'Cattlemen under pressure and in dire straits.'
And, they have a winning motto for the race - 'Cupid is the most recognisable Archer.'
All that, they hope, rolls into a winning connection on Saturday afternoon after landing multiple Group 1-winner Streets Of Avalon – who is on the second line of betting - for their slot.
"The enthusiasm is fantastic, it is reflective of the people we have in the group and their expertise," Maynard said.
"There is quite a number of us who have been involved in racing for many years and that was extremely useful.
"The whole group were happy to pursue Streets Of Avalon – it is enormous now that we have him."
Since sealing the deal with the stable, Streets Of Avalon has run closely behind stars Zaaki and Ayrton, which the syndicate could not be more pleased with the timing.
Mornington in Victoria is a long way from Central Queensland and Streets Of Avalon's trainer Shane Nichols has been along for the ride the entire way, as well as developing a close connection with the Cupid boys.
They enjoyed a cold beverage or two together on Wednesday evening at the barrier draw – landing the three alley, which they were pleased with – and it has gone beyond racing for the experienced trainer.
Syndicate member Adams has taken a week off work to ensure everything is spot on for Nichols and his gun galloper during their stay in CQ, while another syndicate member gave him a car for the week.
"They have been fantastic the Cupid syndicate, they have been really helpful," Nichols said.
"I also met a number of the other slot holders on Wednesday night at the barrier draw and they are all really passionate about the Rocky Amateurs and how this race is seen going forward.
"And, that is not just by the community here, but the broad spectrum across the nation.
"This year, it will be a terrific day and then I think it will only going forward going into 2022."
The Cupid Syndicate will come together at Rockhampton's Callaghan Park on Saturday afternoon but when they return back to their properties, they live far and wide around Central Queensland.
Maynard estimates they are all in a four hour radius of 'Rocky', which is only increasing the popularity of The Archer across the Sunshine State.
"We probably see the excitement more than other people being involved in the grazing industry," Maynard said.
"People out Emerald and Springsure way, plenty of talk and buzz – heaps of excitement – people just want to experience the day, it will be tremendous."
A mob of graziers from the bush in Queensland landing a dual Group 1 champion for a race that has never be run before does not come easily.
The idea was first broached at the Magic Millions sales of 2021 and revisited this year and eventually gained enough momentum to be ticked off by all parties.
Long-time Rocky Amateurs supporter Mark Moller – who is in the Cupid Syndicate – had a connection with Nichols' vet in Victoria, which got the ball rolling initially.
Moller and the team wanted a 'genuine weight-for-age horse' and believe they have one in the son of Magnus.
"He has been awesome; Shane has sent us videos and updates of the horse in the lead-up to the race of his work," Moller said.
"He has been so hands on and approachable, he has been great."
Nichols and Streets Of Avalon stopped in at Sydney and Brisbane on the way to CQ and are now basing themselves at Belroma Park, which is situated on 25 acres and only five minutes from Rockhampton's race track Callaghan Park.
Nichols has been blown away by the region's high-level of racing facilities.
Streets Of Avalon travelled up with fellow The Archer contender Crosshaven and will focus in on the TAB Queensland Racing Carnival after Saturday.
He is likely to head towards the Group 1 Kingsford Smith Cup – which will be run over 1300 metres – before going to the Group 1 Stradbroke Handicap, then spelling in Queensland and returning to Melbourne for their spring carnival.
The strongest ever field assembled for a race at Rockhampton will come together this Saturday, with the $440,000 slot race 'The Archer' set to be run over 1300 metres.
After the idea for The Archer was first brought up over a few beers and was shot down as impossible to make work by some, Rocky Amateurs Chairman Bill Reid cannot believe the strength of horse talent that is in CQ this week.
"This field that will assemble on Saturday, it was not in my wildest dreams that I thought we could get horses like this," Reid said.
"It is an incredible field and well beyond what we expected.
"We have had a real local interest in the race and once the field was announced last week, the whole town has been buzzing.
"I really believe that we are going to get people at the races this Saturday that have not been at the races for years because of the strength of the race."