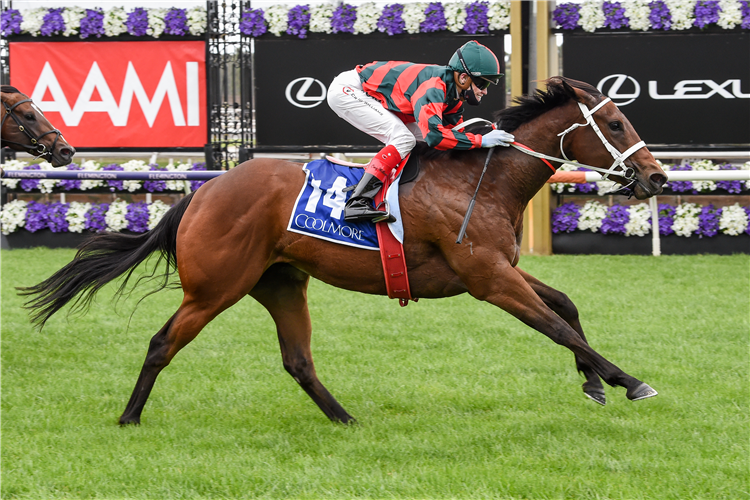 We hope you enjoy all this new racing information as well as getting all the tips plus the form for the weekend's contests.
Click here for all the tips, form and interesting reading around the racing globe
While Sydney and Melbourne take a break from the big action for a short while, the focus of the local racing world centres elsewhere.
Adelaide has its second G1 with the running of the Robert Sangster for the sprinting females. They also have the Tobin Bronze, DC Mc Kay and Queen Of The South Stakes.
We move back to Brisbane next week but the Gold Coast has the feature day this Saturday as the AD Hollindale Stakes shows off the WFA stars. Plenty of other features are on too like the Gold Coast Guineas and Ken Russell Memorial.
The provincial rotor in NSW means we head to Gosford for the Gold Cup, the Takeover Target and The Coast with plenty of prizemoney on offer.
Internationally the Japanese run the NHK Mile Cup but the big one is the Kentucky Derby as the 'Run for the Roses' takes place at Churchill Downs.
For this week, Hong Kong races on Saturday and Singapore is on Sunday and remember you can watch all the Hong Kong coverage live at Racing And Sports.
Links to the Transcription services for all new Queensland Winter Carnival and the Victorian Racing Season are available for those who might wish to check out historical stats and past jockey/trainer quotes.

FP
Silk
Horse, Age & Sex
Sire & Dam
Jockey
Trainer
SP
WT

1st

1. ZAAKI (GB) 7yo G


LEROIDESANIMAUX (BRZ) - KESARA (GB)

JAMES MCDONALD
ANNABEL NEASHAM
$1.44
59.0kg
C E Holt, P J Prendergast, P F Guerra, P D Sidwell, Hirecha Racing , T C Eddy, A J Willoughby, D F Degenhardt, D P Sinn, C B Elkington, G P Carmody, G J Williamson, D P Hickey, M Etinger, Phil's Dream No.3, M Catalano, Werrett Bloodstock Pty Ltd (Mgr: N R J Werrett) & N M Wilson

2nd

12. POLLY GREY (NZ) 7yo M


AZAMOUR (IRE) - ALLANAH (NZ)

OPIE BOSSON
CHRIS WALLER
$11.00
57.0kg
J C Thompson, Mrs M A Thompson, S P Thompson, Ms B Fawcett, Ms K A Fawcett & R P Joyce

3rd

5. KUKERACHA (NZ) 4yo G


NIGHT OF THUNDER (IRE) - PORTRAIT OF A LADY (USA)

JAMES ORMAN
CHRIS WALLER
$51.00
59.0kg
N Morgan
4th
9. HUETOR (FR) 5yo G


ARCHIPENKO (USA) - BRIVIESCA (GB)

KERRIN MCEVOY
PETER & PAUL SNOWDEN
$12.00
59.0kg
5th
11. COVENTINA BAY (NZ) 6yo M


SHAMEXPRESS (NZ) - COVENTINA (NZ)

SAMANTHA COLLETT
R PATTERSON
$31.00
57.0kg
6th
14. ZAYYDANI (NZ) 5yo M


SAVABEEL (AUS) - RUQQAYA (NZ)

ANDREW MALLYON
BEN & JD HAYES
$61.00
57.0kg
7th
13. HUNGRY HEART (AUS) 4yo M


FRANKEL (GB) - HARLECH (GB)

WILLIAM PIKE
CHRIS WALLER
$21.00
57.0kg
8th
3. AYRTON (NZ) 4yo G


IFFRAAJ (GB) - ODESSA (NZ)

HUGH BOWMAN
MICK PRICE & MICHAEL KENT JNR
$7.50
59.0kg
9th
7. DASHING WILLOUGHBY (GB) 6yo G


NATHANIEL (IRE) - MISS DASHWOOD (GB)

NOEL CALLOW
SAM KAVANAGH
$101.00
59.0kg
10th
2. KOLDING (NZ) 6yo G


OCEAN PARK (NZ) - MAGIC STAR (AUS)

LUKE DITTMAN
CHRIS WALLER
$101.00
59.0kg
11th
10. HAIL MANHATTAN (AUS) 5yo G


MANHATTAN RAIN (AUS) - BEGGIN (AUS)

BRAD STEWART
P & W HULBERT
$101.00
59.0kg