Race Result:
1st: Blaze A Trail (Maher & Eustace/J McNeil) - $5.50
2nd: Sig Positano (P Payne/M Dee) - $6.00
3rd: Galenus (S Brunton/L Lafferty) - $5.50
Winning Time: 1:11.30 Last 600m: N/A
Margins: Short half head x Short half head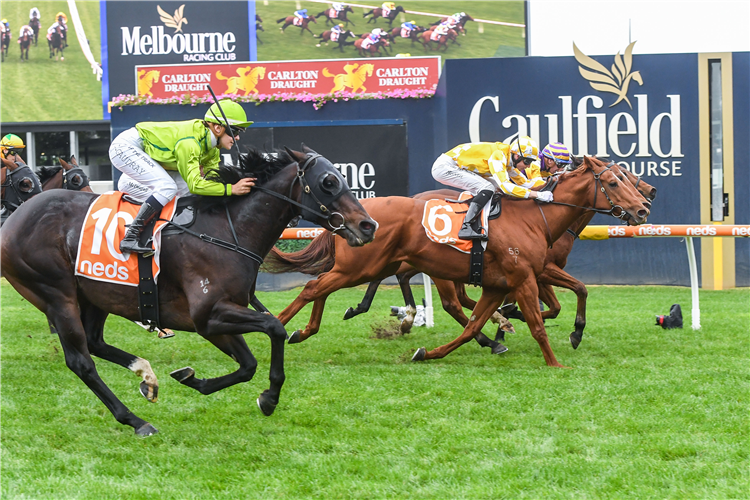 "What a finish!"

Blaze A Trail blouses them late as Jye records a double @cmaherracing @JyeMcNeil pic.twitter.com/6HArNL9kfj

— Racing.com (@Racing) May 7, 2022
Winning Trainer: Ciaron Maher & David Eustace (David Eustace speaking)
Coming to Melbourne: "It was a lovely ride from Jye, he got a lovely passage through, got into a really good spot. Credit to the team at Warwick Farm, he came down here in excellent order. The decision was made to come down here to try and find slightly firmer tracks."
Future plans: "Probably the safest bet is here (in Melbourne), we tend to get better tracks here on a Saturday, he handled the straight pretty well and there's a nice program through Winter at Flemington."
There's not many of them (Criterion progeny), so we're really keen to keep him a colt, he's the most placid horse, you wouldn't know he's a colt."
Winning Jockey: Jye McNeil
How the race unfolded: "It's a day where it's been an advantage to be on speed and he wasn't really comfortable doing that although I was already committed to being there."
"He didn't pick up straight away so it was a matter of getting him to the outside and letting him build his momentum which he did really well."
Distance short of his best: "He just didn't deal with the high pressure situation that well and I believe he'll be better as he steps out in distance but he was doing his best work through the line which was great."
"The further the race went on the stronger he got so that to me would suggest he'll be better over more ground so we'll see where his career takes him."

FP
Silk
Horse, Age & Sex
Sire & Dam
Jockey
Trainer
SP
WT

1st

6. BLAZE A TRAIL (AUS) 4yo H


CRITERION (NZ) - FLAMING (NZ)

JYE MCNEIL
CIARON MAHER & DAVID EUSTACE
$5.50
59.5kg
Go Bloodstock Australia (Mgr: Sir O G Glenn)

2nd

9. SIG POSITANO (AUS) 5yo G


CANFORD CLIFFS (IRE) - CAPONI (AUS)

MICHAEL DEE
PATRICK PAYNE
$5.50
59.0kg
G N Nicholson

3rd

4. GALENUS (AUS) 5yo G


MAGNUS (AUS) - MORELL (AUS)

LAURA LAFFERTY
SCOTT BRUNTON
$5.00
58.0kg
Ms J R Bazan, Miss T M Keys, R S Robinson, P M Gourlay, W R Hayden, C A Wylie, G A Munnings, A H Aherne, D R Kaye, Tj Daly, R H Field, C D Martin, B R Porter, G L Barber, W O Daley, Stirling (Mgr: R J Burridge), Hardway Equine (Mgr: G Hexter), A J Eaton, W A Lewin & J S Kaye
4th
10. TURBEAU (AUS) 5yo G


BRAZEN BEAU (AUS) - PANTENNY (AUS)

CELINE GAUDRAY
DAVID BRIDEOAKE
$21.00
56.0kg
5th
11. CRESTANI (AUS) 4yo G


NICCONI (AUS) - CRESTA CONDOR (AUS)

BLAIKE MCDOUGALL
P G CAREY
$9.00
58.5kg
6th
1. KHOEKHOE (AUS) 4yo G


TURFFONTEIN (AUS) - WALVIS BAY (NZ)

TATUM BULL
MATT CUMANI
$16.00
59.0kg
7th
12. JUST JAKE (AUS) 5yo G


REWARD FOR EFFORT (AUS) - HEAVENLY DAWN (AUS)

JAMIE MOTT
HANNA POWELL
$31.00
58.5kg
8th
13. VICI (AUS) 5yo G


I AM INVINCIBLE (AUS) - EMMALENE (AUS)

CRAIG NEWITT
WENDY KELLY
$26.00
58.5kg
9th
14. SHOW SOME DECORUM (AUS) 4yo G


STARSPANGLEDBANNER (AUS) - NO LOVE LETTERS (GB)

MATTHEW CARTWRIGHT
A & S FREEDMAN
$9.00
55.5kg
10th
3. MARITANA (AUS) 6yo G


KUROSHIO (AUS) - BESANT (AUS)

CARLEEN HEFEL
JULIEN WELSH
$15.00
59.5kg
11th
8. DESTINATION (AUS) 4yo G


EXCEED AND EXCEL (AUS) - HEAVEN (AUS)

JORDAN CHILDS
JAMES CUMMINGS
$12.00
59.0kg
12th
5. PYTHAGORAS (IRE) 4yo G


ZOFFANY (IRE) - ALEGRA (GB)

JOSH RICHARDS
AARON PURCELL
$67.00
59.0kg
13th
7. CAN'T BE DONE (AUS) 5yo G


ALL TOO HARD (AUS) - NOBODY GETS (AUS)

DAMIEN THORNTON
DANNY O'BRIEN
$15.00
59.0kg