Race Result:
1st: Dance To Dubai (P Moody/C Hefel) - $3.80F
2nd: Aquagirl (P Stokes/A Kelly) - $14
3rd: It's Kind Of Magic (B Stanley/M Dee) - $60
Winning Time: 1:04.76 Last 600m: N/A
Margins: Short half head x Head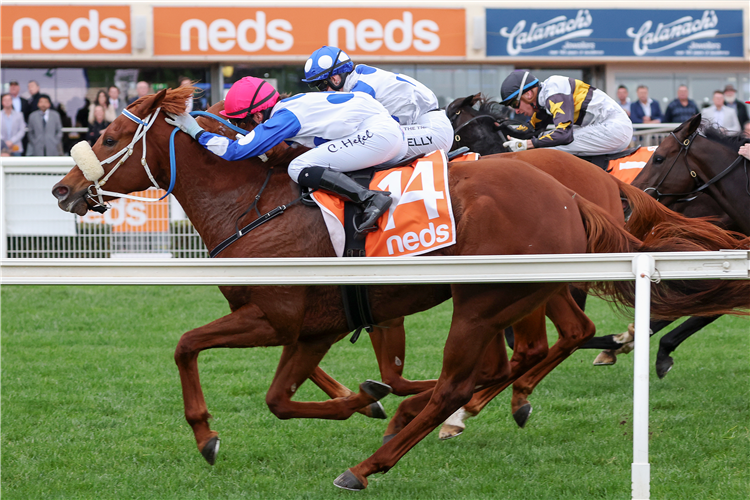 "They reach the line...."

Another close one that Matty Hill absolutely nails @moodyracingpgm pic.twitter.com/Gx9gsnArjS

— Racing.com (@Racing) May 7, 2022
Winning Trainer: Peter Moody (Wylie Dalziel speaking)
Racing fresh: "She really is (dynamite fresh). We were a bit worried where she's at with this class but we freshened her up, we know she goes well fresh, we know she's a good on speed horse so everything added up for her with the light weight."
Her future: "We've nominated both (Dance To Dubai and Aquagirl) for the broodmare sales just to keep that option open for them but they've run really good races so we'll have to go back to the drawing board because the broodmare sales are on the 27th of May."
Winning Jockey: Carleen Hefel
Being headed: "It was a really tough win from that mare, at the 100m I thought she was gone, I thought she'd run out of petrol but she was super tough and kicked back late."
"She's got that will to win."

FP
Silk
Horse, Age & Sex
Sire & Dam
Jockey
Trainer
SP
WT

1st

14. DANCE TO DUBAI (AUS) 4yo M


PRIDE OF DUBAI (AUS) - BRISK (GB)

CARLEEN HEFEL
PETER MOODY
$3.75
53.0kg
Wylie Dalziel Roy Higgins Racing (Mgr: W J Dalziel), P G Moody, P J Cormack, R Atkinson, G H E Goyne, P Chapman, P Cunningham, C P McDougall, R C McCallum, S M Thompson, I R Wellwood, S J Mulvogue, Fools Rushin (Mgr: C P McDougall) & Snow Road Thoroughbreds (Mgr: G N McNulty)

2nd

1. AQUAGIRL (AUS) 4yo M


HEADWATER (AUS) - GALAPAGOS GIRL (AUS)

ALANA KELLY
PHILLIP STOKES
$13.00
60.5kg
Wylie Dalziel Roy Higgins Racing, Ms M S Jenkins, G W McGrath, M J Kirkwood, G W Wishart, E L Abell, Decron Horse Care Pty Ltd, Mrs M F Sheehy, J R Blacker, G S A C Racing, Miss T A Thompson, Sb Racing, S W Dyson, M W McDonald, Ms J Bartram, J A Binney, D C Berntsen, J M Cimera, M Bolam & M Mitchell

3rd

7. IT'S KIND OF MAGIC (AUS) 5yo M


SO YOU THINK (NZ) - MAGICALLY (AUS)

MICHAEL DEE
BRENT STANLEY
$61.00
57.0kg
R J Slade, Frazelstone, J Tyson, Yarawonga Seven, W P Ross, E L Ross, D P E Harrington, G Henderson, J L Gibson, J G Saltalamacchia, Mrs M T Laurie, Ms E Gildea, Ellendee, Penthouse Patty, P J Spencer & B McBride
4th
6. EMBELLER (AUS) 4yo M


SUPER ONE (AUS) - EMBELLISHED (USA)

BLAIKE MCDOUGALL
JOHN P THOMPSON
$4.75
57.0kg
5th
4. BELSIELLE (AUS) 4yo M


BRAZEN BEAU (AUS) - CATHERINE LOUISE (AUS)

J NOONAN
D & C FEEK
$13.00
58.5kg
6th
10. REITE DEN BLITZ (AUS) 4yo M


NIGHT OF THUNDER (IRE) - SABKHA (USA)

LAURA LAFFERTY
SCOTT BRUNTON
$16.00
54.0kg
7th
3. LITTLE STEVIE (AUS) 5yo M


DREAM AHEAD (USA) - SWEET LITTLE LIES (AUS)

JOSH RICHARDS
SIMON ZAHRA
$6.00
57.0kg
8th
15. SHILO LASS (AUS) 5yo M


FOXWEDGE (AUS) - SIMPLY FANTASTIC (AUS)

BEAU MERTENS
GAVIN BEDGGOOD
$13.00
55.0kg
9th
13. CHARM WING (AUS) 6yo M


CANFORD CLIFFS (IRE) - WINGED CHARM (AUS)

H COFFEY
JAMIE SCOTT
$41.00
55.0kg
10th
5. AWAPUNI PRINCESS (AUS) 4yo M


DEEP FIELD (AUS) - LOVE THE ROCK (NZ)

MATTHEW CARTWRIGHT
A & S FREEDMAN
$10.00
55.5kg
11th
9. THE STYLIST (NZ) 6yo M


SWISS ACE (AUS) - VEVA GIRL (AUS)

NEIL FARLEY
DEANNE TAYLOR
$31.00
57.0kg
12th
17. MOMMA SMASH (AUS) 5yo M


STATUE OF LIBERTY (USA) - SHE COMMANDS (AUS)

BRADLEY VALE
SHILLEAGH MEYERVALE
$81.00
54.0kg
13th
11. MADAME BOLLI (AUS) 4yo M


WRITTEN TYCOON (AUS) - MORE BUBBLY (AUS)

CELINE GAUDRAY
J T CONLAN
$15.00
52.5kg