Race Result:
1st: Prince Of Boom (R Heathcote/J Orman) - $2.70F
2nd: Sword Of State (M Walker/O Bosson) - $4.00
3rd: Grey Defence (L Ross/N Callow) - $41
Winning Time: 1:13.52 Last 600m: 36.22
Margins: Nose x 4 1/2L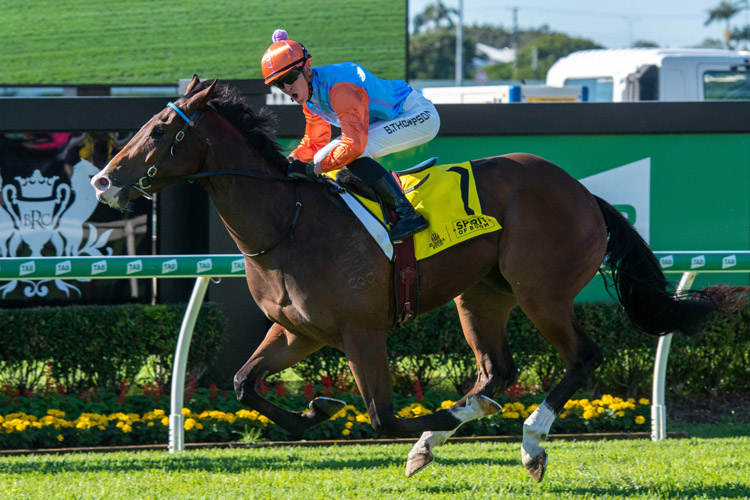 What a finish!

Prince Of Boom gets up in a thriller. pic.twitter.com/GOd3L7v93h

— SKY Racing (@SkyRacingAU) May 7, 2022
Winning Trainer: Robert Heathcote (Racing Manager Melanie Sharpe interviewed)
Thoughts on the win: "Amazing. It's been such a stressful couple of weeks and Rob's (Heathcote) is up in Rocky with his nice horse Emerald. I'm just so thrilled for the owners today to get this win. It was a lovely ride, three deep and he was patient. It was beautiful."
Thoughts on Prince Of Boom: "The pure will and determination of this horse, what he's done is unreal.
"He's just a dream boat to be honest. He's never, ever been a worry at all. He's just so cruisy and lovely. We just adore him."
Thanking connections: "A big shout out to Adrenalin for believing in us and keeping the faith. They're a good bunch of guys and we're so thrilled to train for them. We're just so happy for them and for this horse as well and what he's been through."
Winning Jockey: James Orman
Thoughts in run: "I didn't want to burn him just to get to the fence when I'm coming off anyway."
"I was happy. It's not good to be three deep but it didn't really worry me in that circumstance because I wanted to get out wide anyway, but it was a good win.
Thoughts on the line: "He was always there, but I just thought I've got beat right on the line, but I was lucky I had my head down."
Thoughts on Prince Of Boom: "He's a nice horse. He's come back back good from his breathing issue."

FP
Silk
Horse, Age & Sex
Sire & Dam
Jockey
Trainer
SP
WT

1st

2. PRINCE OF BOOM (AUS) 3yo G


SPIRIT OF BOOM (AUS) - DAZZLING DISPLAY (AUS)

JAMES ORMAN
ROBERT HEATHCOTE
$2.75
57.0kg
Adrenaline Dazzles, M McQueen, D M Blades, C Butler, R V Moore, Mrs M K Hill, M Ievers, G R Field, Mrs K Wessely, G P Mondon, A L Clotworthy, Ms W Wilson, G J Birrer, S Clements, Mrs T F O'Neill, A R Nicholson, B N Wilson, J Strano, Coastal Lads & Boom Prince

2nd

3. SWORD OF STATE (AUS) 3yo C


SNITZEL (AUS) - IN THE VANGUARD (AUS)

OPIE BOSSON
MARK WALKER
$4.00
57.0kg
Te Akau 2020 Four Colt Breeding (Mgr: Mrs K W Fenton-Ellis)

3rd

8. GREY DEFENCE (AUS) 3yo G


INSTINCTION (AUS) - ZEKEZA (AUS)

NOEL CALLOW
LES ROSS
$41.00
57.0kg
Mishani Enterprises Pty Ltd (Mgr: M D Crooks) & L G Ross
4th
7. MERITABLE (AUS) 3yo C


SNITZEL (AUS) - CRYSTAL FLUTE (AUS)

WILLIAM PIKE
ANDREW FORSMAN
$21.00
57.0kg
5th
13. MISS HIPSTAR (AUS) 3yo F


STAR TURN (AUS) - SINGLE STYLE (NZ)

LARRY CASSIDY
KELLY SCHWEIDA
$17.00
55.0kg
6th
9. ZARASTRO (AUS) 3yo C


I AM INVINCIBLE (AUS) - ADRIFT (NZ)

JAMES MCDONALD
CHRIS WALLER
$15.00
57.0kg
7th
20. MYSTIC AROMA (AUS) 3yo F


DIVINE PROPHET (AUS) - REAL SPECIAL (AUS)

MARK DU PLESSIS
P & W HULBERT
$101.00
55.0kg
8th
5. ZETHUS (AUS) 3yo C


EXCEED AND EXCEL (AUS) - MELPOMENE (AUS)

HUGH BOWMAN
JAMES CUMMINGS
$13.00
57.0kg
9th
11. FOUR MOVES AHEAD (AUS) 3yo F


SNITZEL (AUS) - DOULMERA (USA)

KERRIN MCEVOY
J G SARGENT
$7.00
55.0kg
10th
12. RHAPSODY ROSE (AUS) 3yo F


STAR WITNESS (AUS) - RITZY (AUS)

LUKE TARRANT
CHRIS MUNCE
$26.00
55.0kg
11th
15. MAYROSE (AUS) 3yo F


PRIDE OF DUBAI (AUS) - MALLARD (NZ)

ROBBIE DOLAN
J G SARGENT
$31.00
55.0kg
12th
14. JOYOUS LEGEND (AUS) 3yo F


SNITZEL (AUS) - MORE JOYOUS (NZ)

STEPHANIE THORNTON
TONY GOLLAN
$26.00
55.0kg
13th
19. EMMY REGINA (AUS) 3yo F


AMERICAN PHAROAH (USA) - VICTORY TYCOON (AUS)

CHRIS TAYLOR
D CHUJO
$201.00
55.0kg
14th
18. PEREGRINATION (AUS) 3yo G


ODYSSEY MOON (AUS) - SHARP HILL (AUS)

JAMES P INNES
D CHUJO
$201.00
57.0kg