Race Result:
1st: Ranting (L & T Corstens/M Dee) - $20
2nd: Ocean Beyond (A Bobbin/A Kelly) - $13
3rd: Starry Legend (J Sadler/T Nugent) - $4.80
Winning Time: 1:04.43 Last 600m: N/A
Margins: ¾ length x ¾ length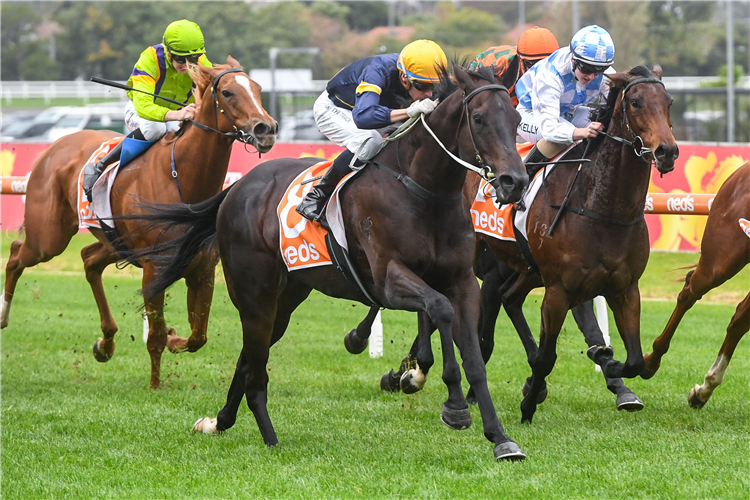 "Starry Legend being gobbled up by RANTING."

Ranting records its first win since the 2020 Blue Sapphire @mickdee020 @MaluaRacing pic.twitter.com/NKxsnr7nOK

— Racing.com (@Racing) May 7, 2022
Winning Trainer: Leon & Troy Corstens (stable rep Dom Sutton speaking)
Recent surgery: "He's had surgery at both ends this horse, he had a wind operation and the ultimate gear change (gelding) so it was really good to see him back in the winner's circle today."
"He had his vocal cords snipped, just when the vocal cords come in and close off the windpipe a little bit. He was always a horse that made a slight noise in his work and he's come back really clean in his wind so it's obviously done the job."
On the win: "He was gutsy, he ended up being three wide with no cover, not a place we thought we'd be being barrier three but it was probably good he had something out in front to chase down."
What's next: "It was all about getting him back today so we've ticked that box and we'll come up with a plan."
Winning Jockey: Michael Dee
Running down the leader: "I always had it in the back of my mind that the leading couple felt like the went quite quick and we were closing in on them quickly and in the end we won quite comfortably."
Different horse: "It's probably given him a new lease for life for racing, and with that ultimate gear change it has put the spark back into him. I didn't get the best of luck today but he won like the horse he used to be."

FP
Silk
Horse, Age & Sex
Sire & Dam
Jockey
Trainer
SP
WT

1st

8. RANTING (NZ) 4yo G


ZOUSTAR (AUS) - VANILLA ICE CREAM (AUS)

MICHAEL DEE
Leon & Troy Corstens
$17.00
53.0kg
M D Stephenson, C J Walker, S Chappell, R D Tregunna, G & S Lygoyris, R Smykowsky, D Sutton, Ms M J Rutherford, N Frangoulis, V Djuric, Mrs C E Whitbread, Mrs S Brooks, D Wade, D E Morgan, Mrs N M Mitchell, Ms H Moon, Mrs S M O'Farrell, R & C Legh Racing Pty (Mgr: R Legh) & Mc Ash (Mgr: P McDonald)

2nd

10. OCEAN BEYOND (NZ) 4yo G


OCEAN PARK (NZ) - FRANKLY (NZ)

ALANA KELLY
ANDREW BOBBIN
$13.00
51.0kg
W A Gee, Mrs P Gee, R R Hahn & Warriors Racing

3rd

11. STARRY LEGEND (AUS) 3yo G


ZOUSTAR (AUS) - SAVSENGA (AUS)

TEODORE NUGENT
JOHN SADLER
$5.00
51.5kg
Legend Racing
4th
3. IT'SOURTIME (AUS) 4yo G


TIME FOR WAR (AUS) - ZEDOBLE (AUS)

Fred W Kersley
DANNY O'BRIEN
$2.25
54.5kg
5th
12. ZORRO'S DREAM (AUS) 5yo G


TORONADO (IRE) - IL SOGNO (AUS)

JOSH RICHARDS
MITCHELL FREEDMAN
$12.00
51.0kg
6th
9. LARIMER STREET (AUS) 4yo G


BRAZEN BEAU (AUS) - ORIGINAL CHOICE (AUS)

PATRICK MOLONEY
DAVID JOLLY
$26.00
53.0kg
7th
1. MILTON PARK (AUS) 4yo G


WRITTEN TYCOON (AUS) - GAWNE (AUS)

JAMIE MOTT
JOHN MOLONEY
$101.00
58.0kg
8th
4. PANDEMIC (AUS) 5yo G


SEPOY (AUS) - CATACLYSM (AUS)

JORDAN CHILDS
JAMES CUMMINGS
$21.00
55.0kg
9th
2. SWORD OF MERCY (AUS) 6yo M


SEBRING (AUS) - CURTANA (AUS)

MATTHEW CARTWRIGHT
M J ELLERTON
$13.00
55.0kg
10th
6. ROCK THE RING (AUS) 4yo G


REWARD FOR EFFORT (AUS) - SUZEBABE (AUS)

DAMIEN THORNTON
T & C MCEVOY
$11.00
53.5kg
11th
7. SOUND MACHINE (USA) 5yo M


INTO MISCHIEF (USA) - AVA PIE (USA)

JYE MCNEIL
A & S FREEDMAN
$16.00
53.0kg