Race Result:
1st: Zaaki (A Neasham/J McDonald) - $1.40F
2nd: Polly Grey (C Waller/O Bosson) - $13
3rd: Kukeracha (C Waller/J Orman) - $41
Winning Time: 1:54.77 Last 600m: 37.10
Margins: 3/4L x 1/2L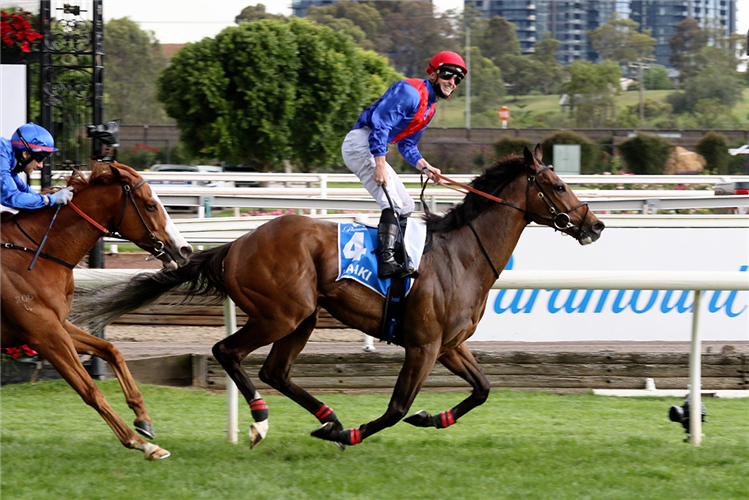 BACK TO BACK HOLLINDALE'S FOR ZAAKI! @ANeashamRacing @mcacajamez @GCTurfClub pic.twitter.com/8Co8ManvMv

— SKY Racing (@SkyRacingAU) May 7, 2022
Winning Trainer: Annabel Neasham
On the following Zaaki has developed: "We love him too that's for sure.
Thoughts heading to the barriers: "This is the freshest he's been. He had a bit of a bronc with James (McDonald) when he got down on the track and then my only worry is I've I left him too fresh and is he going to travel too strongly.
Thoughts in run: "James just knows him so well and he took luck out of the equation. For a moment there, I thought the second two horses were coming thick and fast and credit to them, they kept him very honest all the way to the line but he was too good.
"My eyesight is not very good and I couldn't see who was outside of him. Then I heard it was Ayrton. I thought was in a good spot obviously, but he is just such a star this horse. This was his first win 12 months ago and he's won so much for us. He's given us so much pleasure and he doesn't seem to be getting any younger (older) so hopefully we'll be back again next year.
On winning in these conditions: "It's pretty testing ground out there, it's quite pluggy. Again, it's another unknown with him how he'd go on that sort of ground. I suppose we had a little bit of confidence after the Queen Elizabeth that he would handle it."
"When he wins, it's always just relief now."
Future plans: "Doomben Cup for sure in two weeks. The forecast is absolutely treacherous but we'll press forward to there and he'll be cherry ripe? That might've just hopefully knocked that little bit of freshness out of him."
Winning Jockey: James McDonald
Thoughts heading to the barriers: "He was pretty fresh wasn't he?"
"I knew the hardest part of it was going to be getting on him and getting to the barriers. He's such a quirky bugger.
Thoughts in run: "He popped away okay and I thought he glided through the first furlong alright and then he caught a bump from an outsider horse coming in, just spurred them on a bit and it wasn't necessary."
"It's going to sound funny, but a white bird crossed the track and he, and he just gawked at it and he pulled himself up for two furlongs. So it was a funny thing for him to shy at, but it worked in our favour because if he kept going that speed I would have been gone."
On getting challenged at the 600m: "I thought we're in a little bit of strife and I said to myself, 'I'm not happy here', but he's a superstar. I hope he doesn't have to see track conditions like it (again) because the tracks beautiful and safe, but it's just not to his liking. He was working, working and working the whole way so he never got a rest or conserved any energy so the performance was better than what I looked."
On Zaaki's status at present: "He's King Kong alright and he knows he's King-Kong too. I just wish there was a seatbelt so I could just strap myself in."

FP
Silk
Horse, Age & Sex
Sire & Dam
Jockey
Trainer
SP
WT

1st

1. ZAAKI (GB) 7yo G


LEROIDESANIMAUX (BRZ) - KESARA (GB)

JAMES MCDONALD
ANNABEL NEASHAM
$1.44
59.0kg
C E Holt, P J Prendergast, P F Guerra, P D Sidwell, Hirecha Racing , T C Eddy, A J Willoughby, D F Degenhardt, D P Sinn, C B Elkington, G P Carmody, G J Williamson, D P Hickey, M Etinger, Phil's Dream No.3, M Catalano, Werrett Bloodstock Pty Ltd (Mgr: N R J Werrett) & N M Wilson

2nd

12. POLLY GREY (NZ) 7yo M


AZAMOUR (IRE) - ALLANAH (NZ)

OPIE BOSSON
CHRIS WALLER
$11.00
57.0kg
J C Thompson, Mrs M A Thompson, S P Thompson, Ms B Fawcett, Ms K A Fawcett & R P Joyce

3rd

5. KUKERACHA (NZ) 4yo G


NIGHT OF THUNDER (IRE) - PORTRAIT OF A LADY (USA)

JAMES ORMAN
CHRIS WALLER
$51.00
59.0kg
N Morgan
4th
9. HUETOR (FR) 5yo G


ARCHIPENKO (USA) - BRIVIESCA (GB)

KERRIN MCEVOY
PETER & PAUL SNOWDEN
$12.00
59.0kg
5th
11. COVENTINA BAY (NZ) 6yo M


SHAMEXPRESS (NZ) - COVENTINA (NZ)

SAMANTHA COLLETT
R PATTERSON
$31.00
57.0kg
6th
14. ZAYYDANI (NZ) 5yo M


SAVABEEL (AUS) - RUQQAYA (NZ)

ANDREW MALLYON
BEN & JD HAYES
$61.00
57.0kg
7th
13. HUNGRY HEART (AUS) 4yo M


FRANKEL (GB) - HARLECH (GB)

WILLIAM PIKE
CHRIS WALLER
$21.00
57.0kg
8th
3. AYRTON (NZ) 4yo G


IFFRAAJ (GB) - ODESSA (NZ)

HUGH BOWMAN
MICK PRICE & MICHAEL KENT JNR
$7.50
59.0kg
9th
7. DASHING WILLOUGHBY (GB) 6yo G


NATHANIEL (IRE) - MISS DASHWOOD (GB)

NOEL CALLOW
SAM KAVANAGH
$101.00
59.0kg
10th
2. KOLDING (NZ) 6yo G


OCEAN PARK (NZ) - MAGIC STAR (AUS)

LUKE DITTMAN
CHRIS WALLER
$101.00
59.0kg
11th
10. HAIL MANHATTAN (AUS) 5yo G


MANHATTAN RAIN (AUS) - BEGGIN (AUS)

BRAD STEWART
P & W HULBERT
$101.00
59.0kg