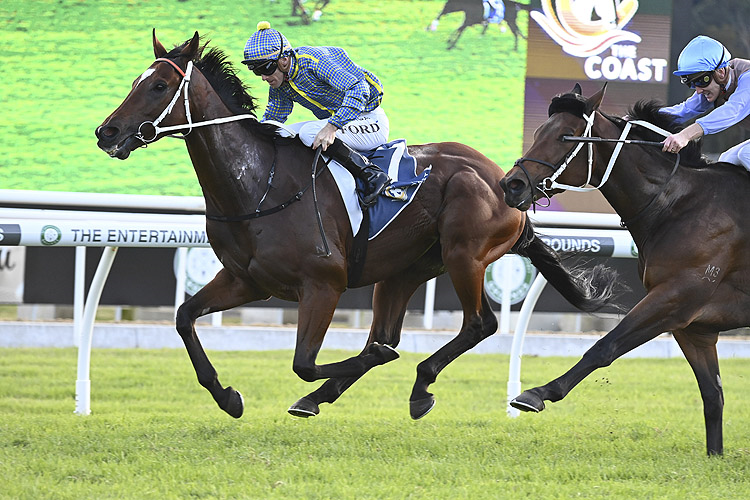 Punter's Intelligence sectional data shows Rustic Steel ran his first 800m in 52.29 – compare that to the Benchmark 72 over the mile a few races earlier where the first 800m was 49.17.
Some 18 lengths difference. From an overall time perspective they scooted home a lot quicker in The Coast but they was still about four lengths slower at the finish in the feature.
Interestingly, all but two runners in the Coast broke 35 seconds for the last 600m and there was only 0.4 seconds between those horses so it's no surprise Rustic Steel, despite being unproven at a mile, was able to fend them off.
The Kris Lees-trained four-year-old ran 34.75 for his last 600m, only about length slower than the race's fastest clocked by Kiku (34.53), in a race that didn't change complexion a whole lot.
So there's a case to forgive a couple of the fancied runners who missed a place.
Our Playboy could only manage fourth despite clocking the meeting's fastest last 200m of 11.30 while Diamil posted the second fastest last 600m of the race (34.57) but finished seventh. They faced impossible tasks but still ran well.
Zou Tiger looks a nice prospect for John O'Shea after his excellent second in the Vital Hospitality Group Handicap (1200m).
The youngster was narrowly beaten by Resonator, and take nothing away from the winner, and he did it clocking the race's fastest last 200m of 11.55, second best last 600m of 35.38 and covering more ground than any other runner (+11.2m).
He was coming off a month between runs so wherever he goes next time he will be a lot fitter. There was merit in the run of Northern Beaches in third, he ran the fastest last 600m of 35.32 but his last 200m of 11.73 was a length slower than Zou Tiger's suggesting he'll also take benefit from the run.
There were five 1200m races at Gosford and the open class Takeover Target Stakes was the fastest run of them, but only just. So that makes the win by Showtime Lady worth looking at.
The Brad Widdup trained mare contested the Midway over the 1200m at her first run back from a break and stopped the clock 0.01 seconds slower than the Listed feature.
She sat just off the speed, on an even tempo, with the first 600m run in 35.51 (35.28 in the Takeover Target), while she ran an individual 35.70, and asserted some authority running the fastest last 600m of 35.51 and last 200m of 11.88 to run out an easy winner.
Showtime Lady isn't a noted first-up performer but she usually improves through the prep so if that occurs this time around she'll work through a couple of grades. Certainly, if she shows up in another Midway she will be very hard to stop second-up.
Fourth placed Dalaalaat appreciated the slightly firmer footing as he charged through late running 35.53, suggesting he's going well.
In the Takeover Target, Blondeau scooted along the rails to win running 34.87 for his last 600m. He was the only horse to break 35 seconds in the race, he clearly performs well fresh so it'll be interesting to see if he can replicate the effort next time.
It also might pay to be forgiving of a few of the beaten horses in the final event over 1200m won by Coal Crusher. The overall time was clearly the slowest of the five 1200m races, being the only one not to break 1:12.
Latino Blend posted the fastest last 600m of 35.38 in running fifth, Francesco Guardi in sixth was next best with 35.66 while beaten favourite Battleton ran 35.68.
Fastest last 600m: Siege 34.36