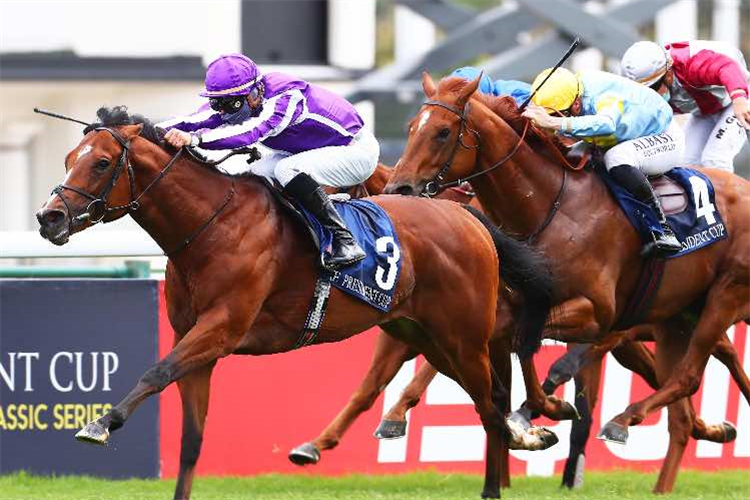 May struggle to see another as good for a while as St Mark's Basilica. The 2022 Poule d'Essai des Poulains (1600m) at Longchamp on Sunday is a big one on the breeding front too?
2022 POULE D'ESSAI DES POULAINS - RACE HISTORY AND BACKGROUND
The Poule d'Essai des Poulains is a Group 1 race run under Set Weight conditions for three year old colts usually at Longchamp conducted by France Galop.
The Poule d'Essai des Poulains is run over 1600m. It was first run in 1883 and was won by Regain.
The Poule d'Essai des Poulains is the French 2000 Guineas and the equivalent of the English version run the week prior.
Originally there was just the Poule d'Essai for both colts and fillies from as far back as 1840 but after some changes the fillies only Pouliches had their own race. Giges won that first running.
It was cancelled for WWI and while there were some replacement races they were not known as the Guineas.
During WWII the race was run at Le Tremblay and Maisons-Laffitte.
When grading started it was a Group 1 and it follows for the colts to head onto the Prix du Jockey Club (French Derby). Brametot did the double in 2017.
When Longchamp was out of action for its huge redevelopment, the race was run at Deauville in 2016 and 2017. It was also run at Deauville in 2020 due to French Government COVID-19 restrictive geographic areas.
Most wins as a jockey is by Freddy Head with six while leading trainer is with Robert Denman with an incredible 11 successes.
Faraway Son and River Mist lost on protest while Noverre was disqualified after a positive swab.
St Mark's Basilica turned into a fabulous 3yo winning this Poulains before taking the Prix du Jockey Club, Eclipse Stakes and Irish Champion Stakes then onto retirement.
The last non-French winner was St Mark's Basilica in 2021 for Aidan O'Brien.
The Poule d'Essai des Poulains was run for €600,000 in 2022.
Notable winners of the Poule d'Essai des Poulains include St Mark's Basilica (2021), Victor Ludorum (2020), Persian King (2019), The Gurkha (2016), Lope De Vega (2010), Shamardal (2005), Bachir (2000), Sendawar (1999), Daylami (1997), Kingmambo (1993), Hector Protector (1991), Soviet Star (1987), Irish River (1979), Blushing Groom (1977), Riverman (1972), Caro (1970), Relko (1963), Right Royal (1961), Tantieme (1950), Djebel (1940), Brantime (1934), Sir Gallahad (1923) and Val D'Or (1905).
The 2021 Poule d'Essai des Poulains was won by St Mark's Basilica from Colosseo and Breizh Eagle.