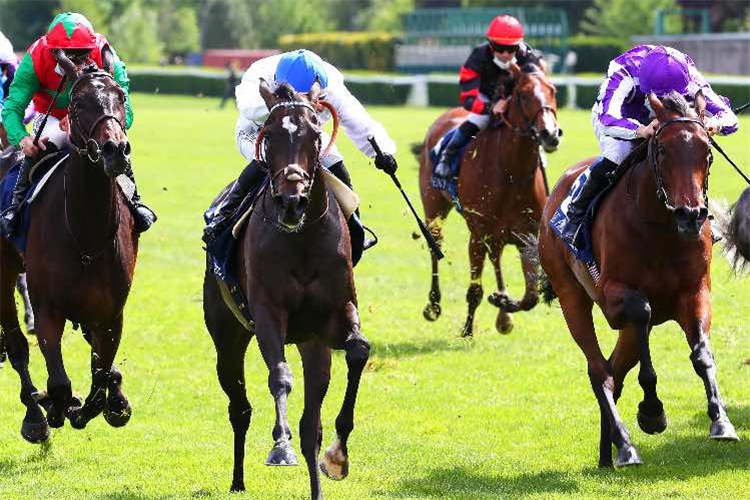 Coeursamba won it last year for them again so note that in the 2022 Poule d'Essai des Pouliches (1600m) at Longchamp on Sunday?
2022 POULE D'ESSAI DES POULICHES - RACE HISTORY AND BACKGROUND
The Poule d'Essai des Pouliches is a Group 1 race run under Set Weight conditions for three year old fillies usually at Longchamp conducted by France Galop.
The Poule d'Essai des Pouliches is run over 1600m. It was first run in 1883 and was won by Stockholm.
The Poule d'Essai des Pouliches is the French 1000 Guineas and the equivalent of the English version run the week prior.
Originally there was just the Poule d'Essai for both colts and fillies from as far back as 1840 but after some changes it was reborn in 1883 reserved for the fillies.
It was cancelled for WWI and while there were some replacement races they were not known as the Guineas.
During WWII the race was run at Le Tremblay and Maisons-Laffitte.
When grading started it was a Group 1 and it follows for the fillies to head onto the Prix de Diane (French Oaks) where over 20 have done the double.
When Longchamp was out of action for its huge redevelopment, the race was run at Deauville in 2016 and 2017. It was also run at Deauville in 2020 due to French Government COVID-19 restrictive geographic areas.
Most wins as a jockey is by Freddy Head with eight while leading trainer is shared by Charles Semblat and Criquette Head-Maarek with seven victories.
Special Duty holds an amazing place in the record books. She won both the 1000 Guineas and its French equivalent, at Longchamp. The incredible part of it is that both races were won on protest.
The last non-French winner was Teppal in 2018 trained by David Simcock. You have to go back to Zenda in 2002 for John Gosden to find the previous one.
Gary Moore rode the winner Ravinella in 1988.
The Poule d'Essai des Pouliches was run for €500,000 in 2022.
Notable winners of the Poule d'Essai des Pouliches include Ervedya (2015), Avenir Certain (2014), Golden Lilac (2011), Special Duty (2010), Zarkava (2008), Divine Proportions (2005), Culture Vulture (1992), Ravinella (1988), Miesque (1987), L'Attrayante (1983), Three Troikas (1979), Riverqueen (1976), Ivanjica (1975), Allez France (1973), Coronation (1949) and Pearl Cap (1931).
The 2021 Poule d'Essai des Pouliches was won by Coeursamba from Mother Earth and Kennella.