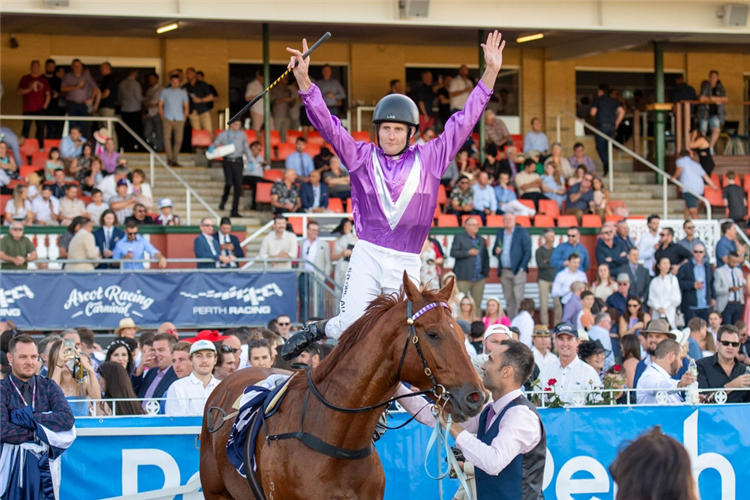 Elite Street is such a reliable sprinter. He's $2.40 in the 2022 Roma Cup (1200m) at Belmont on Saturday.
2022 ROMA CUP – MARKET
$2.40: Elite Street
$5.50: Red Can Man
$9: Notorious One
$14: Valour Road
$16: Indian Pacific
*All others quoted at $18 or greater in full market.
WHEN IS THE 2022 ROMA CUP?
WHEN: – Race 8 @ 6:20pm AEST
WHERE: Belmont Racecourse
Racing and Sports has all the form for Belmont
* Note that betting odds may differ from time of publication

Pkf - Roma Cup (G3)
Age: 2yo and up Type: OPEN
FP
Silk
Horse, Age & Sex
Sire & Dam
Jockey
Trainer
SP
WT

1st

2. ELITE STREET (AUS) 5yo G


STREET BOSS (USA) - ELITE ATEATES (AUS)

BRAD RAWILLER
D MORTON
$2.25
58.5kg
L B Morton, Mrs A I Morton & Anita Vale Stud (Mgr: R J M Anderson)

2nd

4. RED CAN MAN (AUS) 5yo G


GINGERBREAD MAN (AUS) - BROCKY'S ACE (AUS)

SHAUN MCGRUDDY
STEPHEN WOLFE
$5.50
58.5kg
S J Wolfe, P D Braimbridge, L A Benson, N W Carter, B W Wolfe, T Alvin, D McAuliffe, T C Guelfi, K G Battison, N A Walton, K R Watson, C J Spiniello & N P Ryde

3rd

16. AMASENUS (AUS) 5yo M


TIME FOR WAR (AUS) - KELENDRIA (AUS)

BRAD PARNHAM
SIMON A MILLER
$11.00
56.5kg
M & P Chadwick Pty Ltd (Mgr: M S Chadwick) & C Borrelli
4th
1. VALOUR ROAD (AUS) 6yo G


FROST GIANT (USA) - MELBA AVENUE (AUS)

JASON WHITING
SIMON A MILLER
$13.00
58.5kg
5th
12. NERODIO (AUS) 6yo G


PLAYING GOD (AUS) - BLACK CARAT (AUS)

LAQDAR RAMOLY
MS S BAKRANICH
$31.00
58.5kg
6th
6. INDIAN PACIFIC (AUS) 5yo G


ZOUSTAR (AUS) - ROSARINO (AUS)

J AZZOPARDI
NEVILLE PARNHAM
$13.00
58.5kg
7th
14. KAPTAIN KAOS (AUS) 4yo G


DEMERIT (AUS) - VELVET STRIKE (AUS)

LUCY F WARWICK
MICHAEL GRANTHAM
$26.00
58.5kg
8th
3. MASSIMO (AUS) 5yo G


SESSIONS (AUS) - HIGHEST (AUS)

CLINT JOHNSTON-PORTER
C & M GANGEMI
$21.00
58.5kg
9th
8. CUP NIGHT (AUS) 6yo G


MASCHINO (AUS) - WALK IN BEAUTY (AUS)

PATRICK CARBERY
BERNIE MILLER
$31.00
58.5kg
10th
9. SAMIZDAT (AUS) 6yo G


NOT A SINGLE DOUBT (AUS) - SAMBAR (AUS)

JARRAD NOSKE
C & M GANGEMI
$31.00
58.5kg
11th
15. FLIRTINI (AUS) 6yo M


ARTIE SCHILLER (USA) - AJAWEED (AUS)

HOLLY WATSON
SIMON A MILLER
$41.00
56.5kg
12th
5. LAVERROD (AUS) 5yo G


TORONADO (IRE) - DEMASHEEN (AUS)

JORDAN TURNER
S & J CASEY
$26.00
58.5kg
13th
11. COMFORT ME (AUS) 5yo G


PLAYING GOD (AUS) - SOUTHERN COMFORT (AUS)

TROY TURNER
RHYS RADFORD
$31.00
58.5kg
14th
13. NOTORIOUS ONE (AUS) 6yo G


ANIMAL KINGDOM (USA) - FEATHER DUSTER (AUS)

SHAUN O'DONNELL
C & M GANGEMI
$26.00
58.5kg
15th
7. CAROCAPO (AUS) 8yo G


HUSSON (ARG) - SMYTZER'S ROSE (AUS)

MS K YUILL
JIM P TAYLOR
$101.00
58.5kg
16th
10. FREE TRADE (AUS) 7yo G


TRADE FAIR (GB) - LADY XENA (AUS)

CHRIS PARNHAM
M L LANE
$81.00
58.5kg