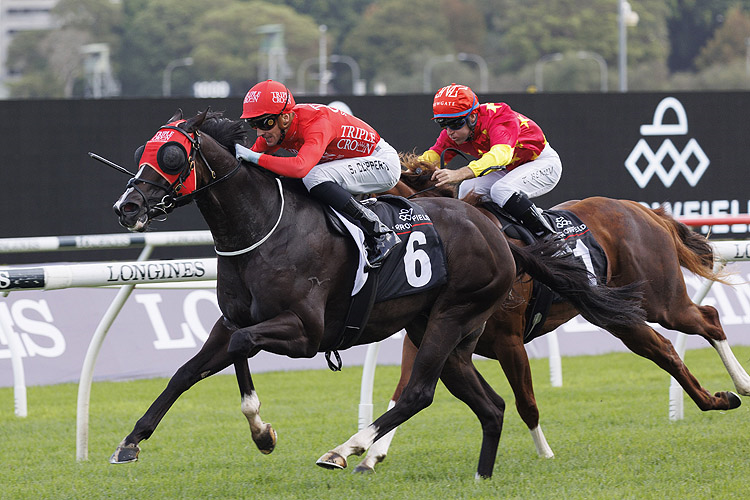 Snowden first won the Doomben 10,000 with bonny mare Beaded two years prior to Golden Rose winner Epaulette winning easily in 2013.
Epaulette became the third three-year-old to win the Doomben 10,000 in the last 20 years and remains the second highest rated winner of the event behind Apache Cat.
Other three-year-olds to win the event were Sea Siren in 2012 and Bel Esprit in 2003.
All three-year-olds produced a Timeform rating greater than 120 to win the event, a feat Mazu will likely have to repeat if successful on Saturday.
Already rated 122 following his victory in the Group 2 Arrowfield Sprint, Mazu has been a revelation this time in, unbeaten in four starts.
An impressive winner prior to a break, Mazu returned gelded and has improved with every start this preparation.
So then the question remains is simply he a wet track monster? Or he has furnished into a better horse?
Was Sydney's 'Big Wet' making him faster or was that purely coincidence? Would he have performed at the same level regardless?
I'm sure Team Snowden would have been happy to see Saturday's race run on a heavy track at Doomben however I doubt they are concerned about the firmer surface at Eagle Farm.
Their concern would be that his opposition are more likely to run their peak on a drier surface, hence making his task greater.
An easy comparison to draw is former stable star Redzel, not to say Mazu is the next Redzel however after 10 starts he is rated higher (122 Vs 110).
Redzel was able to win on any surface, both ends of the scale, he was simply a machine.
Mazu is a long way from confirming that status however a win on a firmer surface on Saturday and he is well on his way.

FP
Silk
Horse, Age & Sex
Sire & Dam
Jockey
Trainer
SP
WT

1st

10. BOOMNOVA (AUS) 4yo M


SPIRIT OF BOOM (AUS) - SILVA NOVA (AUS)

SAMANTHA COLLETT
CHRIS MUNCE
$4.75
54.0kg
Mrs C Munce, G G Holmes, M B E Moore, A Crocker, C A Foote, A S Angeli, Mrs M Lindemann, R Lindemann, L W Chapman, Dr M C Foote, Ms S M Manning, P Hoare, G P Sinclair & Three Wide Racing (Mgr: M Angelos)

2nd

5. LUSKIN HERO (AUS) 4yo G


KAPHERO (AUS) - DESIRED GURL (AUS)

TAYLOR MARSHALL
LAWRIE MAYFIELD-SMITH
$26.00
56.0kg
P D Alroe & L W Reinhard

3rd

6. SHAMATON (AUS) 4yo G


WHITTINGTON (AUS) - SHEZA SHAMARDAL (AUS)

JAMIE KAH
TONY GOLLAN
$4.00
56.0kg
C R Horton, J E Stevens, G E Locke, M Locke, S J Keys, M J Keys, R F Keys, S B Keys, C Keys, A Norman, K N Pearson, D P Kelly, W Crockford, M Dewar & A Dewar
4th
3. TARA JASMINE (AUS) 4yo M


COWBOY BLUE (AUS) - CARMELA MISS (AUS)

BEN THOMPSON
S O'DEA & M HOYSTED
$7.00
57.0kg
5th
1. LE PALMIER (AUS) 5yo G


SPIRIT OF BOOM (AUS) - IMANOREMISS (AUS)

JAMES ORMAN
TONY GOLLAN
$13.00
59.0kg
6th
13. DARE TO SHARE (AUS) 3yo C


DREAM AHEAD (USA) - DUAL CHAMBER (AUS)

ADIN THOMPSON
PAT DUFF
$51.00
53.5kg
7th
12. GLORIOUS RUBY (AUS) 3yo F


YOUR SONG (AUS) - BREEZING HOME (AUS)

MARK DU PLESSIS
BRYAN DAIS
$26.00
52.0kg
8th
2. RUBY JULY (AUS) 4yo M


BEL ESPRIT (AUS) - PLATINUM RUBY (AUS)

RYAN MALONEY
GARY DUNCAN
$21.00
57.0kg
9th
9. SHE CAN SING (AUS) 4yo M


YOUR SONG (AUS) - STREAKING COMET (AUS)

BORIS THORNTON
MICHAEL MORRISON
$8.00
55.5kg
10th
8. PLUTOCRAT (AUS) 4yo M


RICH ENUFF (AUS) - PERSONAL GUARANTEE (AUS)

KYLE WILSON-TAYLOR
CHRIS ANDERSON
$26.00
54.0kg
11th
7. DUSTY TYCOON (AUS) 4yo M


WRITTEN TYCOON (AUS) - SPONSORED (AUS)

LEAH KILNER
ROBERT HEATHCOTE
$15.00
53.5kg
12th
11. NICCI TRIX (AUS) 4yo M


NICCONI (AUS) - ABEL MISS (AUS)

MS T HARRISON
LAUREN ABBOTT
$8.50
54.0kg