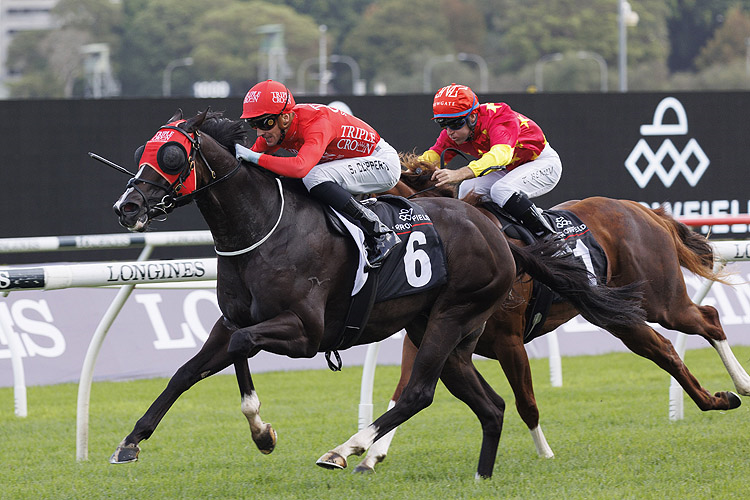 We hope you enjoy all this new racing information as well as getting all the tips plus the form for the weekend's contests.
Click here for all the tips, form and interesting reading around the racing globe
It is a huge weekend around the world with G1 action aplenty.
Locally there are big ones in two states with the G1 Doomben 10000 held this year at Eagle Farm and also the South Australian Derby at Morphettville. Many other group races are conducted during both those meetings.
NSW racing moves to Scone for the Dark Jewel on the second of the two day carnival while Flemington holds the Andrew Ramsden as a Melbourne Cup qualifier and Perth has the Roma Cup in the return to Belmont.
England runs the first of the seasonal open age G1s with the Lockinge at Newbury, the Victoria Mile is in Japan and the French have their classic season start with the Poule d'Essai des Poulains and Pouliches taking place.
Hong Kong races on Sunday and Singapore is on Saturday and remember you can watch all the Hong Kong coverage live at Racing And Sports.
Links to the Transcription services for all new Queensland Winter Carnival and the Victorian Racing Season are available for those who might wish to check out historical stats and past jockey/trainer quotes.

FP
Silk
Horse, Age & Sex
Sire & Dam
Jockey
Trainer
SP
WT

1st

10. BOOMNOVA (AUS) 4yo M


SPIRIT OF BOOM (AUS) - SILVA NOVA (AUS)

SAMANTHA COLLETT
CHRIS MUNCE
$4.75
54.0kg
Mrs C Munce, G G Holmes, M B E Moore, A Crocker, C A Foote, A S Angeli, Mrs M Lindemann, R Lindemann, L W Chapman, Dr M C Foote, Ms S M Manning, P Hoare, G P Sinclair & Three Wide Racing (Mgr: M Angelos)

2nd

5. LUSKIN HERO (AUS) 4yo G


KAPHERO (AUS) - DESIRED GURL (AUS)

TAYLOR MARSHALL
LAWRIE MAYFIELD-SMITH
$26.00
56.0kg
P D Alroe & L W Reinhard

3rd

6. SHAMATON (AUS) 4yo G


WHITTINGTON (AUS) - SHEZA SHAMARDAL (AUS)

JAMIE KAH
TONY GOLLAN
$4.00
56.0kg
C R Horton, J E Stevens, G E Locke, M Locke, S J Keys, M J Keys, R F Keys, S B Keys, C Keys, A Norman, K N Pearson, D P Kelly, W Crockford, M Dewar & A Dewar
4th
3. TARA JASMINE (AUS) 4yo M


COWBOY BLUE (AUS) - CARMELA MISS (AUS)

BEN THOMPSON
S O'DEA & M HOYSTED
$7.00
57.0kg
5th
1. LE PALMIER (AUS) 5yo G


SPIRIT OF BOOM (AUS) - IMANOREMISS (AUS)

JAMES ORMAN
TONY GOLLAN
$13.00
59.0kg
6th
13. DARE TO SHARE (AUS) 3yo C


DREAM AHEAD (USA) - DUAL CHAMBER (AUS)

ADIN THOMPSON
PAT DUFF
$51.00
53.5kg
7th
12. GLORIOUS RUBY (AUS) 3yo F


YOUR SONG (AUS) - BREEZING HOME (AUS)

MARK DU PLESSIS
BRYAN DAIS
$26.00
52.0kg
8th
2. RUBY JULY (AUS) 4yo M


BEL ESPRIT (AUS) - PLATINUM RUBY (AUS)

RYAN MALONEY
GARY DUNCAN
$21.00
57.0kg
9th
9. SHE CAN SING (AUS) 4yo M


YOUR SONG (AUS) - STREAKING COMET (AUS)

BORIS THORNTON
MICHAEL MORRISON
$8.00
55.5kg
10th
8. PLUTOCRAT (AUS) 4yo M


RICH ENUFF (AUS) - PERSONAL GUARANTEE (AUS)

KYLE WILSON-TAYLOR
CHRIS ANDERSON
$26.00
54.0kg
11th
7. DUSTY TYCOON (AUS) 4yo M


WRITTEN TYCOON (AUS) - SPONSORED (AUS)

LEAH KILNER
ROBERT HEATHCOTE
$15.00
53.5kg
12th
11. NICCI TRIX (AUS) 4yo M


NICCONI (AUS) - ABEL MISS (AUS)

MS T HARRISON
LAUREN ABBOTT
$8.50
54.0kg