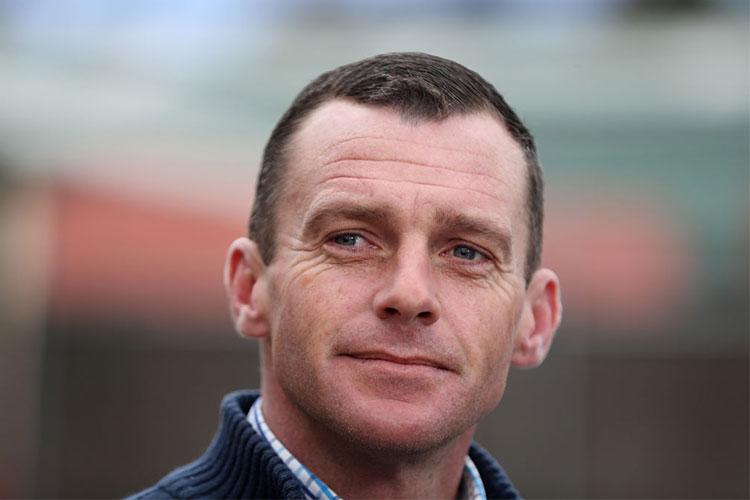 In Brief
Nine runners engaged for Adam Trinder on Sunday.
Imagine Howe, Big John and Starnote rate as leading chances.
Trainer rates premiership chances as a long shot.
In Hobart three weeks ago, Imagine Howe threw away a winning chance when he drifted up the track and was beaten in a photo. In all likelihood, the 4YO would have lost the race on protest even if he had been first past the post.
On Sunday, trainer Adam Trinder has added blinkers for the first time, hoping that will help Imagine Howe mend his manners when he goes around in the Kevin Sharkie BM 68 Hcp (1350m).
"He's a real project horse of mine. When he came to me you couldn't ride him, he used to bolt, he used to whip around but we've got him on the farm here and he's quite content.
"I've got a bit of an opinion of him, I just want to see him on the synthetic and get his rating up a little, I'm expecting him to run really well," Adam Trinder said.
A former Victorian where he raced 20 times, Imagine Howe has started just twice for Trinder for as first-up win in Launceston and that narrow defeat in Hobart.
Trinder will take nine horses to the track on Sunday and is represented in most races. Lightly raced 5YO Big John, having just his third start, should appreciate the step up in trip in the Tasmanian Horse Transport maiden/class 1 (1650m).
"He's a massive horse this bloke, his two runs have been eye catching. Devonport is probably not the perfect track for him, just the circumference from the 600m he's asked to corner and extend at the same time, and he tends to lose his position but really motors once he gets into a straight line.
"Hopefully the tempo is a little more forgiving over a mile, he'll probably start close to favourite and justify it," said Trinder on the gelding who has placed at both his two career starts.
Trinder also rates Starnote a strong winning chance in the Ladbrokes Mates Mode Maiden (1009m). Star Note has only had one start where she finished down the track when well supported in Launceston in December. The filly has since trialled well on the synthetic, coming from behind to win impressively.
"Really nice filly, she's probably been the number three seed of my 2YO's behind Bello Beau and Jaguar Stone.
"She's only a small filly with a big stride, we rode her quiet in her trial here at Devonport three weeks ago and she extended really well, she should be mid to second half of the field and finish really strongly, I've got high aspirations for her," Trinder proclaimed.
A winning day could see Trinder eat into Scott Brunton's lead on the Tasmanian trainers' premiership table. Currently Brunton, who has trained nine winners at the past two Hobart meetings, leads by five.
"I just don't think we have the firepower; we're only training 25 at the moment so we will just try to keep placing them right and keep the strike rate up.
"If it does get close, I've got a new wave about to be introduced to the trials so we might have a busy July but at the moment I don't think it's realistic."
With 12 meetings remaining, Brunton leads with 58 winners from 442 starters at a strike rate of 13.1%. Trinder is second with 53 winners from 199 starters at 26.6%. However there still could be a twist, Brunton is awaiting an appeal for a three-month suspension to be heard that has been pending since late last year.