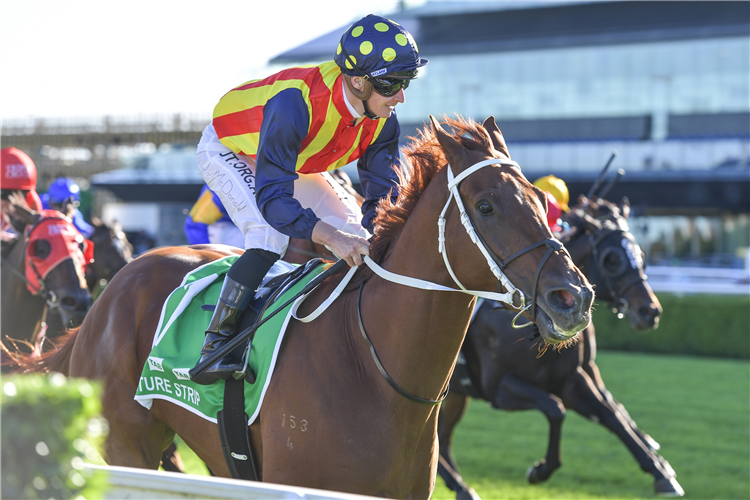 WARWICK FARM April 1
Polytrack Synthetic
7 Heats – 2 x 1175m (1 Open; 1 Maiden); 5 x 740m (2 Open; 2 2YO; 1 3YO)
The class act on show was AEGON, the G1 winner from New Zealand who had a big edge in class on his rivals in the open heat over 1175m. He worked well within himself to win narrowly (72.01; 35.91) and was given a good test by the lesser performed STATESVILLE, a Queensland winner who should do well for his new trainer James Ponsonby.
Classy Kiwi three-year-old Aegon warms up for Saturday week's @TheStarSydney Doncaster Mile with a narrow win over Statesville in a Warwick Farm trial on Thursday. @tabcomau @ForsmanAndrew @KPMcEvoy @7horseracing pic.twitter.com/UY108VYwI3

— Racing NSW (@racing_nsw) March 31, 2021
Best of the 740m heat winners was the fast maiden runner SHADOW COLOUR (44.33; 34.04). He has been placed in 10 of his 11 career starts and must surely win his maiden soon.
NOTED TRIALS
X Aegon; Attestar; Cork Harbour; Eliseo; Good Omens; Shadow Colour; Starz; True Valentine
ROSEHILL March 29
Inside Grass; Soft 6
18 Heats – 4 x 1030m (2 Open; 1 2YO; 1 Maiden); 14 x 895m (3 Open; 7 2YO; 2 3YO; 2 Maiden)
NATURE STRIP was the headline act and did all that was required to win his 895m heat by a narrow margin in good time (54.24; 34.49). He pulled his way to the front after 200m and was under a big hold from James McDonald when the much lesser performed TUDOR MUSIC challenged him over the last 100m, leaving their rivals lengths in arrears.
Nature Strip and Tudor Music hit the line together in an 895m trial at @rosehillgardens on Monday with the verdict, narrowly, going to Nature Strip. Kariba finished in third place. @tabcomau @7horseracing @cwallerracing @HickmanRacing pic.twitter.com/ygFOiM3M7q

— Racing NSW (@racing_nsw) March 28, 2021
However he was upstaged on the clock by a brilliant trial win by THE FACE in his 895m heat. The Rubick 3YO sped away with his heat by 7.3 lengths in a fast 53.64 with a very quick last 600m in 34.11, speed that will test his rivals in any sprint for his own age.
A dashing all the way win by @GRyanRacing's The Face in a trial at @rosehillgardens on Monday, he put seven lengths on the chasers who included Kobe Rocks and Rocketing By. @tabcomau pic.twitter.com/vezKESJ8Pq

— Racing NSW (@racing_nsw) March 28, 2021
Other sharp winners in the 895m heats included the much travelled CHARGE (54.42; 35.20), MISS JAY FOX (54.44; 34.86), SIGNORA NERA (55.15; 35.46) and the 2YOs HI HI HI (54.18; 35.01) and SAIF (54.77; 35.49). CHARGE was a G3 winner in Melbourne who has returned from Singapore to be prepared by David Payne.
Former Chris Waller and ex-Singapore galloper Charge, now with @DPayneRacing, leads all the way to win a trial at @rosehillgardens on Monday from #TheGong winner Archedemus, Willowheart and I Am Superman running on late. @tabcomau pic.twitter.com/StqdeQnubK

— Racing NSW (@racing_nsw) March 28, 2021
The four heats over 1030m featured a first trial win at fourth attempt for the unraced $1 million Exceed And Excel colt OVOID (63.98; 36.09), one of five heat winners for the Gerald Ryan/Sterling Alexiou team. Stablemate ELLSBERG recorded the fastest 1030m heat win (62.92; 35.71) and the stable also won 2YO heats over 895m with MISS MAZ (55.67; 36.22) and CHALEUR BAY (55.26; 35.82).
NOTED TRIALS
XX Nature Strip; The Face
X Blaze A Trail; Charge; Hi Hi Hi; Hoover Lucy; Kahuka; Luvoir; Miss Jay Fox; Ovoid; Saif; Signora Nera; Tudor Music
Ellsberg leads all the way to win a trial at @rosehillgardens on Monday from the fast-finishing Blaze A Trail with Lisdoonvarna in third. @tabcomau @GRyanRacing pic.twitter.com/37lT9SGMyp

— Racing NSW (@racing_nsw) March 28, 2021
RANDWICK March 26
Randwick A Grass/Polytrack; Heavy 8/Synthetic
26 Heats - A Grass 16 Heats 3 x 1200m (3 Open); 9 x 1045m (4 Open; 3 2YO; 2 Maiden); 3 x 740m (3 2YO); Polytrack 10 Heats 1 x 1250m (Open); 6 x 1080m (4 Open; 2 2YO); 3 x 780m (1 2YO; 2 Open)
Trainers flocked to use these trials to make up for the races and trackwork lost due to the deluge that saturated the east coast for several days. The marathon set featured a number of autumn carnival contenders playing catch up.
The trials on the A grass featured three excellent wins in the 1045m heats by horses certain to be players over the remainder of the carnival.
FORBIDDEN LOVE (Richard & Michael Freedman): The stable is running hot and have this classy filly primed for a suitable race for her sex. She has a sweet action that saw her glide through her gears under a kind ride from Rachel King to win with plenty in hand in fast time (63.83; 34.91). She has freshened up perfectly and will be suited dropping back in distance from the 1500m of the Coolmore Classic.
Group 1 winning filly Forbidden Love comfortably wins a @royalrandwick trial on Friday from the fast finishing Cliff's Art and Royal Celebration. @tabcomau @Freedman_bros pic.twitter.com/3X7RhuHlNr

— Racing NSW (@racing_nsw) March 25, 2021
ELEVEN ELEVEN (Greg Hickman): His 1045m heat featured the big gun BIVOUAC and while that star sprinter had an easy trial he stole the show with the way he had his rivals covered over the last 200m (64.72;35.43). Ran strongly through the line with a lot to offer, showing he has held the winning form he took to the Gold Coast in January.
Eleven Eleven does it easily winning a trial at @royalrandwick on Friday from the gelded Brandenburg and Knights Order. Bivouac wasn't let go at all behind them. @tabcomau @HickmanRacing pic.twitter.com/H3RBeEFJsx

— Racing NSW (@racing_nsw) March 25, 2021
WISDOM OF WATER (Annabel Neasham): No doubt this talented trainer has this former Queenslander in top form to resume. This was his second dominant trial win for Neasham with the 3YO colt surging away in the heavy ground for an easy 3.3 lengths win in the fastest of the 1045m heats (63.51; 35.25).
Wisdom Of Water wins his second trial for @ANeashamRacing at @royalrandwick on Friday, he downed Running Four Bub with Exoboom hitting the line well into third. @tabcomau pic.twitter.com/xuIrCSFVWU

— Racing NSW (@racing_nsw) March 25, 2021
The other 1045m heats the big improver TIGER OF MALAY took the honours in the three 2YO trials with a dominant win by 3.3 lengths (64.47; 35.67) over the talented PAULELE; Melbourne visitor POLAND stretched out late to get the better of smart pair FASHCHANEL and SIGNORE FOX; and JIMMY'S DREAM and AUZSTAR look close to their maidens after strong wins in their heats.
NIMALEE made the best impression in the three 1200m heats with a strong all the way win (74.31; 35.37) although the race fit MARSANNAY ran slightly faster time in his heat (74.26; 35.85). Stablemates CUBA and SWEET DEAL trialled nicely in their 1200m heats under no pressure.
Nimalee takes out the opening trial at @royalrandwick on Friday leading all the way over Shout The Bar and Thy Kingdom Come with Harmony Rose and The Frontman behind them. @tabcomau @mcsmithracing pic.twitter.com/EQHJiKNFq5

— Racing NSW (@racing_nsw) March 25, 2021
Fast mare BLAZING MISS went quickest in the three 740m heats (42.94; 33.83) having too much speed for her lesser performed rivals. There were nice efforts in the 2YO heats over the short trip from XTREMETIME, CALIFORNIA SURREAL, DE AN ANDRETTI and CALIFORNIASILENCER.
The Polytrack trials saw top shelf Melbourne star BUFFALO RIVER open up over the last 200m to win his 1080m heat by seven lengths, running a very quick last 600m (64.30; 34.45). His sectionals make interesting comparison with the quicker overall times run by the talented pair INTREPIDACIOUS (64.25; 35.42) and SWEEPING BROOK (64.08; 36.27).
NOTED TRIALS
XX Eleven Eleven; Forbidden Love; Wisdom Of Water; Buffalo River
X Aeecee Express; Auzstar; Blazing Miss; Brandenburg; Californiasilencer; California Surreal; Cliff's Art; Cross Creek; Cuba; De An Andretti; Exoboom; Fashchanel; Finn's Fortune; Instant Attraction; Intrepidacious; Jimmy's Dream; King Of Sparta; Montserrat; Nancho; Nimalee; Pacific Ocean; Paulele; Poland; Sempreinte; Signore Fox; Sweet Deal; Tiger Of Malay; Xtremetime
Art Cadeau, favourite for the @NewhavenPark Country Championships Final, cruises in second place behind Montserrat in a trial at @royalrandwick on Friday under jockey @TommyBerry21. @tabcomau @RegalLodge pic.twitter.com/prWqm7umVh

— The Championships (@ChampionshipsRR) March 26, 2021
NEWCASTLE March 25
Course Proper; Soft 7
18 Heats – 12 x 950m (9 Open; 3 Maiden); 6 x 800m (4 2YO; 2 Open)
If racing is a numbers game these trials underline why Kris Lees is among the leading trainers in Australia. He sent out 41 starters and won 10 of the 18 heats, results that indicate he will be winning a lot more races at provincial and country tracks in the near future.
NOTED TRIALS
X Enchanted Heart; Fightforyourright; Game Of Thorns; Grande Rumore; Hamoon Star; Henschel; I Say Hello; Loolwah; Markwell Dreamer; Sherringford; Sterny Bear
WARWICK FARM March 23
Polytrack Synthetic
8 Heats – 2 x 1175m (1 Open; 1 Maiden); 6 x 740m (1 Open; 3 2YO; 1 3YO; 1 Maiden)
The second synthetic set at Warwick Farm in four days saw some nice trials despite dismal conditions.
SIX AGAIN (David Pfeiffer): Unraced Written Tycoon filly continues to be a trial star. This was her fourth trial since last June and her third win by a big margin (5.3 lengths), again putting the time on the clock in her 740m heat (44.23; 33.56) by recording easily the fastest last 600m split by more than half a second under a big hold. They have been patient but it will be no surprise to see her rise quickly through the classes.
The fastest 740m heat win was recorded by CAPRI LANE (43.98; 33.73) but there were a number of her rivals given quiet trials with SNITZ, DEPRIVE, CORUSCATE and AMORETTI taking the eye.
In the 2YO heats the pacy newcomer BOWIE OF DUBAI put the quickest time on the board (44.52; 34.09) but nobody would have missed the late surge by the runner-up BAHAMA, a good type by Redoute's Choice having his first trial. I liked the efforts of CAPITAL REIGN, GRAPHITE MIST and SUBTERRANEAN in the other 2YO heats.
NOTED TRIALS
XX Bahama; Six Again
X Amoretti; Bowie Of Dubai; Capital Reign; Deprive; Graphite Mist; Gravina; High Supremacy; Quatenus; Radiance; Snitz; Subterranean