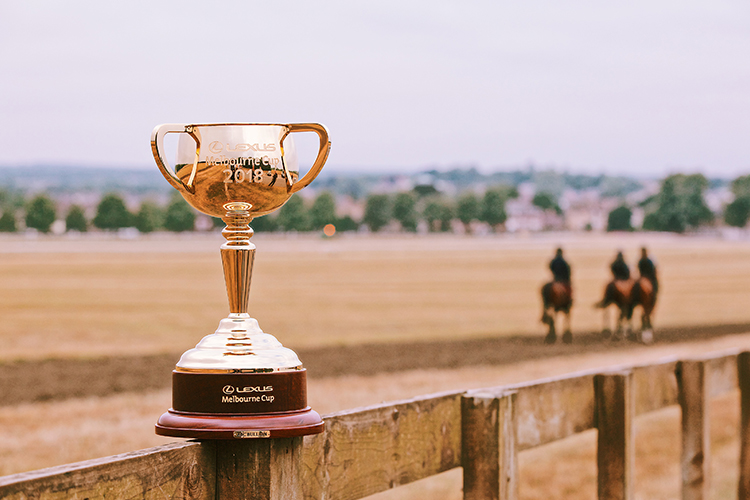 The exciting new initiative will see 24 rural and regional tour destinations across Australia each allocated a starting gate (barrier) for the race that stops a nation, the 2019 Lexus Melbourne Cup.
The town which draws the barrier of the Lexus Melbourne Cup-winning horse will be presented with $50,000 to put towards a charity supporting a local community initiative.
Known as the Ute Capital of Australia, Deniliquin was the first destination to draw a barrier. With 24 to choose from, Edward River Council Deputy Mayor Patricia Fogarty drew barrier 14.
Wakool was next to draw its barrier when the iconic trophy visited on Saturday. Local Emma Flight, who submitted to host the Lexus Melbourne Cup Tour on behalf of her town, drew barrier 9.
Koondrook was the third regional Australia destination to select its barrier, with local Michelle McNeil assuming the role of selector.
Much to the delight of the crowd, Ms McNeil drew barrier 4, the barrier of 2017 Melbourne Cup-winner Rekindling.
Ms Flight said it was a fantastic for a small town like Wakool to be involved in such a special community initiative.
"It's really exciting. Nothing much ever happens in Wakool that's major. It's a big thing for Wakool.," Ms Flight said.
"One of guests came dressed as a jockey wearing number nine…[so] hopefully it's a good omen."
The Lexus Melbourne Cup Tour will continue its journey across Australia this week, travelling to Darwin and Alice Springs.
While in the NT, the People's Cup will visit the regional community of Santa Teresa, attend the Camel Cup and catch up with the Melbourne Football Club ahead of its clash with the West Coast Eagles.
Since its inaugural year in 2003, the Tour has travelled more than 600,000 kilometres and visited more than 450 regional, rural and metropolitan destinations, providing communities with a once-in-a-lifetime opportunity to experience the magic of the Lexus Melbourne Cup.