Alongside Naming Rights Partner Stella Artois, the Club is proud to have re-signed a landmark five-year deal with Ladbrokes as Wagering Partner of the MRC. The agreement will see the bookmaker continue its naming rights sponsorship of Ladbrokes Park (Sandown), as well as that of four Group 1 races across the year including the $2m Ladbrokes Caulfield Guineas and the $1m Ladbrokes Stakes on Ladbrokes Caulfield Guineas Day, among others.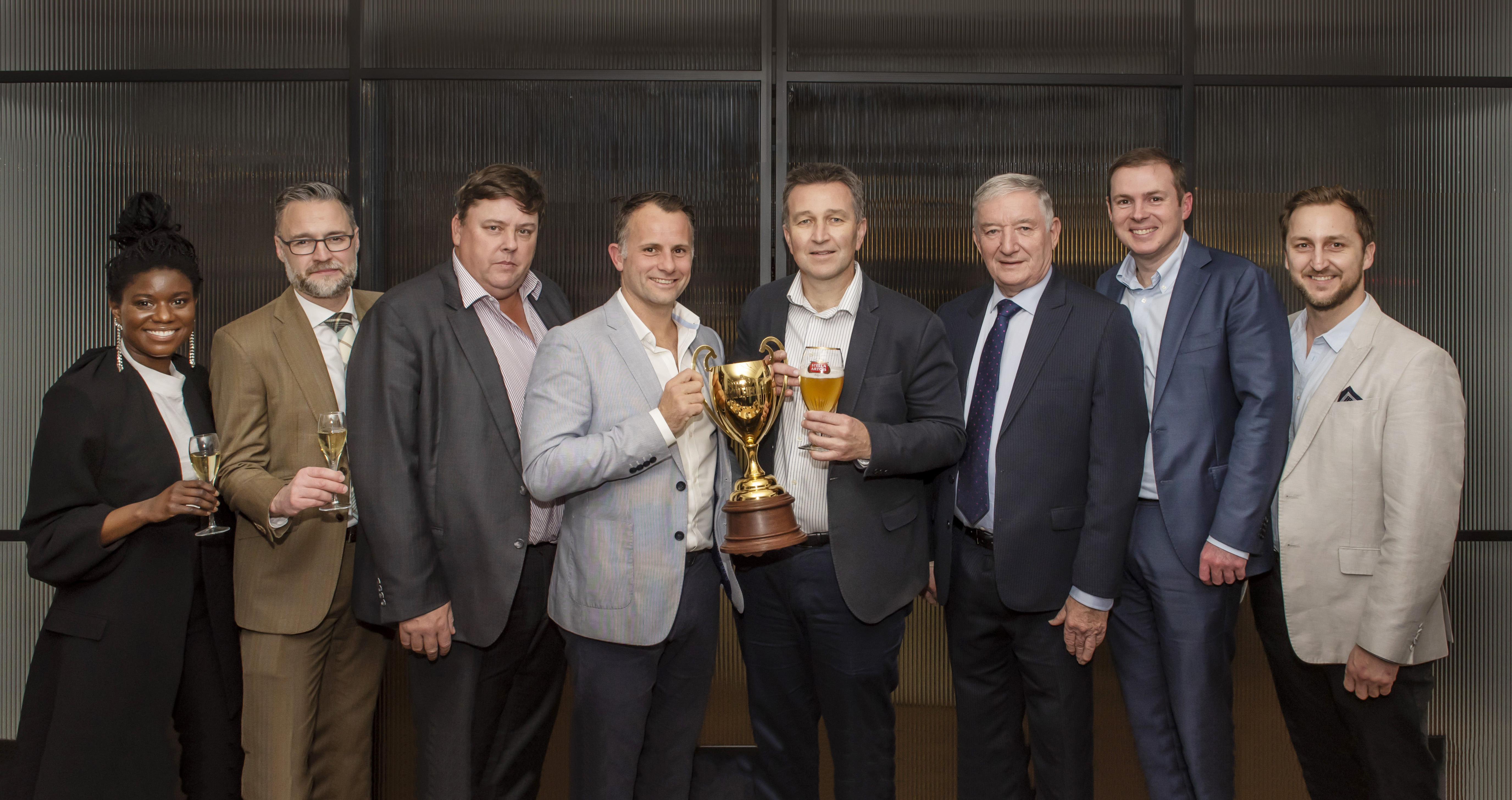 (L- R): Clare Muneri-Leong, David Jones, Scott Conchar, Moet Hennessy Australia, Jason Scott, Ladbrokes, Josh Blanksby, CEO, MRC, Peter Filipovic, Carlton United Breweries, Peter Le Grand, Chariman, MRC, Angus McPherson, Treasury Wine Estates, Joel Mann, Diageo
The MRC has also re-signed deals with current partners Moët & Chandon, David Jones, Treasury Wine Estates and Diageo.
In addition to respective naming rights and partnership benefits, each renewed sponsor will be activating its partnership with tactical executions at different touchpoints during the upcoming spring racing season.
Moët & Chandon has signed an extended three-year partnership as exclusive Champagne Partner of the
MRC and will debut on 31 August as Naming Rights Sponsor for Memsie Stakes Day.
The newly named Moët & Chandon Memsie Stakes Day will see a new champagne bar activation brought to life at Caulfield, while Treasury Wine Estates brands, including its top shelf Penfolds Grange, will grace wine lists across course in spring as Wine Partner, and continue its support of MRC members through sponsorship of The Caulfield Wine Bar featuring T'Gallant.
David Jones is returning as official Fashion Partner of the MRC and look forward to celebrating all the fashion trackside at the 2019 Stella Artois Caulfield Cup Carnival, while Diageo will take up naming rights sponsorship of the exciting new Young Members precinct.
Peta Webster, MRC Chief Commercial Officer says the continuation of these long term partnerships is testament to the Club's ability to create world class experiences for its guests.
"We are thrilled at the level of confidence each brand has shown in the MRC and our Carnival, as demonstrated by the fact that most of these partnerships were renewed before the existing contracts ended.
"We relish the chance to build brand experiences with our partners that speak to their audiences, and are already looking forward to seeing how we can further innovate and elevate those experiences across the next few years.
"These renewed relationships speak volumes about the direction we're heading as a Racing Club, and we thank Stella Artois, Ladbrokes, Moët & Chandon, David Jones, Treasury Wine Estates and Diageo for the continued support".
Jason Scott, Chief Executive Officer, Ladbrokes, confirmed that the partnership, which will see Ladbrokes
remain Betting Partner of the MRC through 2023, is due to the progressive thinking and innovation of the MRC.
"Ladbrokes is strongly committed to supporting the Australian racing industry and its participants and we are proud to be the exclusive Wagering Partner at Caulfield, Sandown and Mornington as well as securing naming rights to a host of Group and Stakes races headlined by the Ladbrokes Caulfield Guineas and Ladbrokes Blue Diamond Stakes."
Further details about the 2019 Stella Artois Caulfield Cup Carnival and activations are yet to be revealed, with the Club hinting at a few surprises to be announced in the coming weeks.
"Over the past few years, MRC has demonstrated its willingness to break with convention, and it's safe to say that the revolution will be trackside with new and exciting developments in the pipeline for 2019.
"This year is the year to trackside to enjoy the experience, it promises to be truly unforgettable," Ms. Webster confirms.
The 2019 Stella Artois Caulfield Cup Carnival begins on Saturday 12 October 2019 with Ladbrokes Caulfield Guineas Day, followed by Catanach's Jewellers Blue Sapphire Stakes Day on Wednesday 16 October 2019 and culminating on Stella Artois Caulfield Cup Day on Saturday 19 October 2019.
Quote from Bridget Veals, General Manager Womenswear and Accessories, David Jones:
"David Jones is excited to be official Fashion Partner of the MRC. David Jones and the Stella Artois Caulfield Cup Carnival is synonymous with all things fashion and this year we will be celebrating all the colour and style trackside with our customers."
Quote from Joel Mann, Head of On-Premise, Diageo:
"Diageo's purpose is Celebrating Life, Every Day, Everywhere and our partnership with MRC brings this to life beautifully.
"The MRC are exceptional at creating amazing events that are absolute showstoppers. We'll be making our activation experience larger than life in the Young Members area as well as offering the stylish and influential racegoer set a range of our incredible portfolio of spirits this Spring Racing season."
Quote from Andrew McLaren, Managing Director, Moët Hennessy Australia:
"Sharing success and glamour with the world has been our inspiration, our passion and philosophy for nearly three centuries. Moët & Chandon is therefore thrilled to be partnering with MRC to celebrate the success and glamour of world class thoroughbred horse racing in Australia.
"As an icon of victorious achievement in sport, Moët & Chandon is very much looking forward to creating memorable champagne moments for the MRC patrons to enjoy at Caulfield."
Quote from Peter Neilson, Managing Director ANZ, Treasury Wines Estates:
"We're thrilled to renew our partnership with MRC, who continue to deliver superb events and experiences for its customers. We're pleased to once again showcase our portfolio of premium Australian wines at Caulfield, heading into the 2019 spring racing season."
For more information visit mrc.racing.com