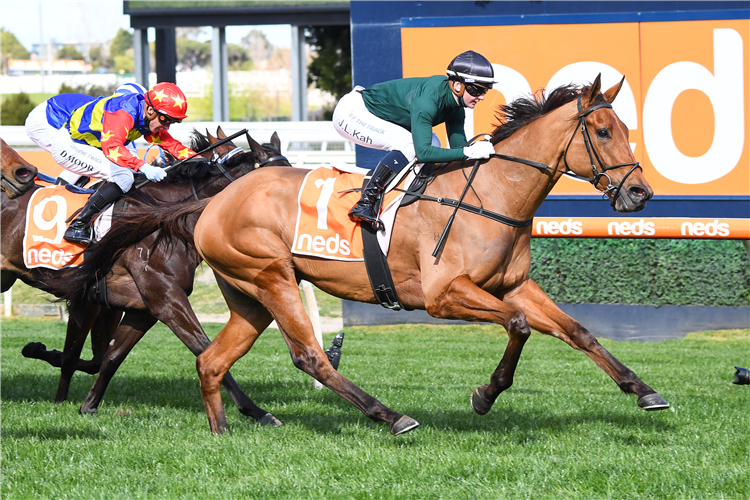 The main race is the Listed City Of Marion Stakes and there is value around a few runners away from the favourite.
Even though Rock The Ring will be hard to beat, can certainly have something on both He's A Balter and Second Slip.
Of those two Will Clarken runners, the second mentioned has had a freshen up from excellent Spring efforts. After the Listed race runs in Adelaide, he ventured to Caulfield for the Toorak where he led and held on bravely behind I'm Thunderstruck. That is good form.
Perhaps a bit over the top in the Gawler Cup he's had five weeks off and dropped back in trip but remember he did win over sprint distances several months back.
He's A Balter is another who would have nice hopes should he run. He's accepted for Caulfield as well so not sure if he runs here but he's had a top campaign with a great run of wins. 15-1 was a great price if he stays home.
Earlier in the day, we see a BM60 race where a mare is very well placed on recent outings.
Lady Dunmore has been running around in BM72/76 races but now falls back into a much easier grade of contest.
She does go up in weight but the claim helps and the small field will benefit as she gets back. All she requires is adequate speed.
The high limit makes those at the top of the weights less badly off and given her last victory was this course and distance, we can back her well.
SAY FROM SA
BET OF THE DAY: Race 3 #2 Lady Dunmore @ $3.40
EACH WAY PLAY: Race 8 #6 Second Slip @ $9.00

FP
Silk
Horse, Age & Sex
Sire & Dam
Jockey
Trainer
SP
WT

1st

15. OUTLAWS REVENGE (AUS) 4yo G


REWARD FOR EFFORT (AUS) - WINGS OF ALICE (AUS)

DOM TOURNEUR
RYAN BALFOUR
$5.50
54.0kg
R B R (Mgr: R W Balfour), C C T , C E Ryman, R B Satchell, Mrs L F Satchell, T E Satchell, J F P Schmidt, P J Harrison, J W Fullerton, P W Greenbank, M A Greenbank, Ms D A Lehmann, K J Rejack, B Creeney, M J Kelly, Mrs C Creeney & Green Machine Racing (Mgr: C H Waterman)

2nd

8. ROCK THE RING (AUS) 4yo G


REWARD FOR EFFORT (AUS) - SUZEBABE (AUS)

BAREND VORSTER
T & C MCEVOY
$2.20
54.5kg
F R Bannigan, Mrs E A Bannigan, Mrs S M Ackerly & D F Bannigan

3rd

18. DIAMONDS (AUS) 4yo M


RICH ENUFF (AUS) - BALSAMICO (AUS)

ANNA JORDSJO
CHRIS BIEG
$61.00
54.0kg
Brentknoll Thoroughbreds
4th
3. FAROOQ (AUS) 6yo G


FRANKEL (GB) - ROSTOVA (AUS)

ANGUS CHUNG
MS S MURPHY
$101.00
58.0kg
5th
2. PARSIFAL (NZ) 7yo G


DARCI BRAHMA (NZ) - DELLA LOBRA (NZ)

JAKE TOEROEK
WILL CLARKEN
$21.00
59.5kg
6th
6. SECOND SLIP (NZ) 5yo G


ALAMOSA (NZ) - SCARLET O'HARA (NZ)

TODD PANNELL
WILL CLARKEN
$8.50
58.0kg
7th
17. CALYPSO REIGN (AUS) 5yo G


BARBADOS (AUS) - RAINBIRD BLUE (AUS)

KAYLA CROWTHER
DAVID JOLLY
$26.00
54.0kg
8th
16. ANOTHER AWARD (AUS) 4yo M


SHAMUS AWARD (AUS) - EL MILAGRO (AUS)

JASON HOLDER
LEON MACDONALD & ANDREW GLUYAS
$21.00
54.0kg
9th
13. EXTREME THRILL (AUS) 7yo G


BULLET TRAIN (GB) - MEZMAR (AUS)

ALANA KELLY
W F FRANCIS & G KENT
$101.00
54.0kg
10th
11. EXTRA TIME (AUS) 4yo G


SHOOTING TO WIN (AUS) - GWYNETHANNE (NZ)

TEAGAN VOORHAM
LEON MACDONALD & ANDREW GLUYAS
$26.00
54.0kg
11th
5. OPEN MINDED (NZ) 5yo G


JIMMY CHOUX (NZ) - HIDDEN PASSION (AUS)

KARL ZECHNER
A & S FREEDMAN
$17.00
58.0kg
12th
12. TRIP (AUS) 5yo M


GOOD JOURNEY (USA) - ELLIMORE BROWN (AUS)

SOPHIE LOGAN
DAVID JOLLY
$7.00
54.0kg
13th
1. FREE OF DEBT (AUS) 5yo G


UNENCUMBERED (AUS) - STAGERUSH (AUS)

GARY LO
CHRIS BIEG
$51.00
60.0kg
14th
14. KENYAN WONDER (AUS) 6yo M


ZOUSTAR (AUS) - MSONGARI (AUS)

WILL PRICE
RYAN BALFOUR
$67.00
54.0kg
15th
7. MAGNA BELLA (AUS) 6yo M


MAGNUS (AUS) - MOLTO BELLA (AUS)

PAUL GATT
ANDREW CLARKEN
$81.00
56.0kg