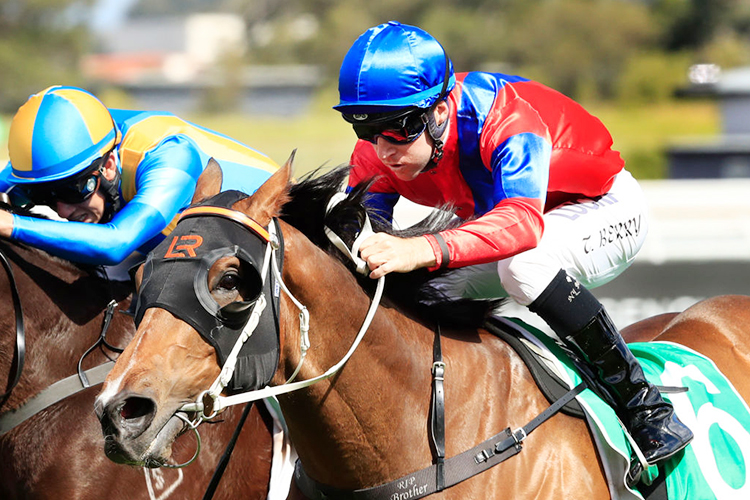 While he has already garnered some support, we can still back Alligator Blood at a price in the 3yo race.
This son of All Too Hard had two runs in his first prep and won them both in a similar style.
He sat back at this journey and ran over the top. From this draw he can do the same thing.
He's had the set up again of one trial and the breed only get better with some age and experience.
Kool Vinnie is now third up for Kris Lees this prep and will probably drift back to be midfield from a middle draw.
He needs room to move as we saw in his Rosehill victory last November. As long as he gets pace on he's a hope.
Fancy that he will be much better suited onto a better surface and we are getting a good price to find out.
BRISBANE BEST
EACH WAY PLAY (1): Race 4 #1 Alligator Blood @ $5.00
EACH WAY PLAY (2): Race 9 #8 Kool Vinnie @ $16.00

FP
Silk
Horse, Age & Sex
Sire & Dam
Jockey
Trainer
SP
WT

1st

14. TOKORIKI LAD (AUS) 5yo G


FALVELON (AUS) - DANTIBES' TREASURE (AUS)

JIM BYRNE
TONY GOLLAN
$4.00
56.0kg
P J Brimblecombe, C A Melville, K S Aitken, A Aceti, Mrs C E Welsh, N B Welsh, K Jlangdon, M J Psaltis, R J Piddington, S R Burgess, Mrs H J Piddington, K R Saines, W R Jones, G W Knight, G J Martin, C N Schumacher, Tbar (Mgr: N G Galligan) & Ali (Mgr: J Dedes)

2nd

7. IMPASSE (AUS) 5yo G


SEPOY (AUS) - AMELIA'S DREAM (AUS)

R FRADD
CHRIS WALLER
$5.00
57.5kg
Laurel Oak Hinkler(Mgr: L J Mihalyka), Carpe Diem(Mgr: K Lowe), D J Tamblyn, G J Grant, A N Fitzgerald, P W Hickey, R H Morrison, Mrs L E Morrison, B Hastie, G J Capon, Mrs L Capon, P J Peters, Mrs G M Fitzgerald, Mrs J M Tamblyn, S P Grant & Mrs E K Grant

3rd

12. OINK (AUS) 6yo G


SEBRING (AUS) - COOGEE COOZIFA (AUS)

JACKSON MURPHY
KELLY SCHWEIDA
$11.00
54.0kg
Wilrace Pty Ltd (Mgr: Dw Wilson), C D Kachel, Miss H L Whalley, G J Bell & Z N Wilson
4th
1. BRAINS (AUS) 5yo G


STRYKER (AUS) - ABSOLUTE HARMONY (AUS)

NICHOLAS KEAL
TONY GOLLAN
$21.00
56.0kg
5th
9. SO SPIRITED (AUS) 6yo G


SO YOU THINK (NZ) - SPIRITED AND SEXY (AUS)

MATTHEW MC GILLIVRAY
STEVEN O'DEA
$12.00
57.5kg
6th
16. CHURNING (AUS) 4yo M


LONHRO (AUS) - EMMALENE (AUS)

COREY BAYLISS
A J & T EDMONDS
$4.75
50.5kg
7th
3. TAWFIQ BOY (AUS) 6yo G


I AM INVINCIBLE (AUS) - TAWFIQ VALLEY (AUS)

RYAN WIGGINS
KRIS LEES
$10.00
59.0kg
8th
5. DOUBLE SUPERLATIVE (AUS) 6yo G


TURFFONTEIN (AUS) - KIDNAPPER (AUS)

JAMES ORMAN
KELLY SCHWEIDA
$31.00
57.5kg
9th
15. UMBERTO (AUS) 5yo G


NOT A SINGLE DOUBT (AUS) - TOORAK SHOW (AUS)

RYAN MALONEY
TONY GOLLAN
$21.00
56.0kg
10th
8. KOOL VINNIE (AUS) 6yo G


I AM INVINCIBLE (AUS) - KEEP IT COOL (AUS)

RON STEWART
KRIS LEES
$31.00
57.5kg
11th
17. SKY LAKE (AUS) 5yo M


ALL TOO HARD (AUS) - VIETNAM (AUS)

MICHAEL MURPHY
CHRIS MUNCE
$31.00
54.0kg
12th
11. DEFENCE MISSILE (AUS) 4yo G


LOVE CONQUERS ALL (AUS) - ZEKEZA (AUS)

TAYLOR MARSHALL
LES ROSS
$13.00
56.0kg